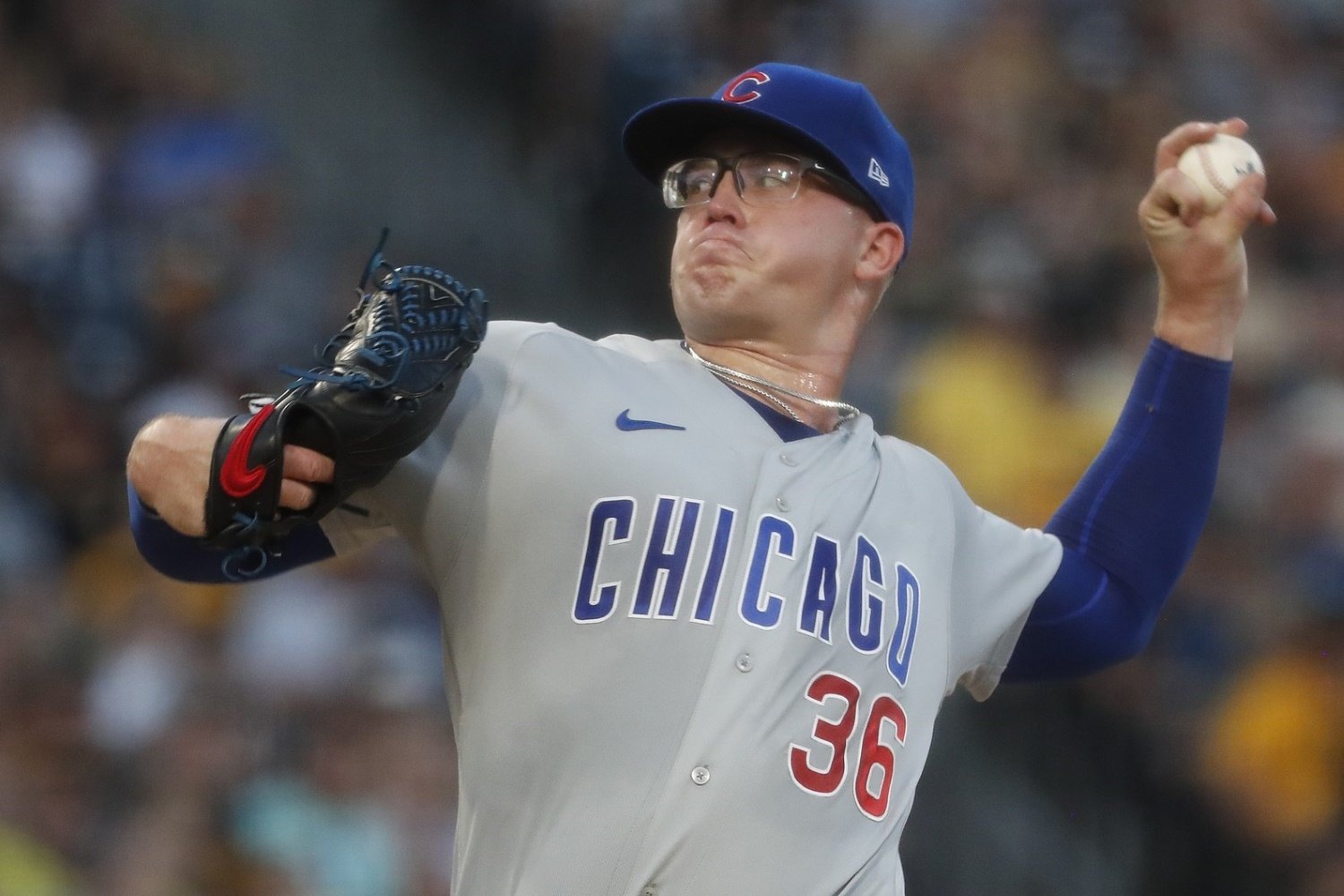 Image courtesy of © Charles LeClaire-USA TODAY Sports
After a solid big-league debut by Jordan Wicks, the Cubs have their first semblance of stability in the starting rotation since at least mid-July. In truth, it's the first time they've had some level of comfort in all five spots all year. Even now, of course, Jameson Taillon is wobbly, and there are questions about how well Justin Steele can bear up under his accumulating workload, and there are sure to be some non-performance workload constraints on both Wicks and Javier Assad down the stretch. Still, at least they have five starters who give them a robust chance to win.
It's a good thing Wicks was so impressive in his first start with the parent club, because Michael Fulmer landed on the injured list with a forearm strain Saturday, too. The Cubs have already dodged one forearm strain bullet this year, with Steele missing the minimum amount of time when he had the same problem in June. Fulmer is older than Steele, though, and his elbow has a longer history of tsuris. At the very least, he won't be back until mid-September, and there's a decent chance he won't pitch for the Cubs again. That takes a huge bite out of David Ross's bullpen depth, and puts more pressure on the starters.
Fulmer has also been a favored option to work multiple innings or go early in bullpen games this year. Without him, some interesting but very nervous-making names become potentially vital cogs in the machine in the near future. The Cubs are nine games into a stretch of 13 days without a break, and after their one day off this coming Thursday, they immediately play a doubleheader to kick off 14 more games in 13 days. They are, then, one-third of the way through a murderous gauntlet of a schedule stretch, and it's the softest third. After Sunday, they'll play direct rivals for playoff position for the balance of this period, with the exception of a trip to Coors Field.
For the next week, the day off and the substitution in the rotation they've just made work out perfectly. The probably starters figure to be:
| | | |
| --- | --- | --- |
| Game Date | Opponent | Starter |
| Sun., Aug. 27 | @ PIT | Assad |
| Mon., Aug. 28 | MIL | Taillon |
| Tue., Aug. 29 | MIL | Steele |
| Wed., Aug. 30 | MIL | Hendricks |
| OFF |   |   |
| Fri., Sep. 1 | @ CIN | Assad |
| Fri., Sep. 1 | @ CIN | Wicks |
| Sat., Sep. 2 | @ CIN | Taillon |
| Sun., Sep. 3 | @ CIN | Steele |
After that, though, it gets sticky. The following Tuesday, at home against the Giants, none of these five will be available to start on regular rest--and, for various reasons, starting any of them on short rest is out of the question. Thus, we're sure to see one of a few guys not currently in the rotation take that start. Alternatively, someone else could take the non-Assad start Friday, with Wicks skipped, but either way, they will need a sixth starter no later than September 5.
That guy could, shockingly, be Shane Greene, who starts again for Iowa Sunday. He's stretched out as far as any of these emergency options would need to be, since Ross is unlikely to ask any of them for more than a few innings, anyway. It could be Keegan Thompson or Michael Rucker, as the longest in a relay of relievers. It could also be Caleb Kilian, who had another encouraging start (six innings, seven strikeouts, no walks, one run) Friday night. None of these are inspiring options, but each is theoretically palatable. That's good, because it's probably not the last time the team will call upon them. Whichever of those pitchers makes the September 5 start, they'll be auditioning for another start later in the month--probably in Colorado, as the club tries to save the best starters for the toughest opponents and still give extra rest here and there for (especially) Steele and Wicks.
This is far from an imposing postseason rotation. It's a deeper group than it has seemed to be since Drew Smyly started his long and ugly slide in late May, though. That they'll have to make up for an ever-thinning bullpen, one in which multiple pitchers are trying to weather the rigors of a full season of relief work in MLB for the first time, is daunting, but they can survive and overcome that. Wicks had a thrilling debut, and it allows fans to dream on this team making a playoff push in which they're not obligated to score six runs three times every five days in order to win. That, alone, has tremendous value.