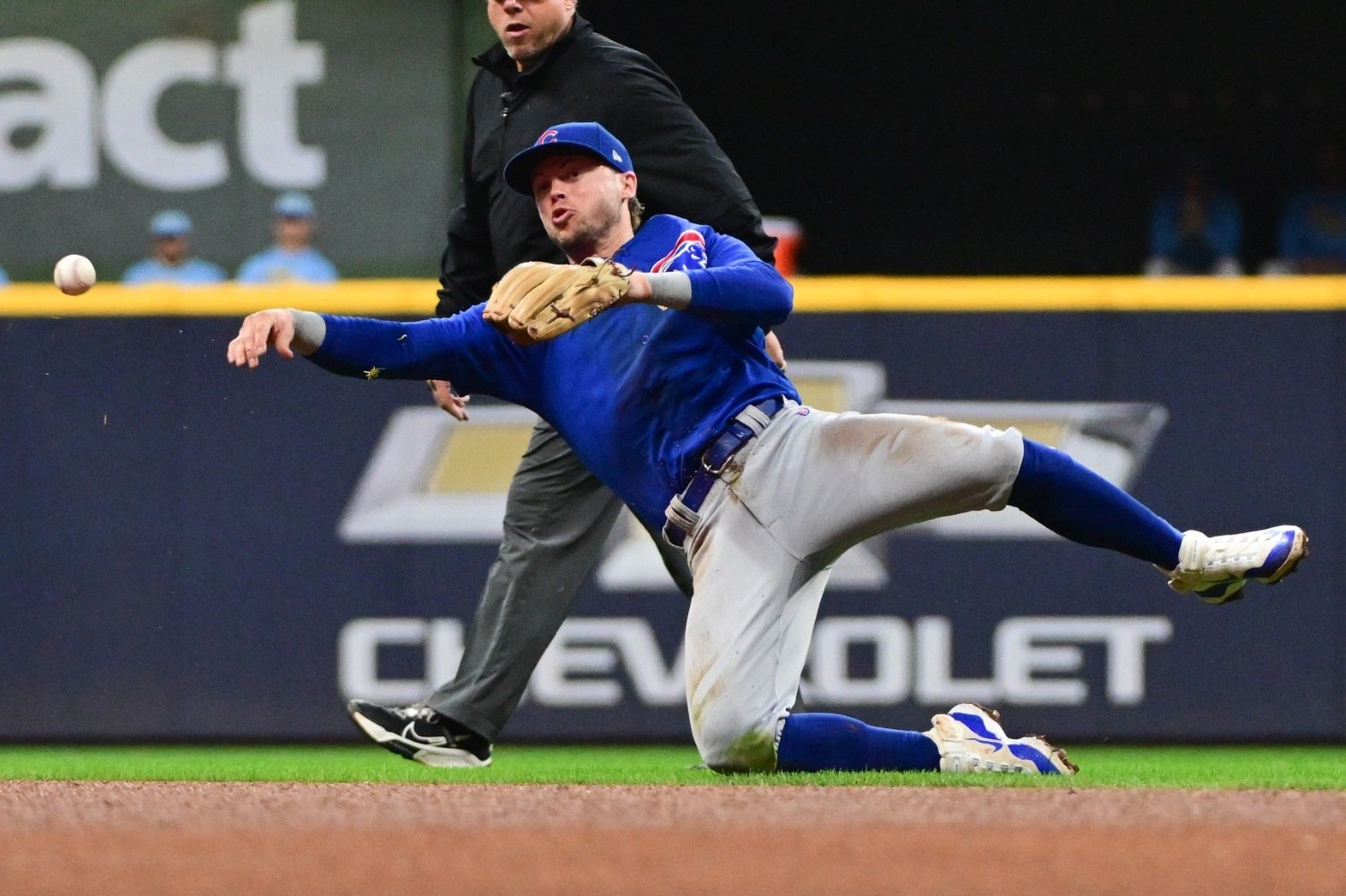 Image courtesy of © Benny Sieu-USA TODAY Sports
If there's one positive to the Chicago Cubs not making a deep playoff run this season, it's the fact that I can enjoy my Halloween without having to fret through nine innings of a World Series game. I'll certainly still tune in to watch the Rangers and Diamondbacks battle each other, but seeing that I don't have a rooting interest, I don't have to worry about the combination of Halloween candy and Cubs playoff baseball giving me an ulcer. 
To officially get us all in the Halloween mood, I thought I would do something a little bit fun and different: if we had to compare Cubs players to Halloween candy, what Halloween candy would each be? 
Obviously, I can't do every player–that would take way too long. But here are some that I thought had the perfect Halloween candy counterpart. Let us know what you think in the comments!
Kyle Hendricks - Hershey's Bar
Here's the thing about Hersey's bars: nobody is overly excited to get them, yet if you're just looking for some chocolate on Halloween night, it will always get the job done. Who fits that description better than Kyle Hendricks?
Seeing that he is the longest-tenured Cub, I shouldn't have to go into much detail. But I am still not sure people outside of Chicago know how good Hendricks really is. He doesn't wow you with a high-velocity fastball, or a nasty breaking ball. He just gets the job done, day-by-day and year-by-year. Exactly like a Hersehy's bar. 
Dansby Swanson - Twix
The whole is greater than the sum of its parts. You can get chocolate, caramel, or even cookies (my mom still hands out miniature Keebler cookies, I believe) from a lot of other options on Halloween night. But when you combine all of those things into a Twix bar, you have what makes an elite Halloween candy. 
Swanson combines roughly average hitting, elite defense, and very good baserunning to create what was the 18th-best player in baseball per Fangraphs WAR. None of his skills necessarily jump off the page at you, but when you put them all together, he is one of the better players in baseball. 
Christopher Morel - Sour Skittles
I know some people who really love Sour Skittles. Personally, I have never been able to get over the sourness of them. But similar to a Warhead, once you get through the sourness, you find that the candy itself is actually pretty good. 
I can't imagine any other Chicago Cub brings both the sweet and the sour like Morel. He brought the sweet, with what turned out to be the most memorable moment of the 2023 season, for me: his walkoff home run against the White Sox in August. He also hit that homer in the middle of a month in which he hit .149 and struck out 37 percent of the time. He'll look completely lost one at-bat, and then in the next one, he'll hit a 450-foot bomb. You just gotta get through the sour to get to the sweet. 
Ian Happ - Candy Corn
Ah, the most controversial of Halloween candy. Ask one person their opinion of candy corn, and they'll tell you it's their favorite candy. Ask another person, and they will tell you it is absolutely disgusting. I happen to fall in the latter group. There is a reason it's only sold during one season of the year. 
Ian Happ feels like the type of player that is most polarizing among Cubs fans. Ask one Cubs fan what they think of him, and they might think he's terrible. Ask another, and they might think he is very good. I think he is a well above-average player whom I will happily continue to see play left field for the Cubs for what they are paying him. So he's not quite my candy corn, but he certainly might be someone else's. 
Nico Hoerner - Baby Ruth
I'll admit, I struggled the most with this one, but after thinking about it for a pathetic amount of time (given how silly this exercise is), I am certain Baby Ruth is the best option here. 
Baby Ruth has all sorts of ties to the past. The name of the candy bar itself is (according to some) tied to baseball legend Babe Ruth. A Baby Ruth bar played a pivotal role in Chunk getting Sloth to help him rescue his friends in the 1980s classic The Goonies. On top of that, it doesn't seem to me that Baby Ruths are as prominent now as they used to be. 
In the case of Nico Hoerner, he plays baseball like they used to, and there aren't as many players that play the game like he does in MLB anymore. He steals bases. He rarely strikes out. He doesn't hit for much power. In many ways, he is a blast from the past–just like a Baby Ruth. 
Justin Steele - Reese's Peanut Butter Cup
Finally, the exemplar of Halloween candy is reserved for Justin Steele. You can't have Halloween without Reese's Peanut Butter Cups. Every year, I find myself falling over myself to make sure I get my hands on whatever version of Reese's they are making this time. Will they be shaped like a ghost? A pumpkin? Made with white chocolate? Why do they all taste so different anyway? Love them or hate them, you don't have Halloween without Reese's. 
You also don't have the Chicago Cubs without Justin Steele. Yes, he broke down toward the end of the season, but the Cubs would have found themselves nowhere near a playoff spot had Steele not been so dominant for the first 90 percent of the campaign. The Cubs relied on him every five days to go out and win them a baseball game, and he did that far more often than not. And every time, I found myself falling over myself to make sure I tuned in.
1