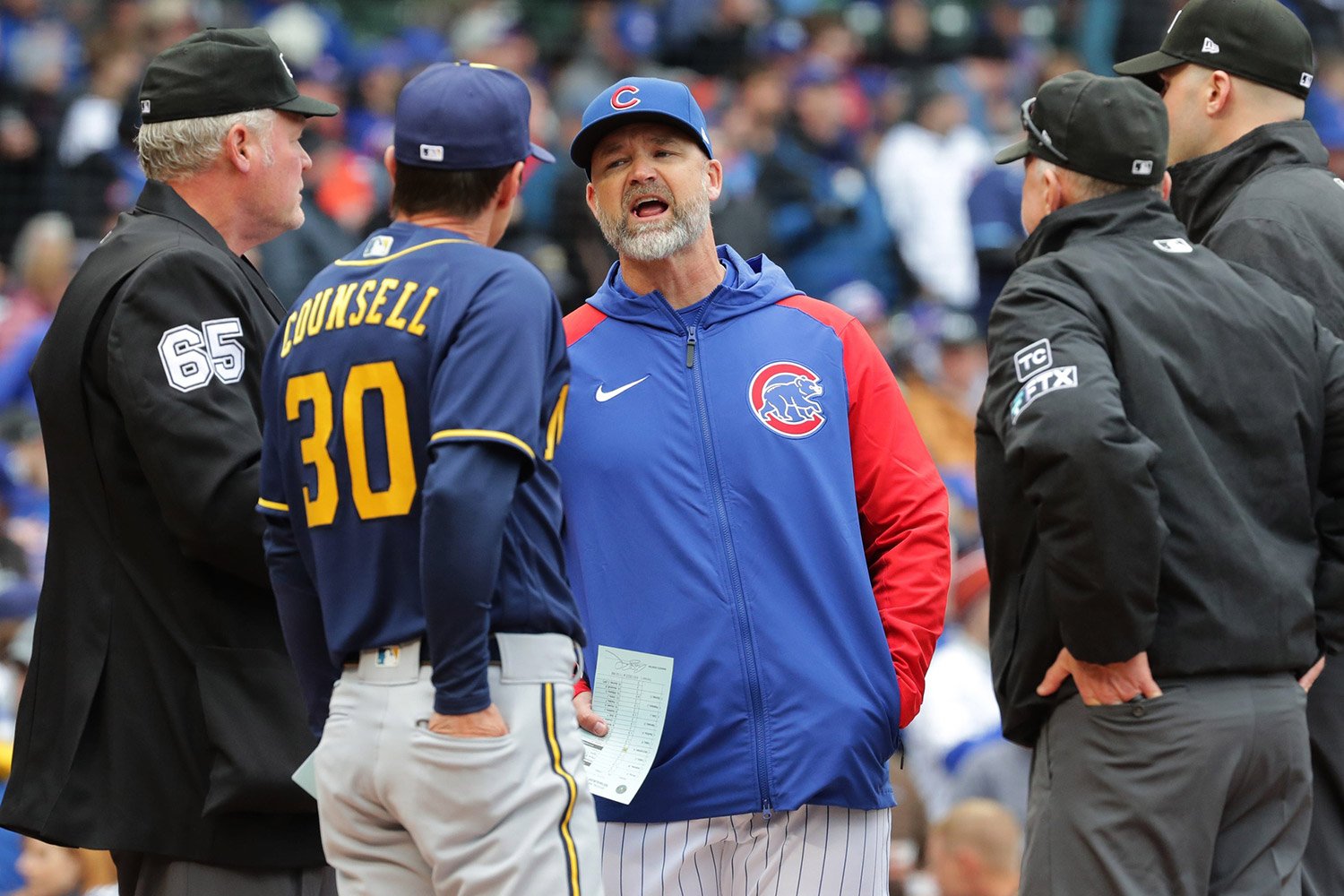 Image courtesy of © Mark Hoffman / USA TODAY NETWORK
"What are things that will never happen in my lifetime, Alex." To say the latter is not the news I expected to wake up to this fine November morning would be the most massive of understatements.
The Cubs have a penchant for this kind of thing, having replaced Rick Renteria with Joe Maddon when he and the Rays unexpectedly parted company in 2014. That transition worked out pretty well in 2016, though Maddon single-handedly dashed the Cubs' dynastic dreams by starting to believe he knew more than the game.
But Craig Counsell? Maybe I'm being a bit too finicky, but his .368 postseason winning percentage and all of one playoff victory since 2019 don't inspire confidence. If you recall, I chided Rossy for his likely inability to "get the Cubs over the hump" back in August, and I'm not sure Counsell's much of an improvement in that regard.
However, unlike David Ross, he's an exceptional regular season skipper, as his new $8 million a year contract would indicate.
I wholeheartedly agree with Matt Trueblood's theory that the Cubs had every intention of sticking with Ross in 2024 until Counsell became a surprisingly available target of opportunity. But I also believe that Ross's firing was inevitable and likely to come much sooner than later.
More specifically, I think his fate was sealed when the Cubs were just 2.5 games behind the Brewers and three games ahead in the second wildcard spot race on September 4th and 5th. That's when ESPN put the Cubs' chances of making the playoffs at a lofty 76 percent, and we all know the end of that story.
That capacity to snatch a gut-wrenching defeat from the jaws of victory doesn't bode well for a long managerial career.
But as badly as the Cubs tanked in that final month, the baseball season is a full 162 games, with each one having a compounding effect on those yet to come, particularly as those possibilities diminish with those lengthening Wrigley field shadows.
Remember, the excruciating late-season losses to the D'backs may have made it seem like the  Cubs finished 30 games out, but when the early October dust cleared, they were one scant game out of the final wildcard spot.
So, I can't help but think if Ross, who claimed to be the enforcer as a player, could've lit a similar fire under those younger Cubs when they slid into their May through early June stupor, falling ten games under .500 in the process.
Counsell's reputation for prolonging winning streaks and nipping the losing variety in the bud would've come in handy at that early point. Two more May victories could've made a world of difference.
Considering how well Ross handled the mercurial Jon Lester as his personal catcher, I was consistently flummoxed by his terrible bullpen decisions.
Drew Smyly had some early season success, including an almost perfect game against the powerful Dodgers, but then his curveball started sputtering; Ross was far too slow to relegate him to the bullpen. When he finally did, somehow believing Smyly would snap out of it if provided enough opportunities, Ross persisted in inserting him into high-leverage, late-inning situations despite his rather robust 6.52 second-half ERA.
Take away those five Smiley second-half losses; the playoff outcome could've been quite different.
Ross's overreliance on the questionable Michael Fulmer, who had his moments but generally wasn't himself this season, likely put him on the IL in late August when the Cubs needed his arm. I'm convinced bringing Fullmer back from the IL too early in September was a major factor in his recent Tommy John surgery, which means he won't play in 2024.
You'd think a former catcher would've caught onto Adbert Alzolay's Zambrano-like propensity to "overthrow" the ball, but Ross failed to intervene, and Alzolay went on the IL at the worst possible time.
I could cite a few more examples, but I'm sure you get the idea by now.
That consistent bullpen blundering led to an abysmal 21-25 record in one-run and extra-inning games. Blowing five ninth-inning leads didn't help playoff matters much, either. With a few notable exceptions (the Diamondbacks), their ability to win the close ones sets playoff teams apart from the also-ran rabble. Though the players share culpability, accumulating that many heartbreaking losses falls squarely at the manager's feet.
Conversely, the Brewers went 29-19 in close games, which goes a long way toward explaining their nine-game division championship. Though the Cubs didn't do terribly in the blown lead department, finishing 14th place with 36, Counsell and Milwaukee did a bit better, coming in seventh best with 30. And six more wins often mean the difference between watching the playoffs and participating.
I still can't believe the Cubs had the cojones to pull this one off, but I'm hopeful it might help convince Marcus Stroman and Cody Bellinger to re-sign and entice other free agents to choose the North Side.
Is Craig Counsell a step up from David Ross? You bet! Can Craig bring a third ring to our still-pennant-starved blue boys of summer? I'm not so sure about that. But if there's one thing to be said for Cubs fans, hope springs eternal, and there will be plenty of cause for optimism come spring.
As a brief aside in the Ross regard, Willson Contreras needs to shut the bleep up. Did the Cubs bungle their attempts to trade/resign him? Yes! But that's the very nature of the baseball beast.
So, Contreras left the Cubs with about as much class as a Kardashian in heat, claiming he was more than ready for the superior "Cardinal way" only to "lead" that team to a fifth-worst MLB finish alongside the hapless Nationals. The Cardinals also ranked a distant 26th in the team ERA standings, yielding an abysmal 4.79 runs per game.
But what puts Contreras in the ungrateful lout category is his "About time" tweet in response to Ross's firing, despite his former manager going as far as "fully supporting" his asinine post-homer bat-flipping regimen.
Perhaps with Counsell managing the Cubs, they'll start plunking him again. I can hardly wait!