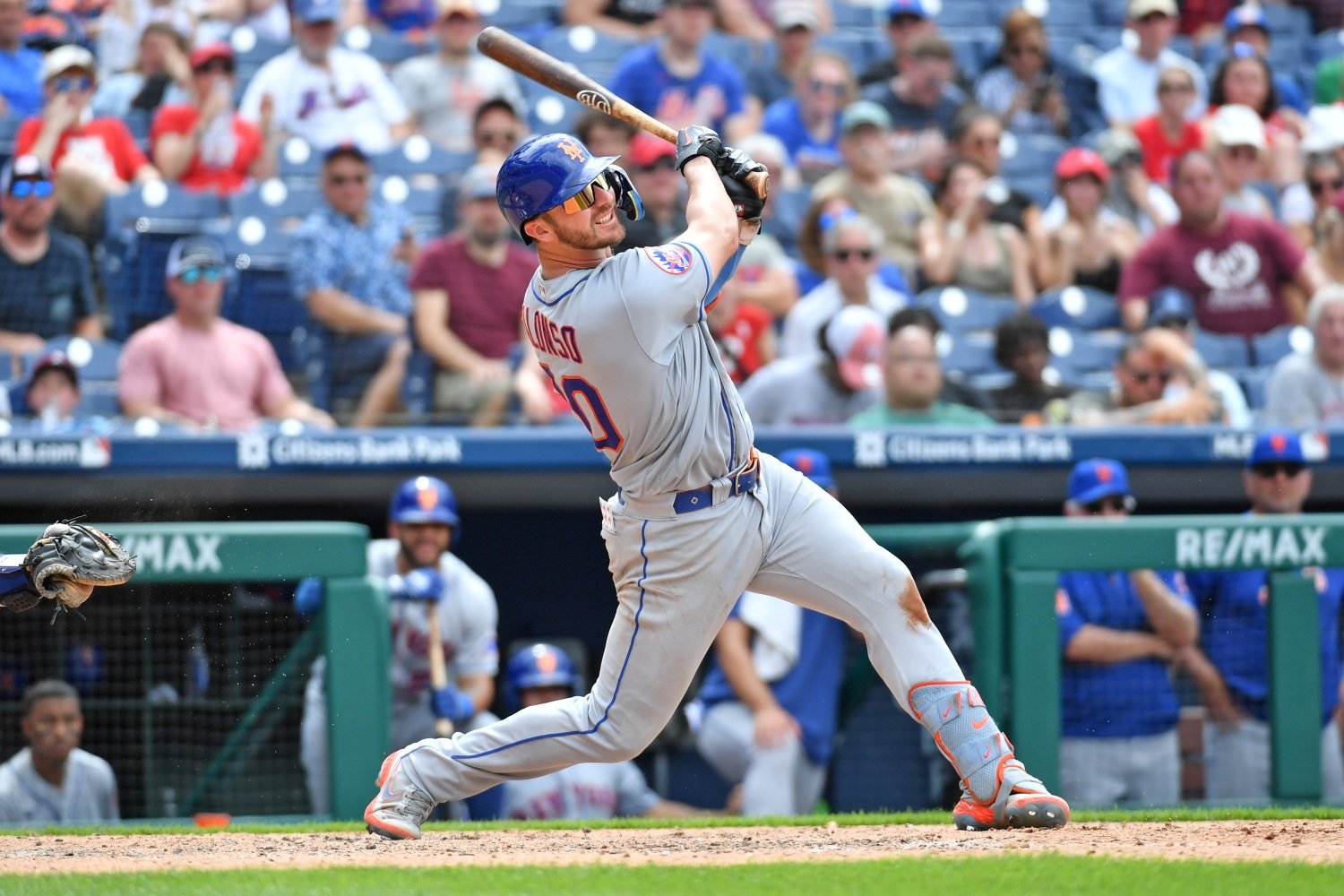 Image courtesy of © Eric Hartline-USA TODAY Sports
Of course, it would cost quite a bit to acquire Pete Alonso. The Mark McGwire-shaped first baseman broke Aaron Judge's short-lived rookie home run record in 2019, and felt more like the right spiritual successor to McGwire, who had held that record for 30 years before Judge. He's more or less kept that kind of production going ever since. Though Alonso is already 28 years old, and though the pandemic took a big bite out of his chances to rack up gaudy homer totals early in his career, he's cracked 170 of those.
Alonso isn't a one-dimensional slugger, though. His batting average is down this year, thanks to a semi-preposterous .190 BABIP, but even so, he's been 30-40 percent better than an average hitter, depending upon your offensive value metric of choice. That's because Alonso walks at a greater rate than the league average, and (almost incredibly, in this era) strikes out less often than the league-average rate. He's shockingly well-rounded at the plate. That's why there's a good chance he'll make his third All-Star Game next month.
The catch should be obvious. The Mets aren't the Reds, the Twins, or even the recently penny-pinching Nationals, who had their eye on a franchise sale when they dealt Juan Soto last summer. The specter of Alonso becoming expensive--even astronomically so--doesn't intimidate them. Therefore, he'll only be dealt if New York feels they've gotten a good enough price to make it worth their while. They might be sellers, but it won't be a fire sale.
Moreover, there are several other teams who could use Alonso. In fact, there are several others who need exactly that kind of offensive muscle. The Brewers would be interested in Alonso. The Twins would be interested. The Orioles and Giants would both be good fits. The Red Sox and Mariners, if they turn out to be buyers, could certainly use an upgrade at first base. The Cubs would have to contend not only with the Mets' inherent leverage, but with the bidding war those teams could create for a player with huge impact potential.
Thus, we have to ask a difficult question: If the Cubs had to trade Pete Crow-Armstrong in order to land Alonso, would you make that deal? Would Jed Hoyer and Carter Hawkins do so? I threw that very query out on Twitter, and the poll has received over 1,200 votes, as of this writing. Here's where things stand:
So #Cubs fans: If you had to trade PCA back to the Mets to get Pete Alonso (maybe 1-for-1, maybe as part of a multiplayer deal that also shores up the bullpen or rotation and/or sends a bad contract one direction), would you do it?

— Matthew Trueblood (@MATrueblood) June 28, 2023
In a 1-to-1 deal, barely more than a quarter of respondents are down with giving up the organization's top prospect, even for a sure-thing slugger with a year and a half of team control remaining. That's probably about right, really. Crow-Armstrong has significant upside, and the Cubs have control of his services until at least 2030, without commitment or a major financial outlay in the short term. Most importantly, perhaps, it doesn't feel as though Alonso would put the current team over the top, although it might make them favorites in the anemic NL Central.
Another 14 percent of voters, though, would consider a deal in which some other pieces changed hands, and the Cubs and Mets have a lot of ways to balance the scales in such a deal. Coming off back-to-back implosions by Jameson Taillon and Drew Smyly, the Cubs might feel that they need help in their starting rotation, and the Mets have some guys in whom the team could be interested. New York also has veteran relievers who could give a boost to the bullpen. 
Even with a sweetener, it would be difficult to part with a player who some project to play elite defense in center field and produce at an above-average clip at the plate for one at the bottom of the defensive spectrum, despite the unimpeachable track record of the latter. To do it, one would need to believe highly in Alonso. As I've probably implied heavily enough already, I meet that criterion. Having Alonso for two potential pennant races has value, but landing him this summer would also set the stage for a potential contract extension with him. Alonso's body might not look like one that will age well, but his skill set says he'll keep slugging into his 30s. 
One should never, ever pay more in a trade based on the ability to extend a player's contract, though, unless the whole deal is contingent on that extension. That wouldn't be the case here, so we need to focus on the term of team control Alonso has at the moment, not on how much longer he could theoretically be a Cub if they traded for him. The benefits to the big-league team from the acquisition of Alonso would be huge, but would they be enough? And do they outstrip the alternatives by enough to justify such a high cost?
Let's answer the second of those questions first. Even if Paul Goldschmidt becomes available next month, the Cardinals and Cubs are not getting together on a deal like that. C.J. Cron is the poor man's Alonso, the one the Cubs could land at a much lower price. He's on a very cheap deal that expires at the end of this season, and although he's been limited by injuries and looked a bit depleted this year, he had good seasons in 2021 and 2022. That's the bargain deal available as a short-term patch. Otherwise, the Cubs would have to ride out 2023 with Jared Young, Trey Mancini, and Matt Mervis at first base, and hope to see enough from either Young or Mervis to give them faith in them for 2024. 
It's possible the Cubs could win the division without getting better at first base. Those three incumbents have the talent to produce more than they have to this point. Christopher Morel and Patrick Wisdom could spend a little time there down the stretch, and each of them has power to contribute to the lineup. The team's viability this year depends more on getting Taillon and Smyly back on track, and on the production of their long-term core hitters, than on any addition they might make.
Still, Alonso would be a huge improvement, and he'd materially increase their chances of reaching the postseason. He'd also solve the position for 2024, whereas (at least absent a hot and seemingly sustainable finish by Young or Mervis) they currently have a hole there, and would be looking at Cron, Rhys Hoskins, Garrett Cooper, or Brandon Belt in free agency. As Mancini has ably demonstrated, buying second-tier bats at offense-first positions is often an unhappy business. 
The final question to answer is whether it would really take Crow-Armstrong to get Alonso. When a multi-time All-Star with more than a year of team control is available, and the selling club has leverage, it's fair to start with any team's top prospect. The Cubs have great depth in their system, though. Could they do a more desirable deal that doesn't involve Crow-Armstrong? It's plausible. It would probably cost them one of Cade Horton, Jordan Wicks, and Ben Brown, plus Kevin Alcantara, but it's plausible. Is giving up two of that group, and perhaps another sweetener, better than doing what the Mets did when they traded for Javier Baez in 2021, and just giving up one prospect with major upside? I can see a case for either side.
There's even more to consider here, like whether Cody Bellinger fits into an Alonso conversation, but that can wait for another time. For now, I'm eager to hear whether others feel that Alonso is worth all this commotion--let alone one of the best prospects the Cubs have had since their super-core of 2015 and 2016.