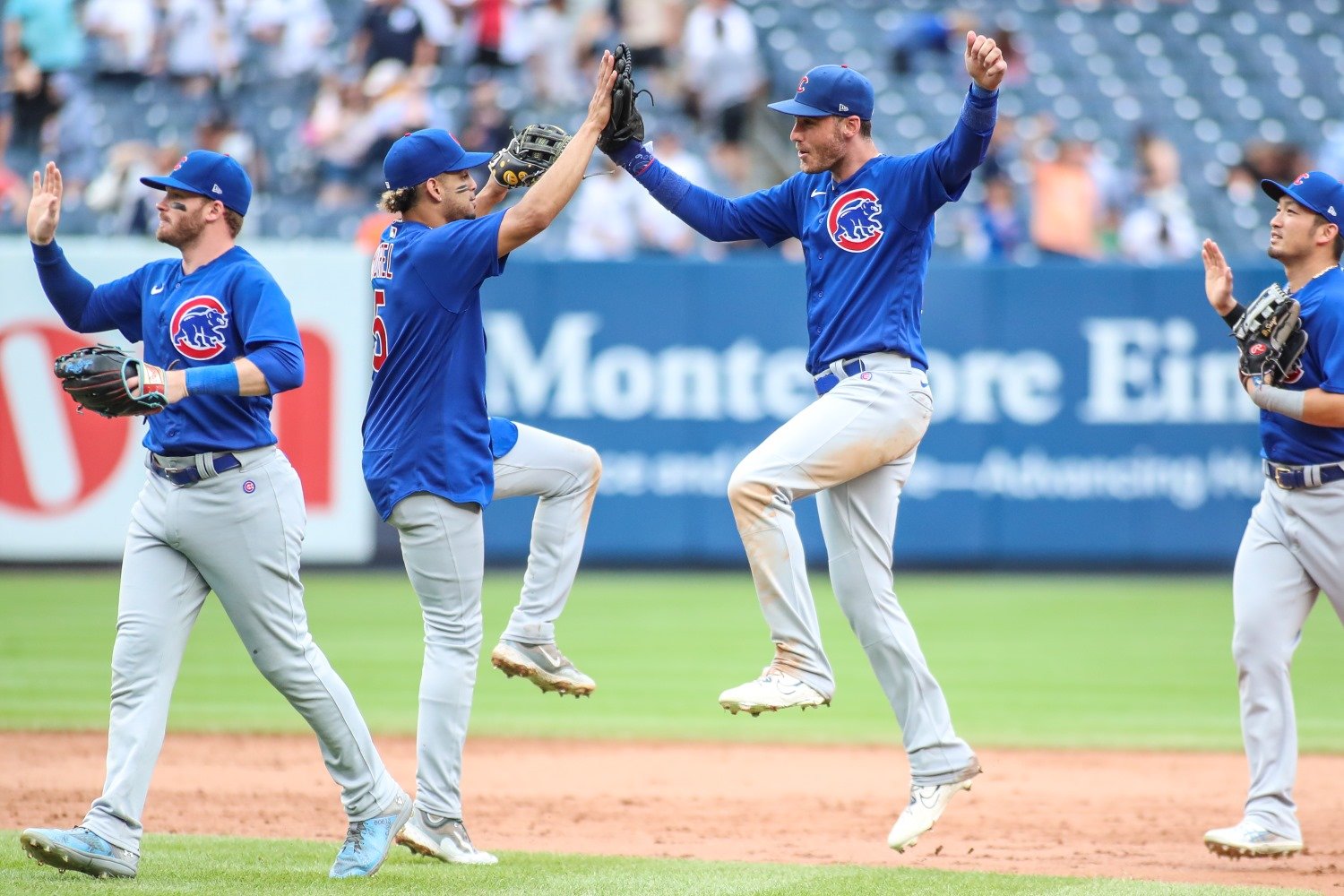 Image courtesy of © Wendell Cruz-USA TODAY Sports
When Marcus Stroman let the game get away from him in the sixth inning Thursday afternoon against the Brewers, you didn't have to squint to see the writing on the wall. There was, in that moment, a very good chance that the Cubs would tumble into the break, nearly 10 games out of the lead in the NL Central and without any serious right to be anything but sellers during trade season, which begins in earnest as soon as the Draft and the All-Star Game end on Tuesday.
Nor was a hiccup from Stroman, the Cubs' co-ace, the only reason for that rapidly rising sense of doom and gloom. Dansby Swanson was already sidelined, after suffering a heel contusion running the bases Wednesday. The script went: Cubs lose, after Stroman comes undone in a close game. Cubs go to New York, where they've never beaten the Yankees before, without either of their top two starters lined up to pitch there. Cubs end the first half deflated, seven or nine games under .500 and eight or nine games behind the division lead. It seemed painfully obvious how it would all unfold.
The Cubs went off script. Two-run homers by Cody Bellinger and Yan Gomes brought them back to tie the game Thursday, and though they went on to lose the game, they had showed some fight just when they seemed to be out of it. Friday night in New York, Jameson Taillon had his best start as a Cub (not saying as much as we wish it did, of course, but it would also have been several other people's best starts as a Cub) and the team earned a surprising win. Drew Smyly continues to be a source of some concern, as the regression monster is not so much biting him as swallowing him whole, but after the loss Saturday, the Cubs managed a comeback win Sunday.
That the Yankees helped them out with that series victory, by way of some sloppy defense and wild pitching from the bullpen, doesn't really matter. The Cubs took advantage of their opponents' mistakes. That's often the key to victory, and too often, the Cubs haven't managed to do it. 
The risk that the team will have to cave in and sell at the deadline is still very real. They're seven games out of the division lead, and equally far out of the third Wild Card position. They'll have to answer a lot of questions on the homestand they have beginning later this week, against the Red Sox, Nationals, and Cardinals. That's 10 games. If they win fewer than five of them, they have to sell at the deadline. If they win five, they'll still be in a holding pattern, but the pressure will be ratcheted up, because it'll be vital that they win at least five of their last seven games before the deadline. If they win six, they can start to gently lean toward selling, but they'll need to develop discussions on both sides of the market, nonetheless.
It's seven. Seven is the magic number. Seven games out of playoff position, seven wins needed to truly turn toward buying, and No. 7, Swanson, whom they need to return as soon as possible and at as close to full strength as possible. In seven games this past week, the team clawed out enough wins and showed well enough in their losses to earn a bit more time to dream and dare. In the next two weeks, they need seven wins to fully climb back into the mix. 
Twice this season, the club has shown the capacity to get that hot. After starting 1-3, they streaked to 11-6. Then, in mid-June, they had that even hotter streak, winning 10 of 12 against the Giants, Pirates, and Orioles. It would be nice to have seen longer stretches of good play, or more of them, but at least the proof of concept is in place. Now, David Ross and his squad need to go get the job done, so that the front office can justify building upon the foundation they've laid.