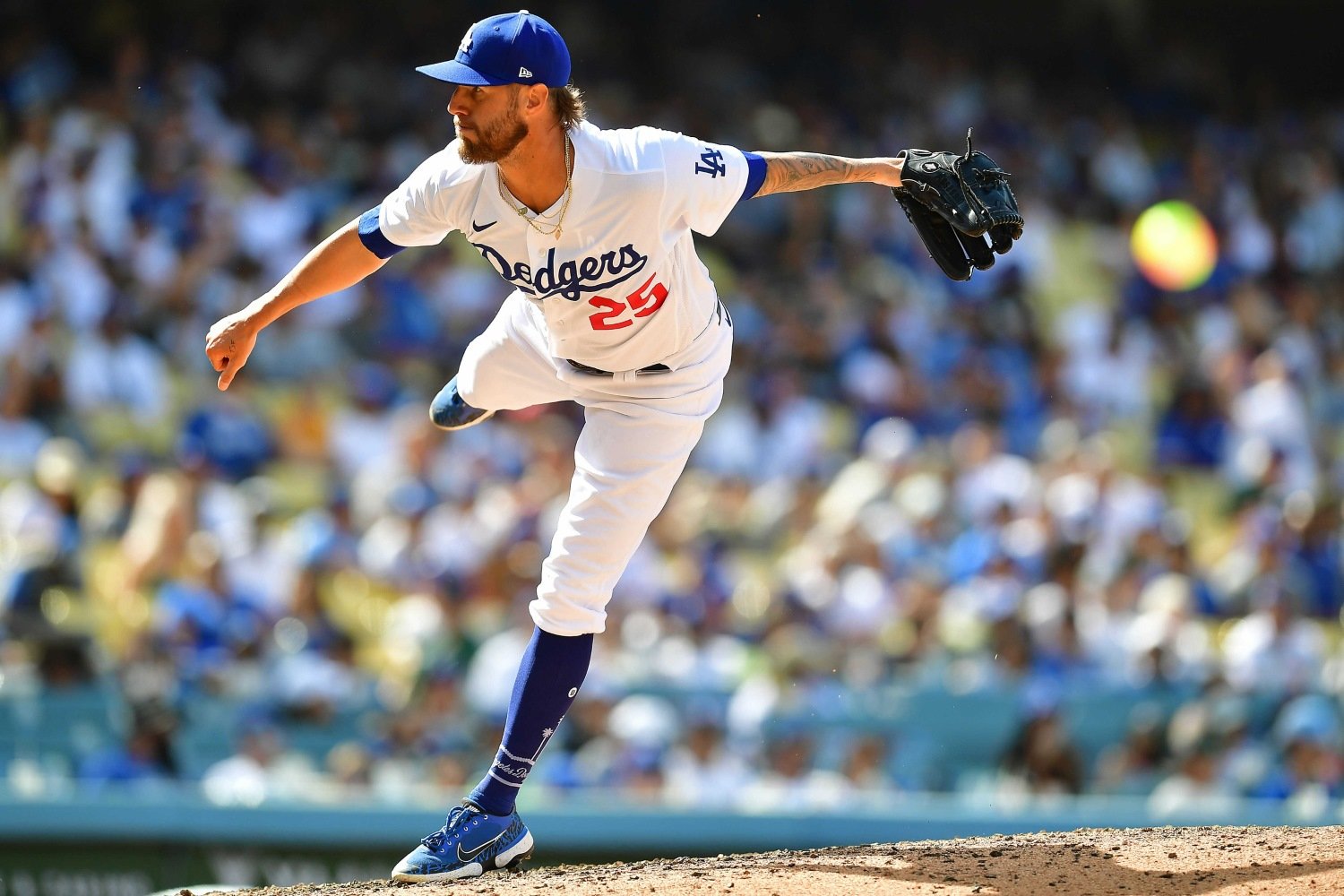 Image courtesy of © Gary A. Vasquez-USA TODAY Sports
With four games in three days this weekend in Cincinnati, and with rosters expanding at the same time, it was inevitable that the Cubs were going to call up some reinforcements from the minor leagues. That's not to mention the fact that, given the way the pitching staff has struggled since the All-Star break, some fresh arms are pretty desperately needed. 
All eyes were on Luke Little, who has pitched to a 1.62 ERA and has struck out 40.8 percent of hitters since getting the call to Triple A, or Ben Brown, one of the team's best pitching prospects who is making his way back from a minor injury. However, instead of those two, the Cubs opted to bring up Shane Greene, according to Jesse Rogers of ESPN. 
The Cubs signed Greene, 34, to a minor-league contract back in June. After posting a 3.25 ERA in 221 ⅓ relief innings from 2017 to 2020, Greene pitched to a 7.09 ERA in just 26 ⅔ innings over the past two seasons. 
The interesting thing about Greene is that he has been starting games in Iowa. He hasn't started a big league game since 2016, and was most recently a one-inning matchup guy at that level, but he'll either start or work a starter-like number of innings Friday against the Reds.
Greene has a 2.16 ERA in 16 ⅔ innings with the I-Cubs, and he hasn't allowed an earned run over nine innings in his last two starts. He is striking out 10.9 batters per nine innings, and walking 4.9. He has a 3.77 FIP and a 4.87 xFIP. 
The even more interesting thing about Greene, to me, is what he and his major-league performance will indicate about the pitching infrastructure that the Cubs have. Clearly, the Cubs see something in Greene. Signing a previously successful veteran reliever to see if he has anything left in the tank is not unusual. Deciding you're going to stretch him out to start games, which he hasn't done in seven years, is so.
We've heard about the revamped pitching infrastructure, the pitch lab, and all the money that has been funneled into that area of player development. Now, it's time for the Cubs to show the results of that. 
The emergence of Javier Assad has been a great start. Bringing up Jordan Wicks and having him contribute immediately is also a great sign. Reinforcements from the minor leagues and scrap-heap players contributing for good Cubs teams almost never happened during the last contention window. That is why it stalled out so quickly. 
I am not saying I have especially high expectations for Greene. Admittedly, I am not crazy about debuting someone who had a 25.6-percent ground ball rate in the minors at the home run haven that is Great American Ballpark. Yet, the Cubs need pitching help so badly that Greene doesn't need to be anything more than average to be a godsend for this team. Justin Steele, Julian Merryweather, and Adbert Alzolay can't pitch every single game, even though I am sure we would all like them to.
The bottom line is that this is what good organizations do. They identify players available almost for free, get them into their player development system, and get useful contributions out of them. The Cubs have talked the talk about their pitcher development. With Shane Green coming up in the middle of a playoff race, it is time for them to walk the walk.