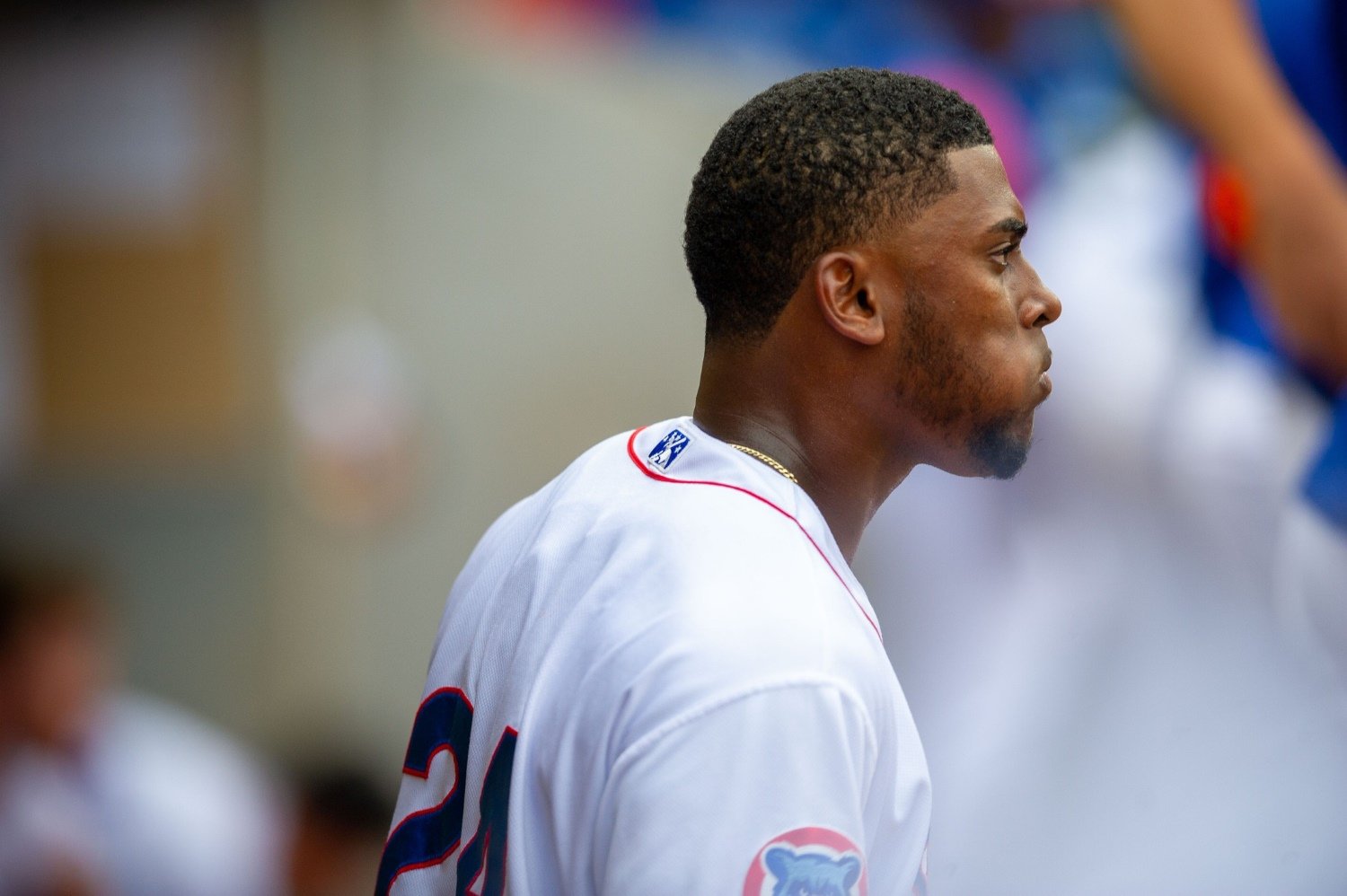 Image courtesy of © Jamar Coach/News Sentinel / USA TODAY NETWORK
The easiest explanation for the Cubs' choice to call up Alexander Canario instead of Pete Crow-Armstrong to start September is that Canario is already on their 40-man roster. Adding Canario doesn't cost them a spot on that reserve list, and although they have that room at the moment, there will be some shuffling ahead as they try to keep their pitching staff as close to full strength as possible down the stretch.
In truth, though, the reasons run a little deeper than that. For one thing, there's a little bit more flexibility when it comes to finding playing time for a right-handed batter than there is for a lefty right now. Mike Tauchman has hit a bit of a wall recently, but he remains a trusted and useful on-base threat against right-handed pitching. No one is nudging Cody Bellinger out of the lineup, and Seiya Suzuki has been the hottest hitter on the team for the last few weeks. Meanwhile, Christopher Morel has much more glaring flaws (and a lower floor when he's slumping) than Tauchman, and Patrick Wisdom's weaknesses are so easy for opposing teams to exploit that it's hard to trust him with any high-leverage plate appearances.
Wisdom is a good entry point for a discussion about what makes Canario uniquely well-suited to fill a role on this roster, in the short term. Somewhat surprisingly, this above-average offense (overall) is the third-worst in MLB against four-seam fastballs, according to expected weighted on-base average (xwOBA). Wisdom is one of the exemplars of the problem. He's hitting .187 against four-seamers this year, and whiffing on 37.2 percent of the swings he takes against that pitch, according to Brooks Baseball. Statcast classifies pitches slightly differently, so the exact numbers are different, but Wisdom has the 10th-highest whiff rate in the league against four-seamers, out of 209 qualifying batters.
Now that Statcast captures the action at Triple-A stadia, we can compare that directly to what Canario has done against four-seamers. Admittedly, the sample is small, and four-seamers in the minors are not the same as those he'd see in the majors, but Canario is hitting .417 and slugging .833 against four-seam fastballs this year in Iowa. He's whiffed on 29.4 percent of his swings against them, and you can count on that figure rising when he has to face big-league heat, but he's capable of doing big damage against that pitch. This is one reason why he hangs in very well against right-handed pitchers; they can't easily slip the heater by him.
Crow-Armstrong is a different hitter than Wisdom or Canario. They both, to varying degrees, rely on power to generate their offensive value, whereas Crow-Armstrong better commands the strike zone. He doesn't have gaudy numbers against four-seamers, but whiffs on just over 20 percent of them at Triple A. Again, that would rise in MLB, but the main reason why Canario fits better than Crow-Armstrong at the moment is that he can hit (and hit for power) against that four-seamer. The Cubs need reliable power, and they specifically need it against that offering, Thus, Canario is a good fit.
Nor is he without defensive value. Until now, the Cubs' only real option when facing left-handed pitching has been to use Bellinger in center field, with Jeimer Candelario moving to first base and Nick Madrigal at third. Now, they could conceivably keep Bellinger at first, using Canario in center and either playing Candelario at third or putting Madrigal there and letting Candelario be the DH. Canario can also spell both Ian Happ and Suzuki in the corners, where he's more than the merely adequate defender he is in center. The coming fortnight will be grueling, with 14 games in 13 days. Canario can help ensure that the anchors of the lineup remain fresh when it's over and there's still another two weeks of crucial games to play.
Later in the month, if Crow-Armstrong gets hot, Tauchman continues to struggle, or Morel reasserts himself as an everyday designated hitter, we could see Canario and Crow-Armstrong swapped--especially if the waters are relatively smooth on the pitching side and the team doesn't need to burn further 40-man spots on the staff. Crow-Armstrong's speed and defense could have a major impact in the postseason, too, so calling him up for the final fortnight at the expense of Miles Mastrobuoni or Wisdom could make sense, even if Canario sticks. Right now, though, the team needs most what Canario does best. That, and the fact that Canario was better than Crow-Armstrong over the final week of August, made it relatively easy to call up the man the team got for Kris Bryant, rather than the one they got for Javier Baez.