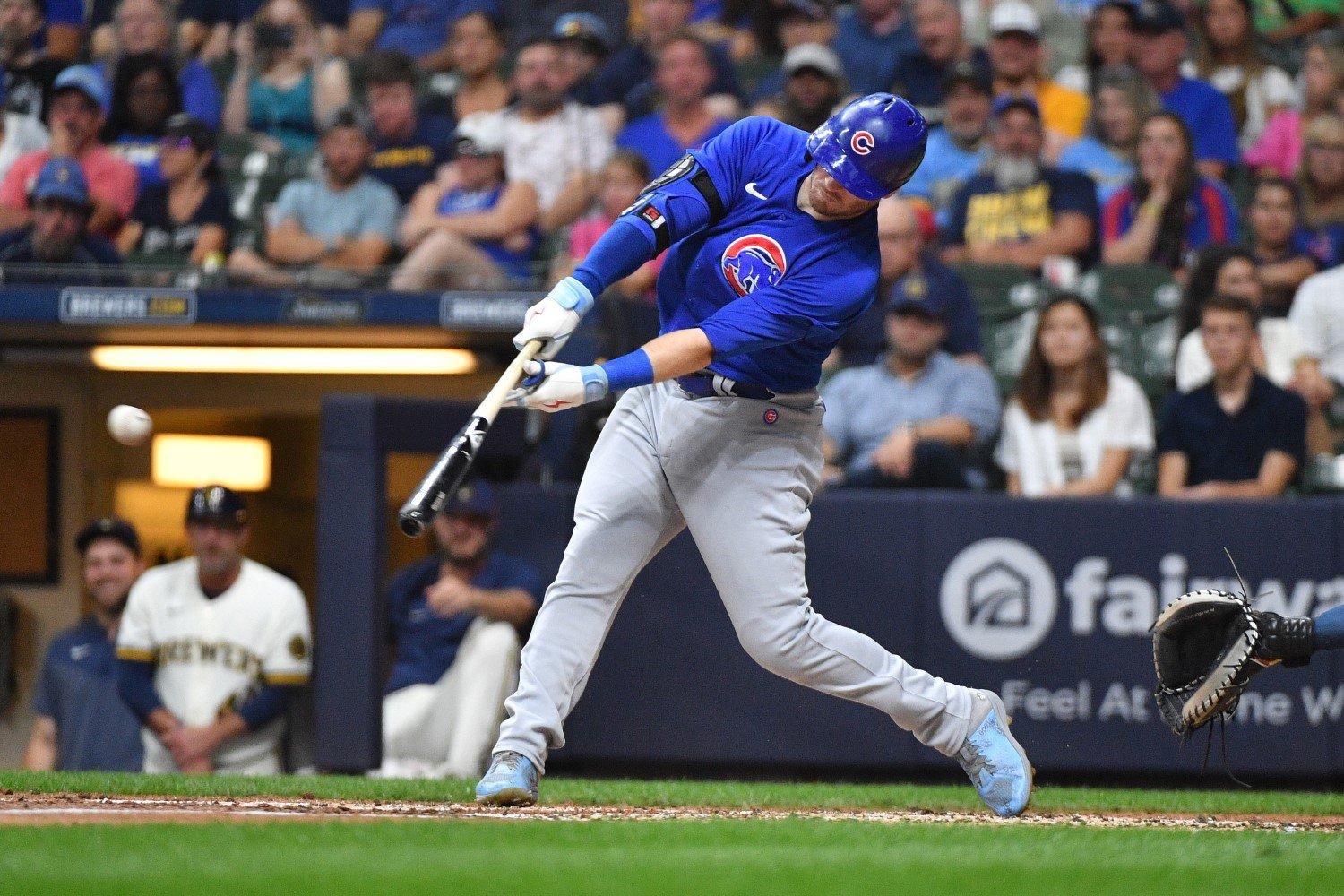 Image courtesy of © Michael McLoone-USA TODAY Sports
All the pieces and beats of the season matter. If the Cubs had come to Miller Park at 41-41, they wouldn't have needed to worry at all about a split of these four games. A split on the road is usually good enough, and splitting with a team ahead of you in the standings on the road is nearly always so. Since they came in at 38-44, though, they needed to seize this opportunity. They had to start closing the gap between themselves and the Brewers, as well as the Reds. They couldn't swing it.
By the end of the series, it did seem as though the Cubs were slightly more talented than the Brewers. It's seemed that way for much of the season, and through half their encounters, it's especially seemed that way when they take the field against one another. Unfortunately, talent isn't like the tickets you win playing games at Dave & Buster's. You can't cash talent in for the wins missing from your record. Talent is more like the tokens. They give you the opportunity to succeed, but you still have to go play the games to win the real prizes.
Since his return from the injured list in mid-May, Nico Hoerner is hitting .251/.304/.374. He's trying to adjust and evolve. He's tapped into slightly more power, after a start in which he was racking up singles but little else, and he's drawn a few more walks than he'd been doing early in the season. Still, the Cubs can't remotely afford for a player on whom they rely as a dynamic offensive force to run a sub-.700 OPS over nearly 200 plate appearances. 
Speaking of stretches of 200 plate appearances, Ian Happ's last 199 of them have resulted in a .204/.342/.327 line, He has three home runs over that span, despite hitting two in that one game in London. In his last 201, Dansby Swanson is hitting .235/.304/.399. Cody Bellinger is hot right now, but his home run Thursday was his first since the end of April. Within that span, Swanson and Bellinger have had good streaks. So has Seiya Suzuki, who's struggling mightily lately. Happ and Hoerner have managed to avoid any catastrophic slumps, though they haven't had even the brief heaters Swanson and Bellinger have enjoyed.
The Cubs are two well-rounded power hitters shy of a serious lineup right now. Occasionally, they will be able to put up runs over the course of a few games, be it with the help of some poor defense or because someone like Yan Gomes (whose home run Thursday was his first since June 4, and his second since May 10) runs into one unexpectedly, but they just don't have the thump to consistently produce enough runs to win games.
As I've written recently, there are things they could be doing to improve their chances. Miguel Amaya should be playing more, for instance. They could bring back Matt Mervis for another taste of the majors, to see how much he's learned during his sojourn in Des Moines. They could be left with no choice but to bring back David Bote, Edwin Rios, or Miles Mastrobuoni, in the wake of Nick Madrigal hitting the IL and Swanson leaving the game Wednesday with a bruised heel. Nelson Velazquez is a potential source of power, and has recovered from a crisis-level slump recently. There are, of course, trades to consider.
Still, we have to wonder whether the team is even good enough at coaching and player development to make that stuff matter. Underachievement is a little too contagious in the Cubs clubhouse for my comfort. If they can't be counted upon to get the most out of their cornerstones, it won't matter what tweaks they make to playing time distributions, or even whom they acquire.
Jameson Taillon starts Friday night in New York. He's becoming another, even more alarming exemplar of the team's inability to convert talent into real value. He represents the dangers of being as bad at that particular conversion as the team seems to be right now. He's returning to the home of a team for whom he pitched very well, and he'll set the tone for a series the Cubs absolutely must win. Hopefully, this will be the start of his turnaround, and the team will prove that they really can do something useful with talented players. Hope, alas, is not a plan.