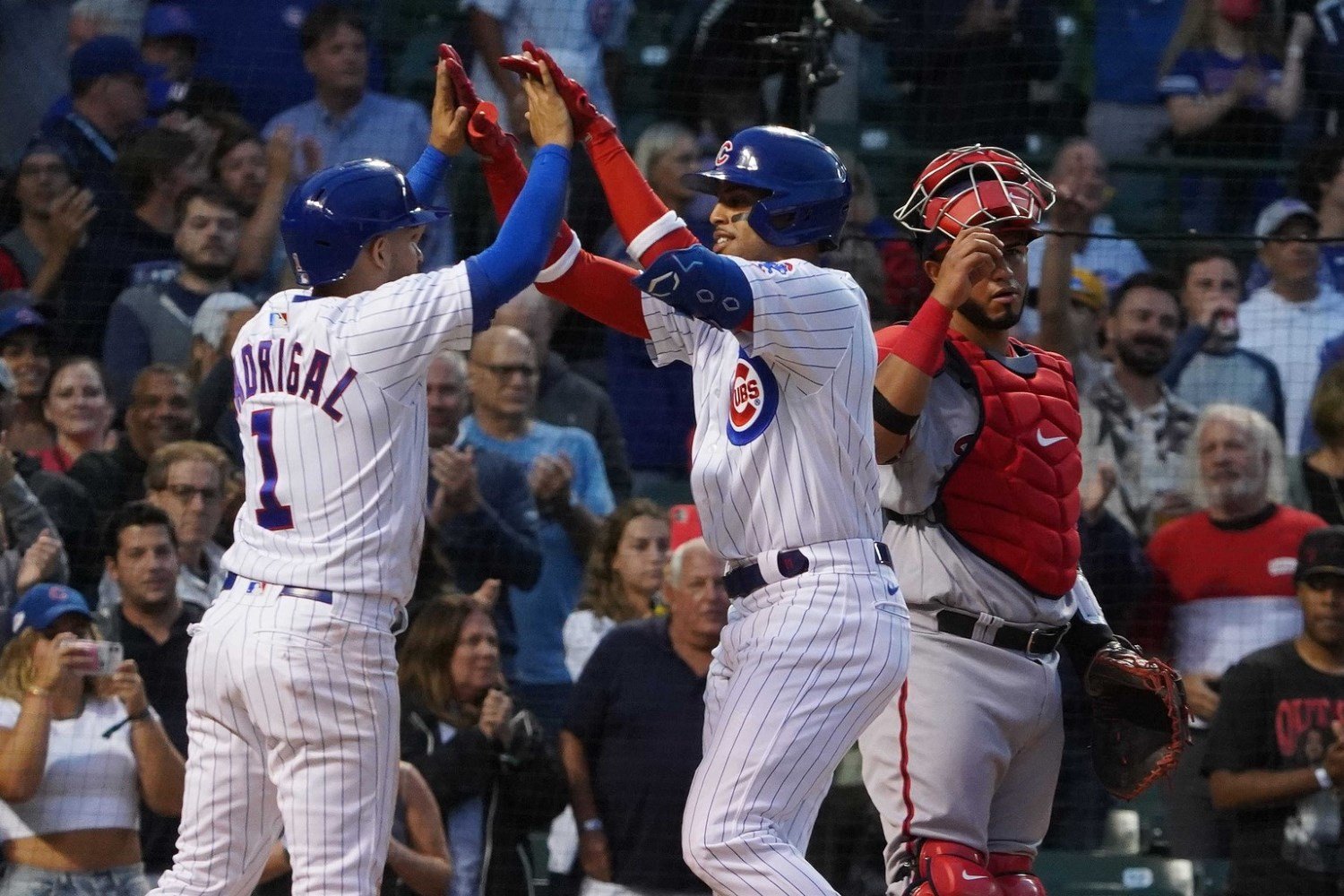 Image courtesy of © David Banks-USA TODAY Sports
A year and a half ago, it felt very much as though the Cubs might need to choose between Nico Hoerner and Nick Madrigal. One would be their second baseman of the future, but the other would struggle to find any long-term home, and might need to be jettisoned in order to build a functional roster. Not since the 1990s have teams' pitching usage choices allowed for a pure backup second baseman, after all.
Then, the 2022 season happened. Madrigal endured frustration and injury, and although he finished strong, he made no compelling case for himself as a starting regular in the majors. Yet, Hoerner left the door open, by proving that he had the capacity to acquit himself at shortstop, in addition to hitting enough to bat near the top of the order on a credible team. That's why Madrigal was able to get a meaningful September audition, in which he looked good, and in turn, that's why he stuck with the Cubs even after the team added Dansby Swanson over the winter. Because Hoerner could be the backup shortstop from his position at second, Madrigal could be a bench player even while largely limited to second base.
Obviously, much has changed even since then. Madrigal has, when healthy, had a much better 2023, especially over the last two months. That's the span during which, because of Patrick Wisdom's injuries and inconsistency, Madrigal has become the team's apparent top choice to play third base. It wouldn't have occurred to anyone to put the diminutive Madrigal at third base if exigency hadn't demanded it, but (after a few rocky showings at the start) he's demonstrated above-average ability at that spot. He's also batting .323/.397/.462 since he took over this role on June 9, although that sample is fewer than 80 plate appearances, because he missed most of a month with a hamstring strain.
The rub lies in the fact that Madrigal seems (and certainly believes, based on his comments earlier this year during a sojourn in Iowa) to need to be in the lineup almost daily in order to stay in the rhythm necessary to have success with his approach and skill set--to wit, his lack of any power of which to speak. A player who can only play well if they play very often puts more pressure on themselves and the team, because they have to be allotted a daily spot in a way that modern rosters usually do only for stars. Worse, Madrigal is not durable, so to build the best version of this team around him at third base requires having a second, competent third baseman on hand who can be more successful in limited playing time.
Here we reach the new dilemma facing the organization. The Cubs no longer need to choose between Madrigal and Hoerner; that would now be a cruelly easy choice. Instead, they need to choose between Madrigal and Christopher Morel. It's not a direct position battle, per se, because the Cubs have proven (and Morel has affirmed, with his play when called upon in semi-emergencies) that Morel is not a third baseman in their eyes. Still, his recent production has forced them to put him in the lineup nearly every day. Often, he's the designated hitter. 
At this point, because Trey Mancini's contract is a hurdle in dealing with first base or in adding high-salary players at this deadline, third base and DH are the two places where the team can plausibly upgrade the lineup. That means moving on from either Morel (despite his raw production, he's been so up-and-down, and his lack of a position hurts the team's modularity and flexibility) or Madrigal (whose success, on both sides of the ledger, seems so fragile, and who could get hurt again at any moment). They could trade for some slightly better version of Wisdom and banish the current iteration, but if both Morel and Madrigal have to play every day, what would that really achieve?
For the balance of this season, it might work to have Morel and Madrigal continue in their roles. However, this deadline is an opportunity to answer a couple of medium-term questions at low cost, or even at a profit, without hurting the 2023 club's chances. To miss that window would be a failure. Thus, the front office has to consider trading one of the two, as part of a maneuver in which they acquire some veteran bat and a controllable pitcher to bolster the staff.
Choosing between these two is like choosing between apples and garlic. They're so different, and they offer such different sets of possible rewards and challenges, that it feels strange to set them in rivalry with one another. If the Cubs are going to make a decisive, organization-building, winning move at this deadline, though, it will probably have to involve knowing which of these two is part of their long-term plans.