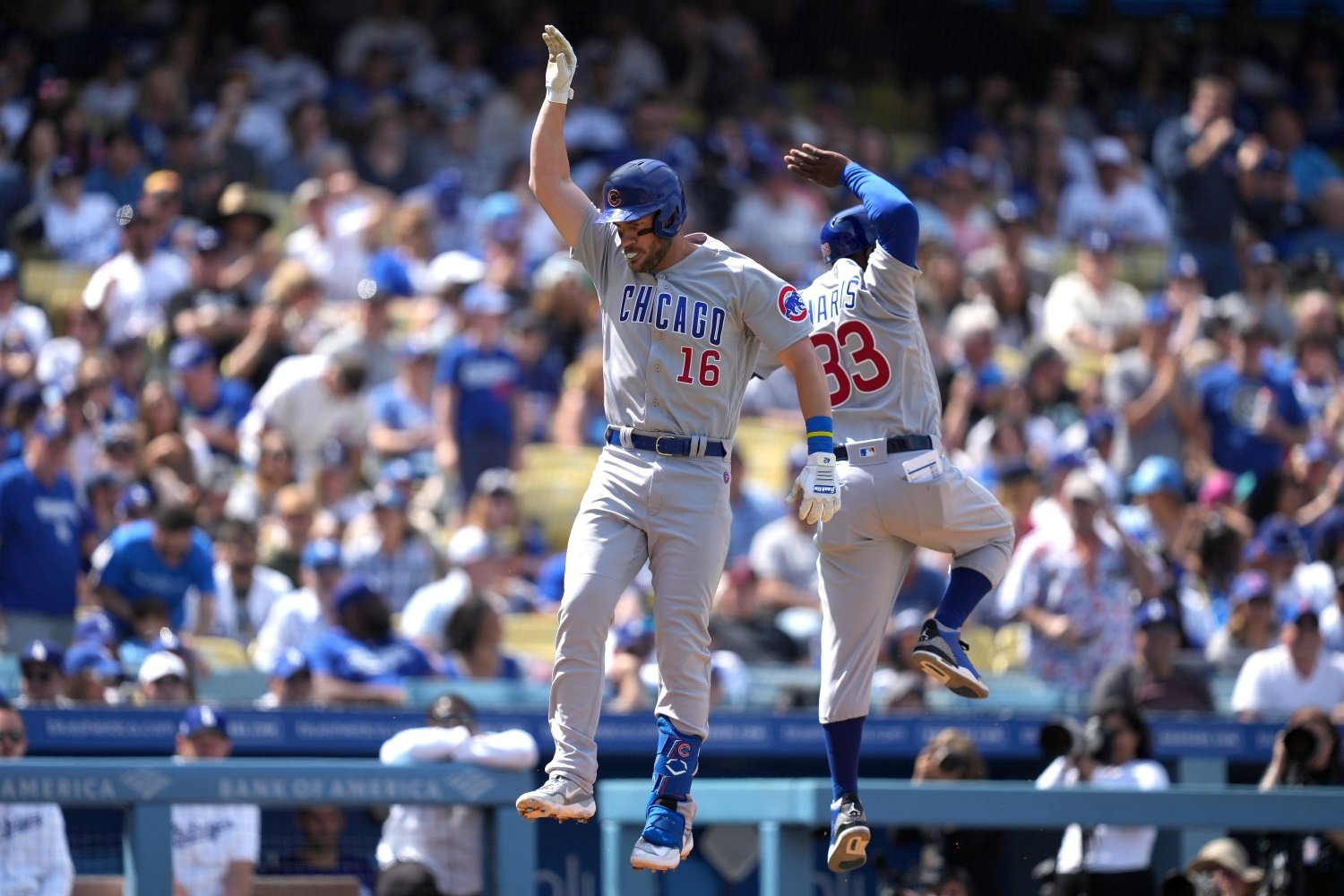 Image courtesy of © Kirby Lee-USA TODAY Sports
Every team will win 54 games in the long grind of an MLB season, and every team will lose 54. The other 54 determine the outcome of your season. When you lost on an excruciating walkoff sequence the previous night, though, and when it's getaway day at Dodger Stadium, and when you're sending your fourth starter out to face one of the co-favorites for the NL Cy Young Award, you tend to mentally chalk that day's contest up as one of the inevitable losses, and not even worry much about it.
Under the intense and demanding leadership of their new core, though, the Cubs didn't approach Sunday's game that way at all. For one thing, Drew Smyly managed to avoid almost all trouble, and got David Ross 17 outs. He wasn't missing bats, but he stayed around the strike zone, and little of the Dodgers' contact was both solid and in the air. When Smyly has his three-pitch mix working, even if his curve isn't dipping quite enough to generate whiffs, he can battle his way through five or six frames on the strength of good defense and enough guile to escape a jam. Only Chris Taylor, who cracked a solo home run against him in the third inning, managed to put a run on Smyly Sunday.
That set a new tone for the game. It turned out to be the Cubs' starting pitcher who lent momentum to the game, and that made it (unexpectedly) winnable. The offense continued to push the envelope. Nico Hoerner was picked off when he made an early break for second base against Julio Urías in the first inning, but Dansby Swanson and Cody Bellinger each stole a base. Bellinger, who had reached on an error, went to third on a ground ball and scored on an infield dribbler in the fifth, tying the score.
Ian Happ could have broken things open in that same frame, as the team loaded the bases ahead of him with two outs. Again, though, a southpaw got the better of him. This time, Dave Roberts didn't even have to do any maneuvering. Urías went right after Happ and induced a weak flare for an inning-ending groundout.
At that moment, it again felt like the game could slip away from the Cubs, as it did Saturday night. Instead, the very next inning, Patrick Wisdom and Bellinger cracked back-to-back home runs. That's the kind of offense that brings wavering games back from the brink of loss. That combination of relentlessness and suddenness has eluded the Cubs for most of the last four seasons, and the appearance of it in this game is no guarantee that they'll sustain it. For one day, though, the Cubs gave themselves a bit of room to breathe.
It almost wasn't enough, of course. A bit of wildness from Adbert Alzolay and a fly ball that Seiya Suzuki lost in the California sun put the Dodgers within a hit of the lead. Mark Leiter, Jr. came on to put out the fire, though, and had what feels like his third or fourth huge outing of the year already. His splitter is one of the most valuable weapons in the Cubs' bullpen. The spin rate on the pitch, thus far this year, averages just 909 revolutions per minute. Of the 141 pitchers who have thrown at least 25 changeups or splitters this year, only the Reds' Fernando Cruz has lower spin than Leiter. That makes the pitch tumble and fade as well as just about any splitter for which one could hope, and it was devastatingly effective against Freddie Freeman and Max Muncy in this series.
Leiter isn't a true relief ace, or anything. The Cubs still don't have one, though Keegan Thompson looks like that kind of pitcher on his best nights. It's beginning to look like they have another in what's becoming an impressive line of highly effective committees out there, though, and every game gives David Ross, Tommy Hottovy, and the rest of the pitching infrastructure more information about how best to deploy the unit. On Sunday, they learned that they can count on Leiter and Michael Fulmer on back-to-back days, at least in limited matchups, and that Leiter isn't someone teams will solve after a single look. 
More importantly, of course, the team managed the improbable series win. They now go to Oakland, where the 3-13 Athletics await, with a very good chance to sew up a winning West Coast swing. The outline of a team that stays above .500 for more than a couple of weeks to open the season is coming into focus.
Third Bucket Record: 3-3