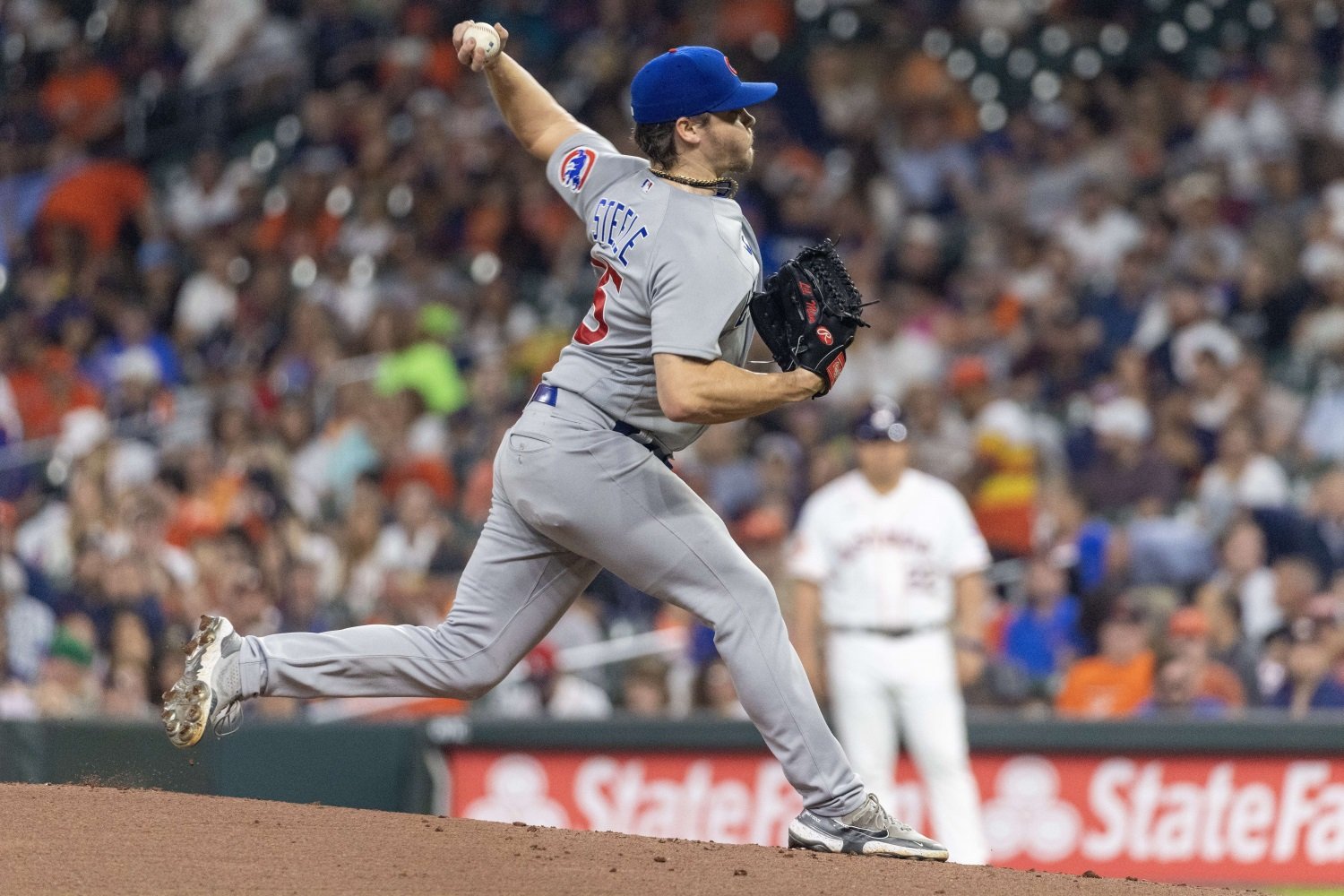 Image courtesy of © Thomas Shea-USA TODAY Sports
Being a two-pitch starting pitcher is tough even on your best day. On a night like Tuesday night, as Justin Steele faced the challenge of giving the team some much-needed innings with some foreign substances floating around in his stomach and his respiratory system, it's nearly impossible. If you catch the defending champions on a night when you feel like that, you're probably going to be lucky to survive six innings, even while allowing five runs.
All things considered, Steele pitched admirably. Even so, he allowed at least three runs for the third time in four outings, and it's starting to become clear what tweaks he needs to make in order to reclaim his dominant form. He's throwing too many fastballs, especially to right-handed batters, and it's making that unique heater too familiar to opponents.
Here's how Steele's pitch mix has evolved from start to start this season, against righties.
It's become popular, lately, to refer to Steele's fastball as a "unicorn," with its odd movement profile. Part of the fun and the magic of unicorns, though, is that they're so rare. Recently, and especially Tuesday night, Steele just hasn't fostered that magic, because he's not throwing enough sliders to keep righties from sitting on his fastball.
Based on the way he's attacking left-handed hitters, the best guess here is that he's still confident in that slider, but not in executing it or locating it the way he needs to do to righties, in particular. He's throwing the slider more often than ever to lefties.
Nearly every pitcher has different approaches based on the handedness of the batter. That Steele is very different in his pitch mix for lefties and righties is neither unusual nor a problem, per se. Because he's a southpaw starter (and one who works mostly to his glove side, without a changeup, to boot), he's going to see a ton of right-handed batters in just about every outing. He needs to be similarly effective against them as he is against lefties.
When he's at his best, Steele can throw his slider to righties and have success. He can throw it at their back foot and get whiffs, or backdoor it for called strikes. When his feel is a bit less fine, though, he can miss over the plate with it, and naturally, right-handed hitters make him pay for those mistakes. That's led to a kind of security-blanket relationship between Steele and his fastball against righties. He's always confident in throwing that pitch, because he knows that even when he makes mistakes with it, he rarely gets hit hard.
Alas, Tuesday night was a good example of how that can turn out not to be true when he leans too heavily on the heater. We can forgive that particular start, and Steele still isn't to be counted among the many problems facing this team. If he wants to remain the co-ace of the staff and continue his growth into one of the game's top starters, though, Steele has to figure out how he can consistently go to the mound with the command needed to use his slider more often against the hitters he sees more often.
He might do well to consult with Drew Smyly, a fellow two-pitch lefty with unique pitch characteristics. While Smyly has the luxury of a breaking ball that fades deceptively away from right-handed hitters, he's had to navigate some of the same questions of balancing a thin pitch mix as has Steele, and like Steele, he generates whiffs and induces weak contact without premium velocity. Famously, a conversation with Jon Lester set Steele on the path to the mountainside he's scaled so impressively. Now, he can learn from another southpaw sherpa how to complete his trip to the summit.