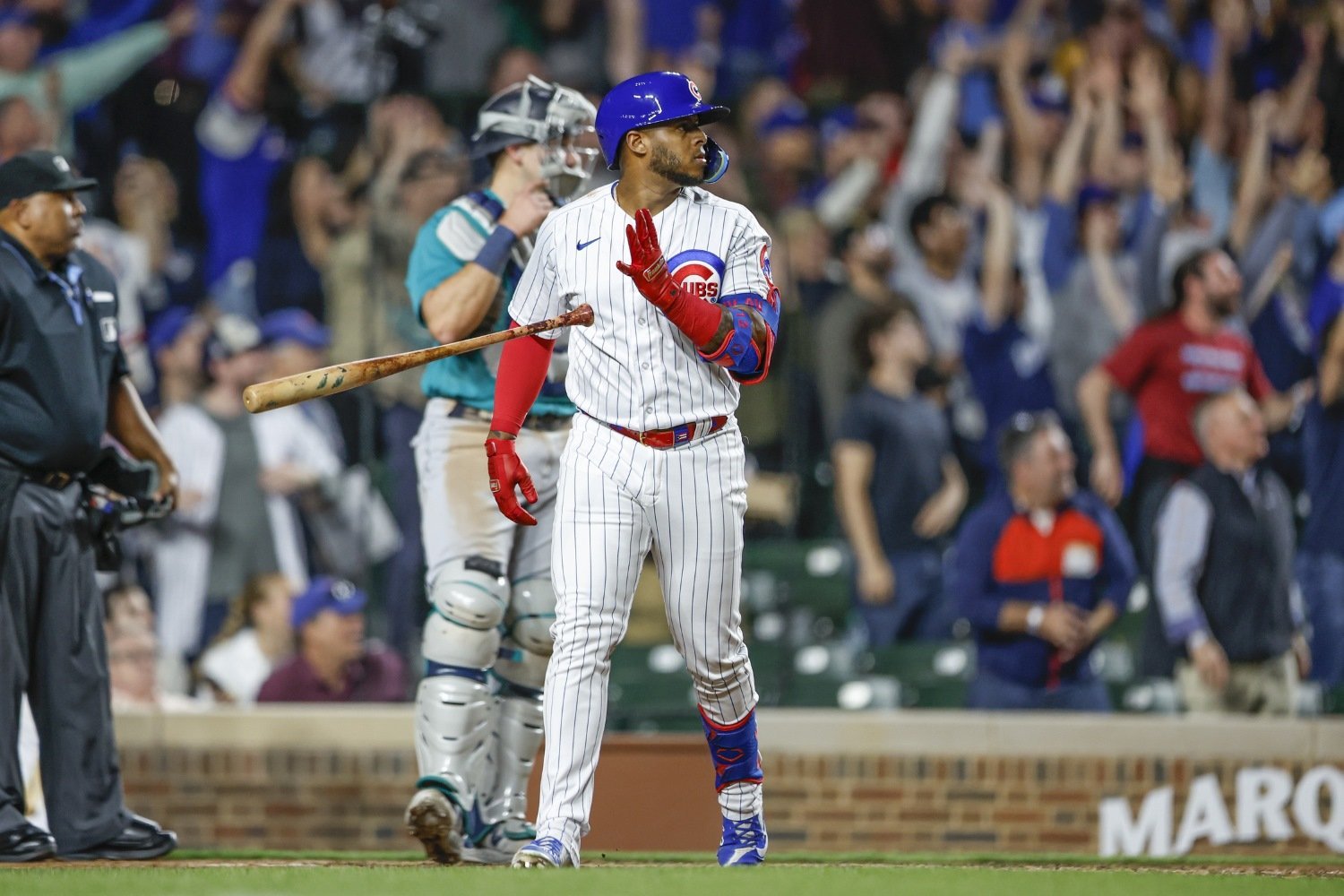 Image courtesy of © Kamil Krzaczynski-USA TODAY Sports
The Chicago Cubs were busy leading up to the MLB trade deadline on Tuesday. They made minor moves, trading for pitchers Jose Cuas (from the Kansas City Royals) and Josh Roberson (from the Tampa Bay Rays). The big move, however, was acquiring Jeimer Candelario from the Washington Nationals.
It was refreshing to see this front office go out and get some help for a team that is within a stone's throw of a playoff berth. However, the cost wasn't nothing. Let's take a look at who the Cubs gave up, and what they might be missing today and going forward. 
DJ Herz, LHP
If there is one traded player who is most likely to come back to bite the Cubs, it's Herz, who was starting games for Double-A Tennessee before being dealt. He's striking out over 13 batters per 9 innings so far in his minor-league career, so the stuff is there. On the flip side, he is also walking over 5 hitters per 9 innings as a starter, and command issues often indicate that a player might be better-suited to relief work in the long term. If he is ever able to fix those command issues, his ceiling could be much higher. 
Fangraphs lists Herz at 40+ future value, which means he projects as something like a lower-tier bullpen guy. The Cubs have four other pitchers in that tier at Fangraphs, so they likely felt like they could deal from a position of strength here. 
---
Kevin Made, SS
Made, the other player the Cubs gave up for Candelario, was playing shortstop for the High-A South Bend Cubs prior to the trade. He has increased his walk rate from 2.5 percent in his first season in A ball in 2021 to 10 percent this year. However, he has slugged just .366 in almost 1,000 career minor-league plate appearances. 
Fangraphs also has Made in the 40+ future value tier, meaning he projects as a bench player long-term. If he can continue to improve with the bat as he has, he could have legitimate value going forward. 
One important note on Made and Herz is that they are both eligible for the Rule 5 draft this offseason, according to Arizona Phil at the Cubs Reporter. This means that if the Cubs were not going to add them to their 40-man roster, they would have been available to any other team via the Rule 5 draft. Whether or not another team would have taken them, since in order to retain a Rule 5 draftee you have to leave them on your major league roster for the entire season, remains to be seen. But the Cubs likely traded two players on whom they were going to have to make a difficult decision this offseason anyway. 
---
Nelson Velazquez, OF
I am honestly a little sad to see Velazquez go, even if only for the good memory he gave us all with his go-ahead grand slam against the Mariners earlier this season. He is a major league-ready outfielder who just wasn't going to see any significant playing time with the Cubs, who have both their right and left fielders locked up for the foreseeable future.
Velazquez struggled in his cup of coffee with the big-league team last year, posting just an 87 wRC+, according to Fangraphs, and despite the memorable moment mentioned above, he still hasn't shown consistent ability to produce above AA, as he has just a 95 wRC+ with AAA Iowa this season. 
The 24-year-old is striking out over 30 percent of the time in his minor-league career, and if he can manage to trim that figure considerably, he could have a long major-league career because of the power in his bat. As mentioned before, though, the Cubs just aren't the team to get him those valuable reps. 
---
Manny Rodriguez, RHP
Rodriguez, who turns 27 in a month, pitched 13 2/3 innings in the majors last year and managed a 3.29 ERA. His peripherals were much less kind, as his 4.87 FIP suggested he was a bit lucky. 
He hasn't made it back to the big-league team yet this year, but he has struck out over 13 batters per 9 innings in Des Moines, and his 2.93 FIP suggests he should be preventing runs at a much better rate than his 4.42 ERA. 
He's got good stuff, and certainly could carve out a career in a major-league bullpen somewhere, but he wasn't on the Cubs 40-man roster, and if they weren't going to add him, he would have been a minor-league free agent this offseason anyway, as this is his sixth season in the minors with the Cubs. 
---
Adrian Sampson, RHP
Sampson, who was a valuable member of the 2022 Cubs rotation, never quite found his footing in 2023. He has been injured for much of it, as he had surgery on a torn meniscus in May, but even when he has pitched, he's pitched to a 9.32 ERA in 28 minor-league innings. 
If Sampson can return to his 2022 form, the Cubs could end up regretting this, and if there is any organization that can get him back to that form, it's the Rays. Given that he is 31 years old and coming off of knee surgery, though, I would imagine the Cubs have reason and data points to believe that his days as an effective pitcher are done. 
---
Trey Mancini, 1B
As tough as it is to say for someone who is so easy to root for for so many reasons, it was about time for the Cubs to cut bait with Trey Mancini, and they did just that on Tuesday afternoon, as they designated him for assignment. 
All numbers on Mancini for this season suggest he is cooked. His 74 wRC+ on FanGraphs means he was 26 percent worse than a league-average hitter, and that poor performance is supported by his batted-ball data. His expected slugging percentage and batting average on Baseball Savant are both in the bottom 10 percent of the league. 
Poor performance at the plate plus poor defense combined to make Mancini worth -0.8 WAR on FanGraphs. He has more recently been deployed exclusively against left-handed pitching, but even then, he was hitting just .223/.306/.351 against southpaws, and his career numbers don't suggest he has ever been someone to hit left-handed pitching much better than right-handed pitching. 
I'd love to see Mancini extend his career a bit here, but the Cubs just can't afford to be giving him plate appearances anymore. With the acquisition of Candelario, they needed a roster spot, and Mancini was the logical subtraction. Candelario and Cody Bellinger will take all of the playing time at first now, and between Candelario, Patrick Wisdom, Nick Madrigal, Miguel Amaya, and Yan Gomes, the Cubs have significantly better options at both third base and designated hitter against left-handed pitching, as well. 
Conclusion
The Cubs certainly lost some value with all of their moves, but they are definitely palatable losses. Mancini and Sampson are, in my opinion, unlikely to be around the big leagues for much longer. Rodriguez and Velazquez both have potential, but were unlikely to hit that potential with the Cubs. While Herz and Made both have lots of development to go, and are interesting prospects, the Cubs cleared a potential 40-man roster logjam, and neither of them were in the top tier of the Cubs farm system.