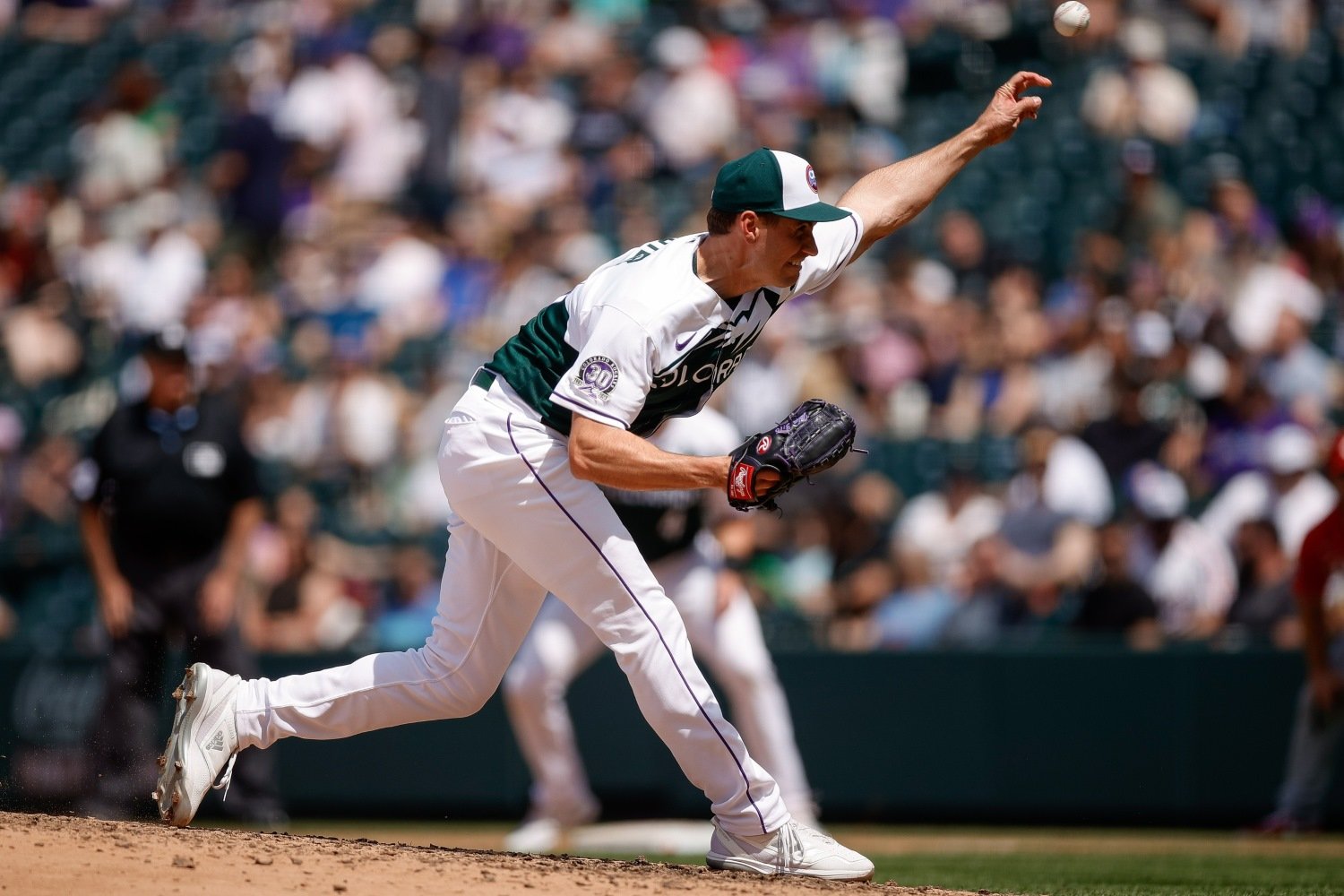 Image courtesy of © Isaiah J. Downing-USA TODAY Sports
Even in the process of winning five of their last six, the Cubs showed the vulnerability of their bullpen. Julian Merryweather and Mark Leiter Jr. look much less reliable lately than they did a month ago, and the underbelly of that relief corps has always been a problem. Since it became clear that Brandon Hughes was compromised by his balky knee, it's been especially urgent that they find a lefty to get important outs in middle relief. Here, then, are three guys who could fit that role, and in whom the Cubs should have interest between now and next Tuesday.
Brent Suter, LHP, Rockies
The famously soft-tossing Suter is not going to rack up strikeouts, but he's posted a dazzling 2.62 ERA even while calling Coors Field home. He has one of the league's most deceptive deliveries; excellent extension that makes his velocity play up toward average; a great changeup that misses bats against righties; and a new blend of four-seam fastballs and sinkers that seems to have fully neutralized hitters. His opponents' average exit velocity is the lowest in baseball and of his career, south of 84 miles per hour. He can move his four-seamer around the zone according to the handedness of the opposing hitter and the pitches he's trying to set up, and his sinker's action is surprisingly nasty. 
A free agent at the end of this year, Suter should be relatively easy to acquire, though his shiny numbers will draw multiple suitors. Reports are that the Rockies do expect to trade him.
Matt Moore, LHP, Angels
If the Angels scuffle on the road trip on which they've embarked for this week, they'll end up needing to sell pieces at the deadline, however strongly they might prefer to cleave to contention while they still have Shohei Ohtani. Moore would be an attractive trade chip, in that scenario. Since converting to the bullpen for good at the start of 2022, he's run an ERA around 2.00, striking out over 25 percent of opponents and inducing a good amount of weak contact.
This version of Moore throws about 94, with good life on the fastball. His changeup and curveball both miss bats. His command isn't what one might wish it were, but he's still a solid setup option from the port side.
Aaron Bummer, LHP, White Sox
It's a good time to buy low on Bummer. His ERA for the year is 6.82. That doesn't come close to matching his skills or even his actual performance, though. He's not a relief ace, but he'll strike out batters at a high rate and get lots of ground balls with his famously heavy sinker. Bummer walks too many batters, but he'd be useful as a middle reliever who can induce a key double play or come up with a clutch strikeout against an imposing lefty batter.
None of these guys should cost the Cubs a high-end prospect, but Bummer could come closest, because he's under team control for 2024. The right to control a non-elite reliever for one extra season isn't all that valuable, so if the White Sox set a high price on Bummer because of that status, the Cubs need to move on. If they can obtain him at a price that reflects his uneven results, though, it could be a great way to balance and deepen the bullpen.