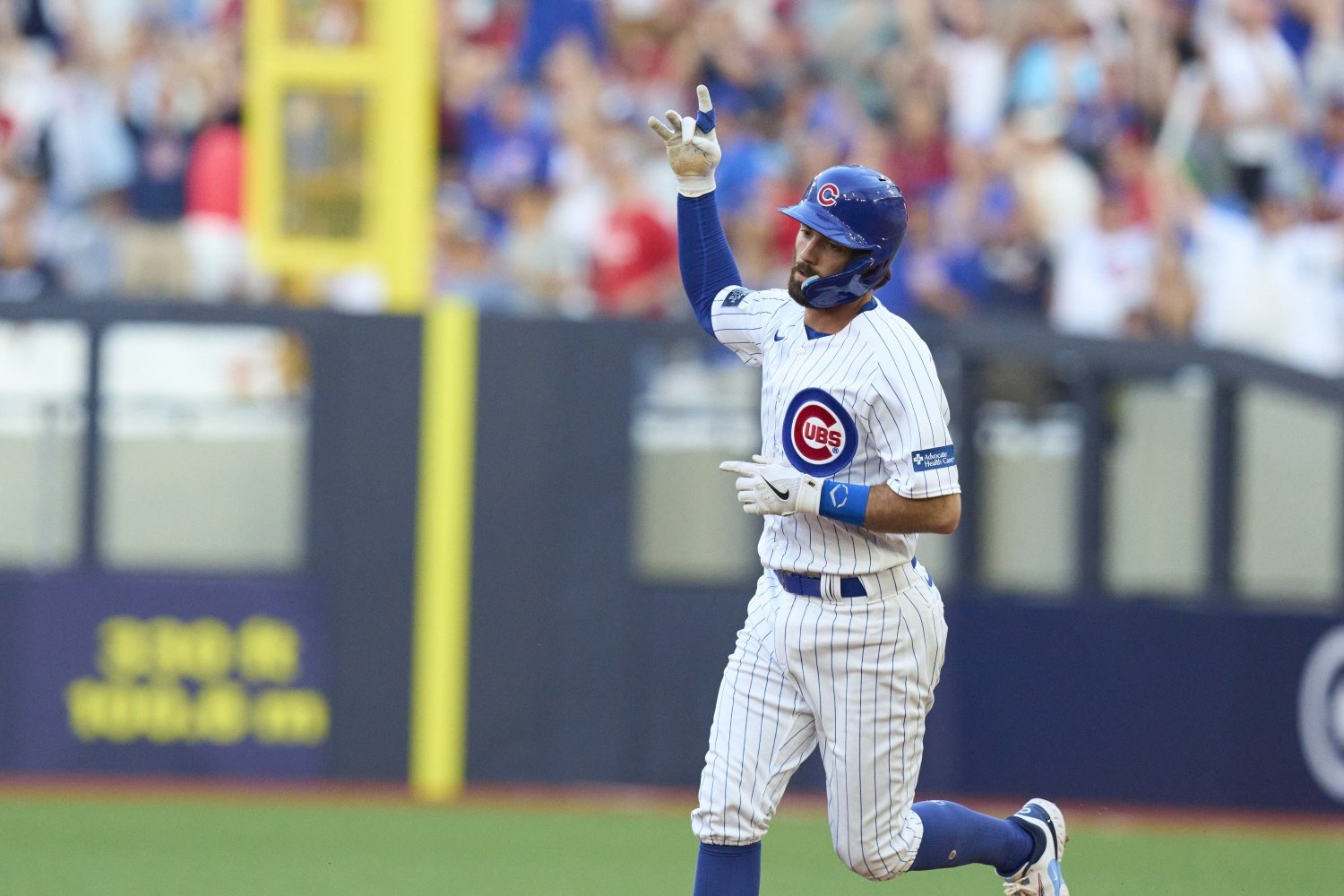 Image courtesy of © Peter van den Berg-USA TODAY Sports
Remarkable even in the absence of anything truly spectacular, Dansby Swanson has come exactly as advertised this season. Of the stars the Cubs could have signed to big deals to be their shortstop over the last two winters (Trea Turner, Xander Bogaerts, Carlos Correa, Javier Baez, Corey Seager, Marcus Semien, and Trevor Story), only Swanson, Seager, and Semien made the All-Star cut this year. It's a huge and needed victory for the front office that Swanson, their first megadeal signee since Jason Heyward, has been the caliber of player they believed they were buying.
Swanson's defense was the sure thing, for many, but it's been a subtle and steady joy to watch him every day at shortstop. He plays nearly every inning of nearly every game, and his hands and feet are in the right position more often than those of any other shortstop in the game. That his arm is weaker than those of the other elite defenders at that spot is not only surmountable, but almost a non-issue, because he's so good at charging the ball when necessary; modulating his exchange and release to account for the speed of runners; and thinking through each situation. 
Offensively, though he's not on track to deliver the power for which some might have hoped after he clubbed 52 homers in his final two seasons in Atlanta, he's been the most reliable hitter in the lineup. With a more patient approach and less focus on lifting the ball, he's increased his contact rate and avoided the long slumps that pockmarked even his breakout campaigns. It's been a slight disappointment to see him run the bases with extreme conservatism, and the team needs power more urgently because he's delivering less of it than anticipated, but his overall contribution has been terrific.
Steele and Stroman don't even come with the minor reservations one can tick off about Swanson. Despite a missed start by Steele due to forearm tightness, the duo have combined for 24 Quality Starts in 33 turns in the rotation. Only three moundsmen have had Quality Starts in a higher percentage of their outings than Steele: Logan Webb, Clayton Kershaw... and Stroman. Steele leads the league in ERA, and the only caveat that requires is that, if Chicago relievers hadn't allowed five of eight bequeathed runners to score after Stroman left games, he might have snuck in below his teammate. 
To have their co-aces and their $177-million shortstop all headed to Seattle, and to still be five games below .500 at the halfway point of the season, is a mixed blessing. The Cubs have to hope this trio sustains their brilliance in the second half, and that they can better support and leverage those performances. Still, Sunday was a good day, because it marked a big moment in the progress of the franchise, as well as for each of those individuals.