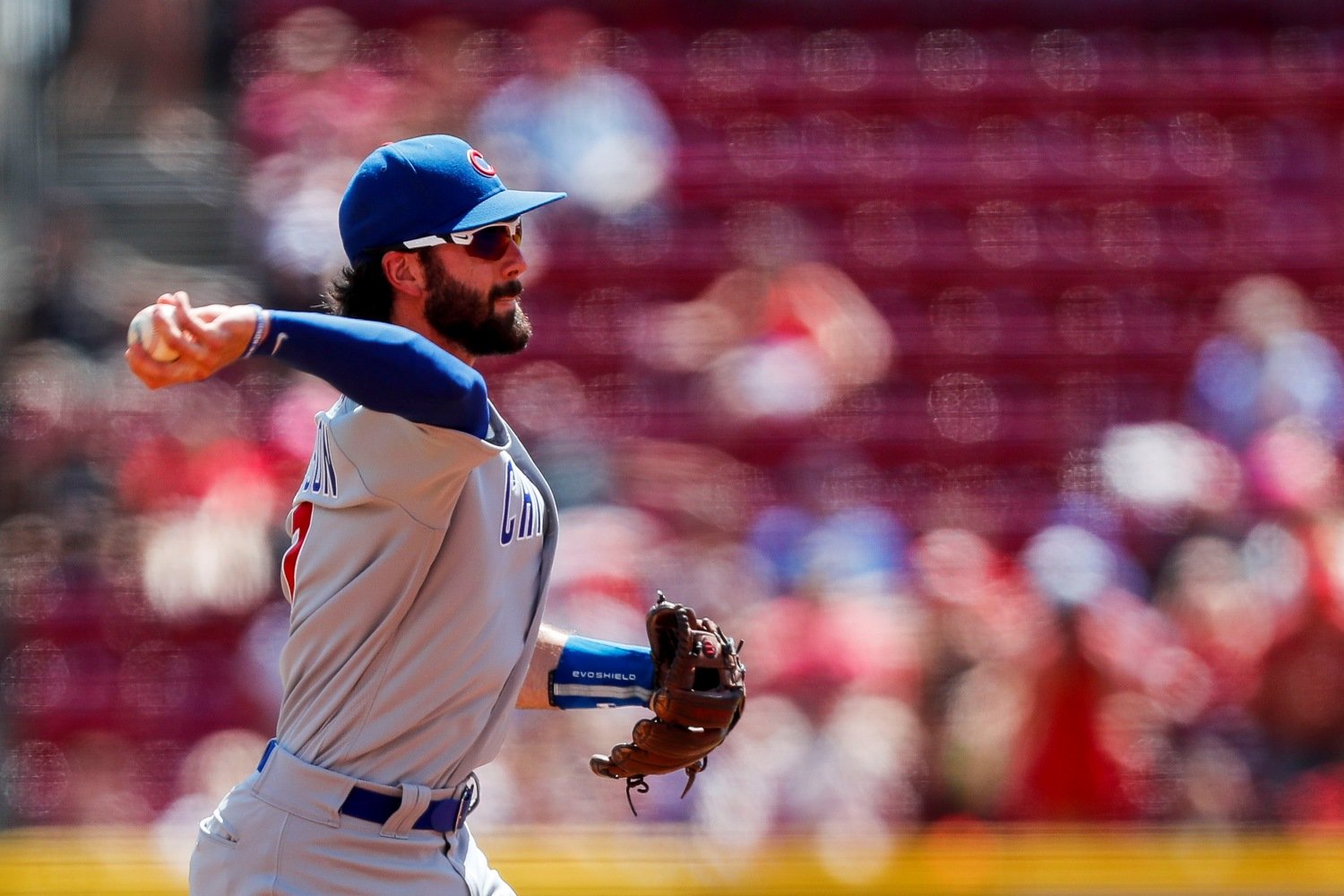 Image courtesy of © Katie Stratman-USA TODAY Sports
This week's promotion of Pete Crow-Armstrong generated a positive buzz, amid a stretch of inconsistent play by the playoff-hopeful Chicago Cubs. Any club's top prospect arriving at the highest level will do that. Perhaps more notably at present, though, it continues to enhance a defensive group that has been among the league's most exciting to watch. Crow-Armstrong's debut series in Colorado showcased the speed and instincts that are sure to make him an elite presence on the outfield grass moving forward. 
As thrilling as PCA has already proven to be–especially in the massive outfield at Coors Field–he won't be taking any defensive accolades home this year (though there may be a compelling, albeit ironic, case to be made, depending on what he does over the next two weeks). However, the club isn't without their defensive standouts beyond the addition of their top prospect. The Cubs rank ninth in the league in FanGraphs's comprehensive Def rating (11.2), in addition to their sitting fifth in Outs Above Average (22) and fourth in Defensive Runs Saved (39) as a collective. 
None of this is a surprise. This was a team built around their defensive efficiency, given the inconsistency of the offense and the lack of genuine firepower in the rotation. Naturally then, there are at least a couple of other names over the next couple of months that could be in for recognition as some of the league's very best with the glove. 
Ideally, this attention will occur more on the side of something such as the Fielding Bible Awards, which rely more on statistical evidence than their Rawlings Gold Glove Award counterpart, which is more abstract and seemingly tied to reputation and narrative. 
Notably, the Gold Glove Award does take into account defensive analytics under the banner of the SABR Defensive Index. From SABR's Website: 
Quote

The SABR Defensive Index draws on and aggregates two types of existing defensive metrics: those derived from batted ball location-based data and those collected from play-by-play accounts, including data from MLBAM's Statcast, Sports Info Solutions, and STATS Perform.
On the other side, the Fielding Bible Award leans heavily on Defensive Runs Saved. And because Outs Above Average is a personal favorite (and, arguably, the most complete of the available metrics on that side of the ball), we'll include that as well. Regardless of the label and criteria, though, the names with a crack at recognition remain the same. At least one pair of Cubs certainly have the numbers on their side.
Cody Bellinger is probably not among them, however. His defense in center was steady (4 OAA, SDI of 3.0) and put him in league with the higher end of defensive CFers, but not as a legitimate awards contender. His first base play has been Top 10 from a defensive standpoint–in both OAA (1) and DRS (3)–but also quite limited, as he's at barely over 300 innings at the position. The split doesn't help him, but being a solid defender at two essential spots given the team's roster construction is notable.
Among those that have a realistic possibility of claiming some hardware, though, we're talking about Dansby Swanson, Nico Hoerner, and Seiya Suzuki.
Dansby Swanson (Shortstop)
Outs Above Average: 18 (1st) 

Defensive Runs Saved: 16 (1st) 

SABR Defensive Index: 9.4 (1st) 
Gold Glove, Fielding Bible, it literally does not matter. Dansby Swanson has been the best defensive shortstop in baseball this year. Wild stuff, in that it's extremely normal.
When evaluating the shortstop market last year, the general consensus was that Swanson was going to give you the most upside with the glove and (likely) the least with the stick. Only one of those things has been true, and it's the former. Swanson has an ability to turn difficult plays into something much more routine with regularity. He's boasting a 78-percent success rate against a 74-percent expected success rate at converting outs, and there isn't a direction on the field that can be deemed a shortcoming. 
Of note, also, are his instincts. Despite Wednesday's loss in Colorado, the broadcast was marveling at Swanson's direction to Pete Crow-Armstrong to get a ball in to second base following a single that moved a runner from first to third. It allowed the Cubs to limit the later damage to just one run, when a single otherwise would've scored two. Of course, the point ended up being moot following that one, but it speaks to the small things that Swanson does. 
And just in case the small things weren't enough, he has an OAA edge on Ezequiel Tovar (15) and tops the SDI over Francisco Lindor & Miguel Rojas (both 7.0). He's a lock for hardware, and there won't be any controversy about it.
Nico Hoerner (Second Base)
Outs Above Average: 13 (4th) 

Defensive Runs Saved: 12 (3rd) 

SABR Defensive Index: 5.7 (3rd) 
Essentially everything we could have hoped for from Hoerner's transition back over to second base has come to fruition. He and Swanson make up the most dynamic middle infield in baseball in defensive matters. It's spectacular. He's been especially good at snagging ground balls that end up in the 3-4 hole, with a success rate of 77 percent (75 percent expected) and an OAA of 6. 
Things aren't as clear cut for Hoerner in the race for end-of-year accolades, though. While there are other shortstops playing at a high defensive level, Swanson's case is clear: he's tops among them. Hoerner will face competition, in the former of Bryson Stott in particular, as his OAA (15) and SDI (6.4) could make him a factor on both fronts. Ha-Seong Kim has had a fantastic year in San Diego, with his SDI leading to potential favor in the eyes of the Gold Glove. 
That shouldn't preclude us from showering Hoerner with plenty of praise, though. He took a terrific year at the six and made an absolutely flawless transition over to the keystone. Without Hoerner's defensive combo up the middle, the Cubs likely aren't fighting for a Wild Card slot right now.
Seiya Suzuki (Right Field)
Outs Above Average: 2 (10th) (Tatis 12)

Defensive Runs Saved: 1 (8th) (Tatis 26)

SABR Defensive Index: -1.5 (7th) (Tatis 16.0)
It's a tough scene for Seiya Suzuki in relation to any award talk. He's had a very strong year defensively and has made real strides at the plate. With respect to the former, he's turned a rookie campaign that featured an OAA of -4 and -4 DRS into some very above-average defensive numbers. As far as right field is concerned, there's an argument to be made that he's among the very best at the position defensively. For our Cub-centric purposes, the growth here is essential. After an uneven first year in the U.S., which was compounded with a slow start to 2023, the importance of Seiya establishing himself as a key component on both sides of the ball cannot be overstated.
But neither Seiya nor the rest of the field stand a chance here. Fernando Tatis, Jr leads in OAA (12), DRS (26), and SDI (16.0). While Suzuki is very much in the mix as a potentially elite defensive right fielder moving forward, the Padres superstar is simply too good & athletic for the position and is blowing everyone else out of the water as a result.