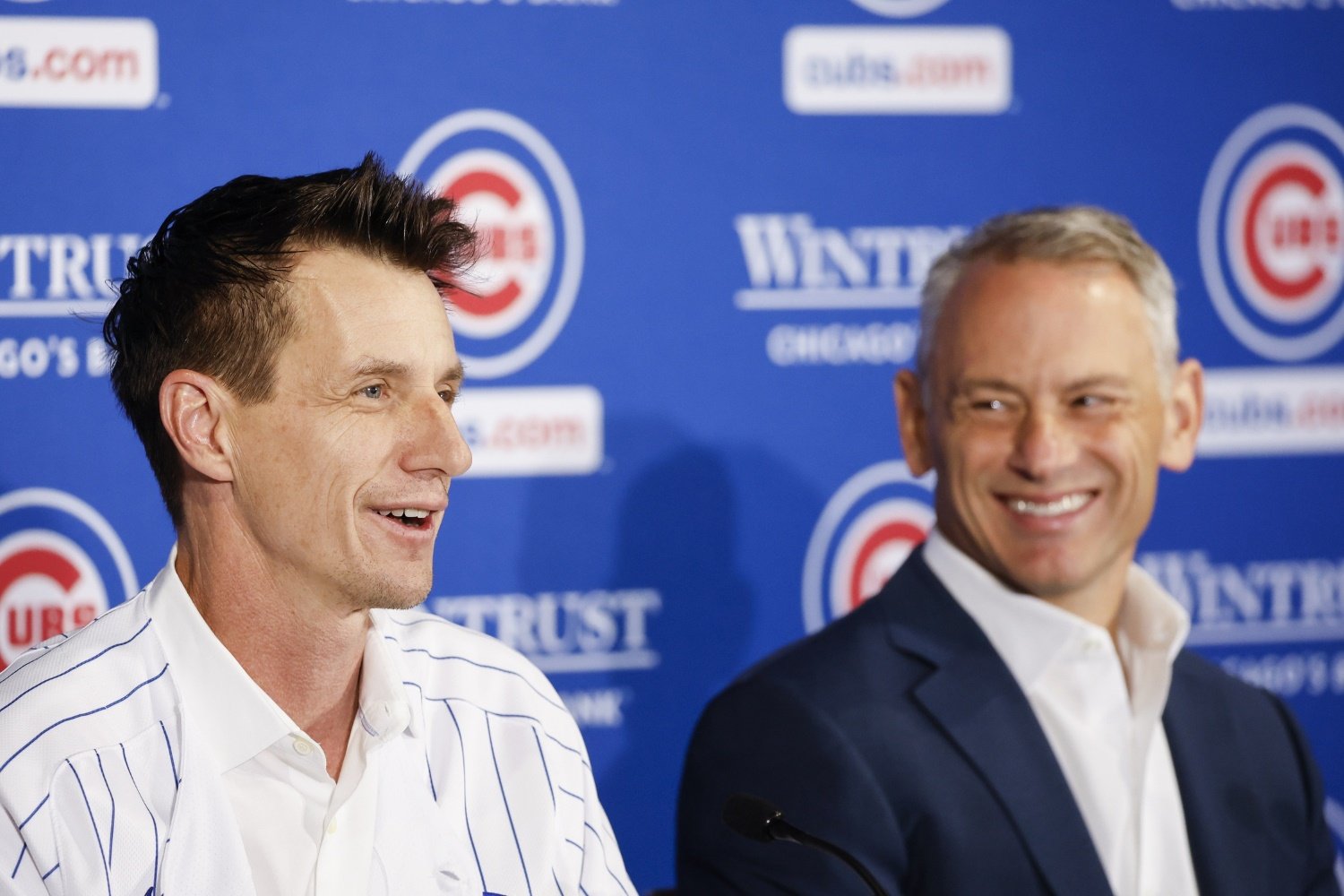 Image courtesy of © Kamil Krzaczynski-USA TODAY Sports
"Loyalty is but a whim those who struggle to deploy confidence rely on for support." - Lao Tzu 
There's been a lot said, written, tweeted, and reposted (by fans, national pundits and bloggers alike) in regard to the Cubs shocking move to hire Craig Counsell last week. How Counsell makes the Cubs better, why the Cubs needed to move on from David Ross, what the Cubs will miss with Ross gone… all topics covered and analyzed from every perspective. What's been lost in the shuffle, however, is that the man making the final call on such a pivotal transaction may be the biggest beneficiary of everyone involved. 
I'm no Jed Hoyer apologist--I can be objective enough to say he's made plenty of good and bad moves--and his utter lack of transparency with fans can go from meme-worthy during the best of times to downright unacceptable when the going gets rough. And for all of the lauding many (including myself) have done for the Cubs' brazenness in firing an under-contract David Ross for Counsell, there's no guarantee that this move will work out. The Cubs just became more of a destination, thanks to Counsell's stellar reputation, but regular-season success in Milwaukee doesn't necessarily portend World Series parades in Chicago. 
"It's easy, really, to hope those who choose us do so because they see our potential and wish to invest in it. In reality, people will move on when your maximum [ceiling] rubs against another's failure [floor]." - David Hume
There's no doubt that Hoyer made this move because it was in the best interest of the Cubs. He said as much himself after the news broke: "My job is to figure out how to win as many games as we can in the short term and the long term and there was nothing about this move that I felt like didn't meet that criteria." It's no secret the Cubs liked David Ross. In conjunction with Theo Epstein, Hoyer selected him for the role once Joe Maddon was shown the door. It just shouldn't surprise anyone that they loved Counsell. They watched him routinely pick them apart with brilliant in-game decision making for nine years at "Wrigley North," and the chance to bring that to Wrigley Field was too alluring to pass up. 
However, sports are a cruel business, where recent performance trumps any goodwill built in the past. The Cubs have struggled over the last three years and are going to need to start having real postseason success as soon as this upcoming season for people to consider this most recent rebuild a success. As much as Counsell makes attaining that goal more likely, there's always ulterior motives to moves like these. For Hoyer, he and Counsell are now inextricably linked, both between the stunning dismissal of Ross and the record-breaking, market-setting contract Counsell received. 
If Ross, still a fledgling manager in his own right, struggled again as the Cubs faceplanted in this upcoming season, the calls for Hoyer's job would begin. Though more of a "lukewarm" seat than a hot one, pressure would mount. To be sure, the expectations for the Cubs have only gone up since hiring Counsell, but now Counsell is Hoyer's guy. A failure with Ross almost certainly accelerates Hoyer's personal timeline. With Counsell, the future success or failure of the Cubs will be pinned on them both (fairly or unfairly), and you can be sure Hoyer will be equally happy to share the blame or credit regardless of whether the ship floats or sinks. 
"Loyalty in the eyes of the public is not the same thing as our loyalty in private. Our words promise actions, but only our actions speak." -Plato 
Now, none of this is to say that Hoyer is invulnerable because of the Counsell contract. Surely, any incoming executive would be thrilled to have someone as steady as the long-time Brewers skipper leading the way. But front offices like to bring in their own people, especially when the product on the field directly determines the stability of their day job. Counsell isn't going anywhere for the foreseeable future (the money on his deal, if nothing else, will ensure that), and that, too, gives Hoyer more leniency than he otherwise might have had, following five tough years (at the MLB level) in the most prominent role on the Cubs. 
Expectations are escalating for the Cubs this offseason, in part because of the boldness of the Counsell hire that has been discussed ad nauseum. They will need to start stacking a lot of wins for the national media not to declare them failures. In Chicago, however, Hoyer should start making himself comfortable, at least for the next five seasons. With his new, hand-picked choice leading the way, Hoyer has quite literally bought himself some extra job security.