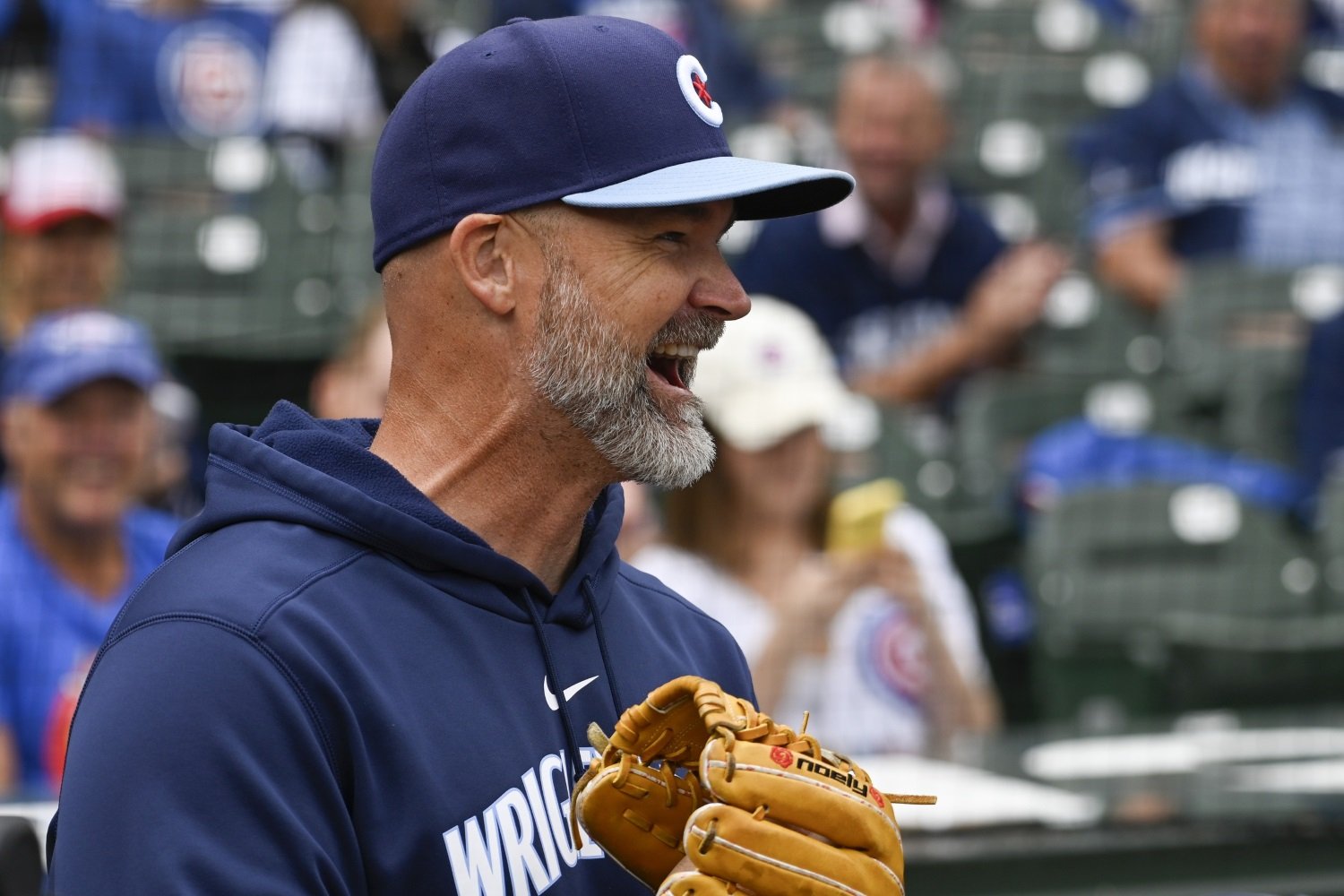 Image courtesy of © Matt Marton-USA TODAY Sports
It has been a few days, so I can safely say I have finally been able to pick my jaw up off of the floor. The Craig Counsell announcement has quickly turned into an "I remember where I was when…" Cubs memory. I am still carrying some momentum from the shock and excitement. 
However, this is not a reaction piece. Rather, I wanted to take some time to thank David Ross for his contributions to the Cubs. I have a feeling how this will be received, but hear me out. 
As the Cubs became more competitive and entered striking distance of a playoff spot this past season, I noticed the echo chamber of social media start to sour on the short-term Cubs manager. The criticisms were flying faster than a Giancarlo Stanton home run. Let's look at how we got there. 
At the end of 2019, the Chicago Cubs decided to move on from Joe Maddon. Emotions were high, as this marked a tonal shift in the perception of the 2016 squad. Maddon had fallen out of grace and received criticism for his loose clubhouse and criticism of analytics. Most of us would agree that we would inevitably feel uncomfortable with moving on from the manager that finally did the thing, but it felt like the time had come. 
David Ross ended up winning the job in the interview process heading into 2020. That season ended up being an unprecedented mess, slashed to less than half the usual length and played under downright bizarre circumstances. To Ross's credit, the team started hot and made the playoffs. The same feast-or-famine offensive issues of "the core" reared their heads in a quick playoff exit delivered by the Miami Marlins. 
That fall, Theo Epstein stepped down, ushering in the Jed Hoyer era. Ross's objective as manager shifted significantly. He no longer held a job with a roster that expected to compete. He was there to manage a roster filled with trade opportunities. At the 2021 trade deadline, Hoyer converted those opportunities with ruthless efficiency.
Of course, 2022 was no different. Fringe players were put together, as the goal became clear to "soft reset" the organization under Hoyer's vision. Ross pushed an average roster to an above .500 record after the break, including a sell-off of anything not nailed to the ground. The hope of Ross getting a competitive team was palpable going into that offseason. 
Hundreds of millions of dollars later, the Cubs had their most competitive, full-season roster of Ross's tenure. However, that didn't mean it was a team destined to compete. The team struggled to turn a corner until July, when the switch flipped. August brought the Cubs to 10 games above .500. Unfortunately, the energy it took to build up to that level likely sunk a team. 
David Ross brought fire and consistency to a team in disarray, following a trend of underachievement in a post-curse world. There was never a moment watching his teams in which one could question the heart of the players on the field. In 2022, Ross showed the potential of solid bullpen management abilities in his handling of Keegan Thompson and Justin Steele. In a clubhouse that could have sunk in 2023 based on hardships, players rallied to his call and nearly proved the analysts wrong on this team. 
Ross's red-ass style of play translated in his strong desire to win games. The organization did not give him many opportunities to truly compete, as he inherited legacy roster issues, or managed brand-new ones. Four years into the job, Ross showed tremendous leadership, with players consistently complimenting him on communication and support. 
As we turn the page into what is a new competitive window with an exciting, unexpected hire, take a moment to appreciate how David Ross calmed a ship while returning a fanbase to elevated expectations. 
Thank you, Grandpa Rossy. I can't wait to see what you do next.