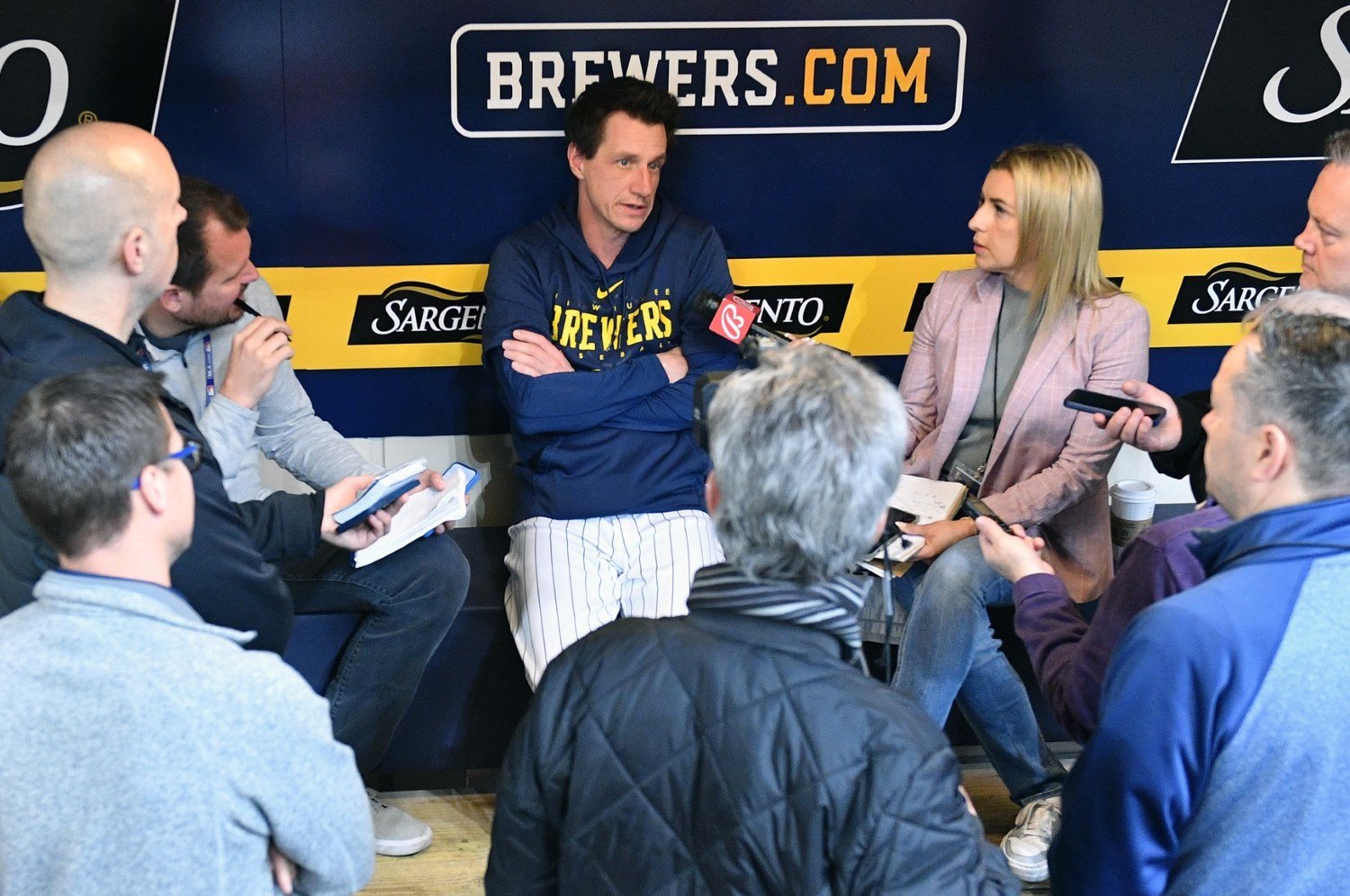 Image courtesy of © Michael McLoone-USA TODAY Sports
I don't think the Cubs viewed David Ross as a problem. Never take an organization's public remarks, especially about something like personnel status, at face value, but when both Jed Hoyer and Tom Ricketts voiced support for Ross at the end of the regular season, I think they were both being truthful. That's an important note with which to lead off, here, because (as I've made clear several times before) I don't agree, but knowing it is important when evaluating the choice the team just made.
If the Brewers and Cubs had swapped managers before 2023, the Chicago Cubs would have won the NL Central this past season. That sounds like a grandiose statement, given the nine-game edge Milwaukee held by the end of the year, but this was an exceptional season. The Brewers, with a sturdy bullpen and plenty of good luck but also with Counsell ensconced in the dugout, won one-run games at a remarkable clip. By contrast, the Cubs struggled mightily in close games. Those are the contests where a manager can make the most visible difference, and in them, the Brewers had a huge advantage over the Cubs.
Of course, most of the impact a manager makes is much less visible. There are games that end up being decided by six or seven runs, but which a manager could have steered back toward being close with different moves early. There are also considerations that go far beyond sheer game management, to the maintenance of clubhouse culture and the careful calibration of daily intensity necessary to play consistent baseball as a team. Counsell excels in that regard, too. His teams snap out of slumps more quickly than most, and they sustain hot streaks better than most.
Ross's tenure as manager, meanwhile, was marred by long periods during which his teams played sloppy and uninspired baseball. As good as Ross was at being the same guy every day over the latter part of his playing career, he wasn't able to transmit that capacity to his teams from the manager's office. He also failed to adequately manage the grind of the long season. At times, the Cubs would look tired, for days at a time, as though they badly needed not just a day off, but an entire weekend. That's normal. It's only human. Alas, MLB is a game that has to be played by abnormal, almost superhuman athletes who find the energy to bring tenacity and focus to the diamond every day.
Self-imposed payroll constraints kept the Brewers from making major outside additions for most of the time Counsell spent at the helm. There were notable exceptions, but the rule was that the team thrived or floundered on the strength of its young players, either homegrown or acquired at a low ebb in value. Counsell proved to be adept at that vital skill: he empowers and develops young players well. He does it without being exceptionally enthusiastic about those youngsters; he takes a terse and value-focused tone. Ultimately, though, he brings them along successfully. The same can't be said for Ross, whose inability to smoothly integrate some of the rookies the front office gave him as tools throughout 2023 contributed to the team's failure to make the playoffs.
Managers have to make dozens of complicated, multilayered decisions every week. They need to think in paragraphs and pages, not simple sentences. Ross never demonstrated the ability to keep all those plates spinning at once. Counsell has done so masterfully, often at the Cubs' expense, for almost a decade. Even though the Cubs believed in Ross enough to retain him a month ago, they felt this was a big enough upgrade to pay the transaction cost of firing a manager, as well as the actual monetary cost. For all the above reasons, it was the right decision.
I jumped on the Wrigleyville Nation podcast to talk about this huge news, as well as the other early offseason happenings in Cubdom. Check it out:
What specific things do you hope Counsell will do better than Ross? What concerns do you have about him? Let's get into the nitty-gritty on the new man in charge.