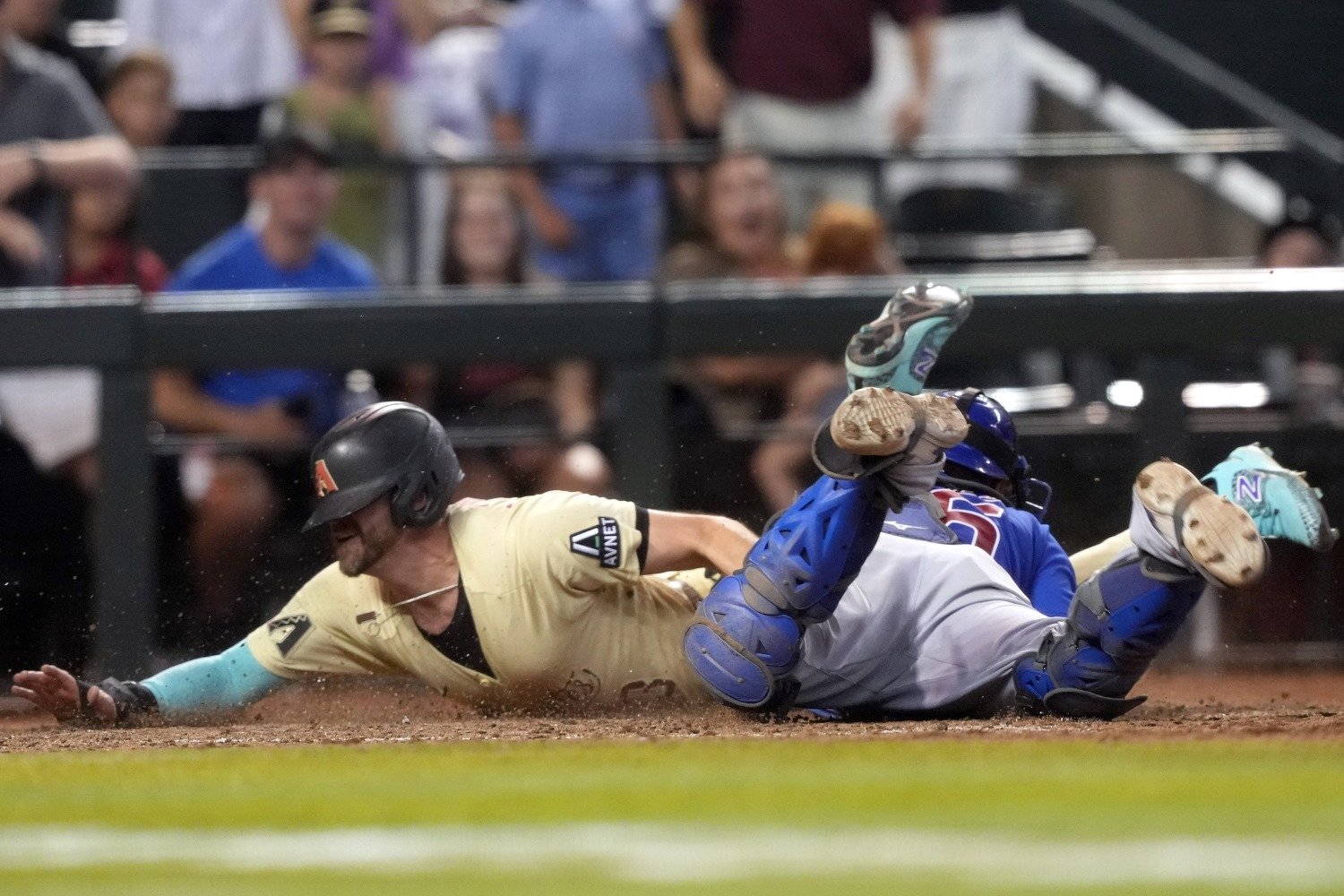 Image courtesy of © Joe Camporeale-USA TODAY Sports
Evan Longoria will have to stick around somewhere for one more season, if he wants to eclipse 2,000 regular-season games in the big leagues. Saturday night was his 1,983rd, but he's been a part-time player for the last three years, and he entered this contest only late, as a pinch-hitter. He hasn't appeared in even 100 games since 2019, before the pandemic hit. He was, a few moments before Gabriel Moreno stroked a single to right field, seen taking his lead off second base, still kicking his legs and flexing his feet the way men of a certain age do when they need to summon their best speed but know they have a few muscles left to wake up. 
Yan Gomes has been around almost as long as Longoria, but was never an everyday player. (Longoria was one for, more or less, a decade.) He was playing his 1,074th career game, and 106th this year. As of last night, he's now played in more games and taken more plate appearances in 2023 than he had in any season since 2018. He'd caught all 13 innings of this seesaw game. He couldn't have kicked his legs even the way Longoria was doing, if he tried.
Baseball, as it often does, saw these two old men (as the game sees anyone in their mid-30s) at its diamond's two magnetic poles and decided to bring them together. The ball was hit hard enough by Moreno to create a chance for a play at the plate, but Seiya Suzuki's throw was to the wrong side of home plate. Longoria, with all the speed that has allowed him to steal zero bases since the start of 2022, hurtled toward Gomes. Gomes collected the ball and dove across the dish. His play was as good as it could have been. It was, Cubs fans have to fear right now, like the performance of his whole team that night, and down the stretch of this harsh season: his honest best, but not good enough. Longoria got his hand in.
The Buddhists say that the source of all suffering is desire. They weren't alone in discovering this, but they have a knack for putting things clearly. The Stoics knew the same thing. The idea that we suffer primarily because we have the capacity and the tendency to want things has nestled at the center of many literary works over the years. Alexandre Dumas put these words under the pen of his protagonist in The Count of Monte Cristo:
Quote

There is neither happiness nor misery in the world; there is only the comparison of one state with another, nothing more.
Why did Saturday night's loss hurt so badly, four and a half numbing hours after the game began? It wasn't the Cody Bellinger would-be home run that sailed just foul. It wasn't the uncalled hit by pitch that changed one of the Cubs' extra-inning rallies (another bit of Bellinger misfortune). It wasn't the fact that Hayden Wesneski almost had the game won, only to take a line drive off his upper back that then fell into no-man's land on the infield. It wasn't even the maddening inability of the Cubs offense to find its gear and to cash in opportunities over this last fortnight, a stretch that now represents a life-or-death crisis to their resilient, contending team.
No, it was the fact that the team has come this far. It was the fact that this team, which seems to have survived so much and come together so much and maybe (if you believe in this sort of thing, and if you're a little naive about baseball's inescapable cruelty) even earned so much, has led us all to want something. They've made a playoff berth (and briefly, though no longer, even a division title) seem possible. They've altered the states with which we're comparing their present one, and in the comparison lies suffering.
A Buddhist Cubs fan might think to nickname Moreno "Desire." It seems like everywhere the Cubs have turned when they've needed an out or a base over the last 10 games, they've found Moreno instead. He's thrown out runners from behind the plate, and he's piled up hit after damaging hit in the batter's box. That he was the one to land the winning punch in the halfhearted slugfest at the end Saturday night only seems fitting. That William Contreras had a game-changing home run Friday night for the Brewers, as they all but sealed the division crown, underscores something that lurks at the edge of one's consciousness with Moreno, too: Both of those guys changed teams this winter. Both were had at trade prices the Cubs could have afforded.
Gomes has been great, but he's running out of old man magic, and the other half of the catching position has been lousy all year. It's hard not to watch Longoria beat him to the plate and reflect that the Diamondbacks only needed Longoria for a moment at the end of this game, whereas the Cubs badly needed Gomes all the way through it. The Diamondbacks' rookies are better than the Cubs'. The Diamondbacks' deadline additions are better than the Cubs'. That's why, even though the Cubs' core might be stronger and better than the Diamondbacks', Arizona keeps winning these games. Again, though, we're just comparing one state to another, there. It's in the desire that the suffering lies.
Still, for all the bad juju and the bad vibes and the scary standings screenshots, it's not over. The Cubs have 13 games left, and at this moment, they remain in playoff position. It's down to a half-game lead on two teams against whom they do not hold the tiebreaker, and one full game on another one, but they do cling to their position. This is already the most resilient team in Cubs history, for my money. Alas, they look like they've run out of magic--and really, out of energy.
With Michael Fulmer returning to the injured list Saturday, his season seems surely over. The Cubs are scrambling to cover innings. Three-fifths of their Opening Day rotation (Marcus Stroman, Drew Smyly, and Hayden Wesneski) appeared in relief last night. They can't find the clutch hit, or the clutch out. They don't seem utterly overmatched. They're not falling apart quite the same way the 2001 Cubs or the 2018 Cubs or the 2004 Cubs did. This is a collapse with its own character. They're just slightly tired, and a hair too thin, and they're also relentlessly unlucky. 
Yet, it can all still change. There's a vital corollary to the Dumas quotation above. The next sentence the Count wrote to his dear friend, who had known such pain and loss in his life, was this: "He who has felt the deepest grief is best able to experience supreme happiness." After Sunday, the Cubs don't have to see Gabriel Moreno anymore. They have one last home stand, and then a road trip against two teams who shouldn't have much for which to play. If there's one thing they've surely earned this year, it's the benefit of the doubt, while any hope remains.