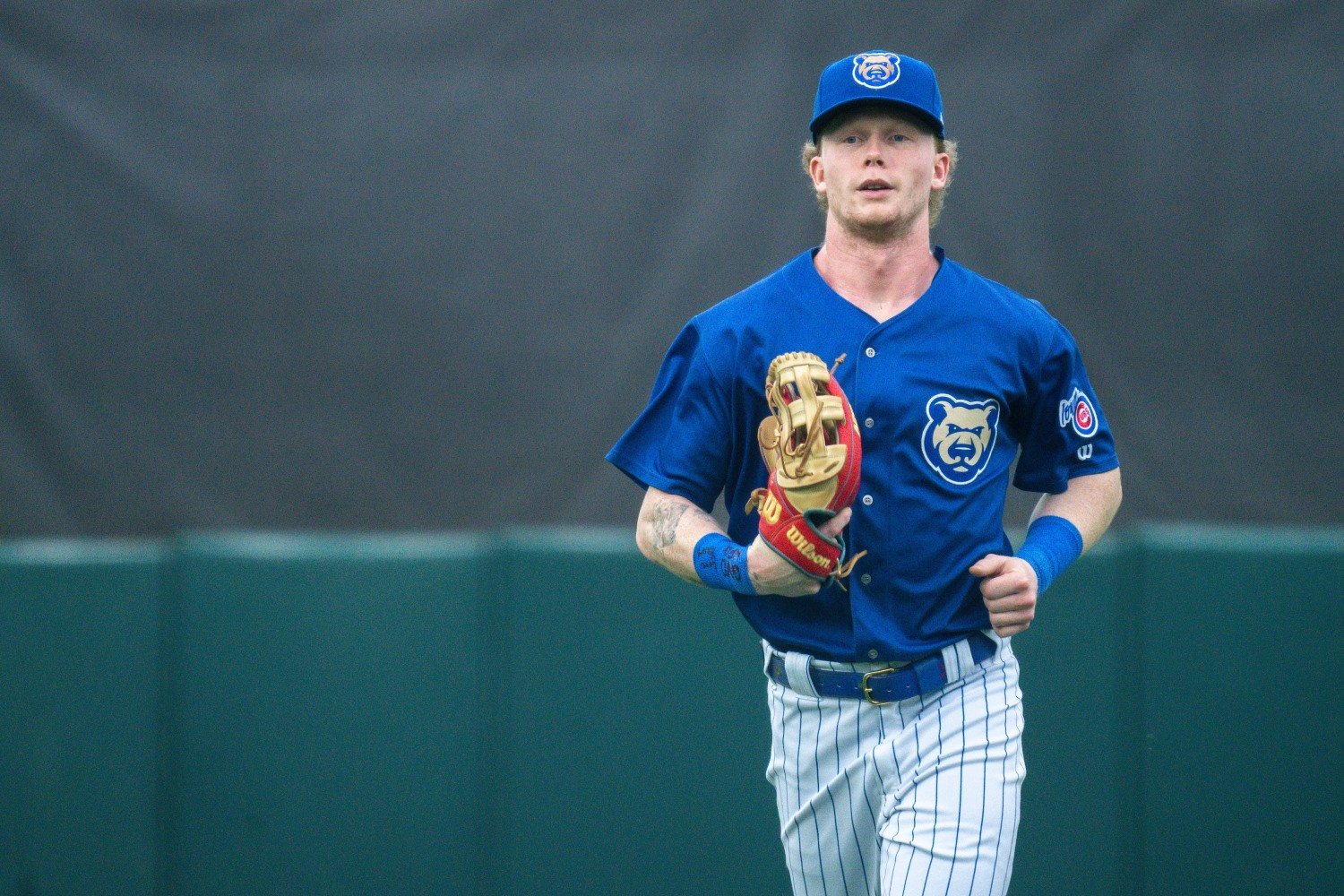 Image courtesy of © Lily Smith/The Register / USA TODAY NETWORK
Jeff Passan dropped the bomb on Twitter. Pete Crow-Armstrong is really, truly being added to the Cubs roster, right in the thick of a playoff race.
Presumably, the move will happen Tuesday because the Cubs face lefty Kyle Freeland Monday night. That underscores a key difference between this move and, say, the promotion of Alexander Canario back on Sept. 1. Crow-Armstrong is here to play. It might not be every day, and it might disappoint some Cubs fans to find him near the bottom of the batting order to start, but he's not getting a peek or a perk here. He's part of their plan to reach October, and to be dangerous once they get there.
The obvious, immediate impact here is on the team's defense. Cody Bellinger and Mike Tauchman have been admirable, satisfying center fielders this year. Each has made a few highlight-reel plays, and they've cobbled together average defense at a position where poor fielding cost the team two full wins in 2022. That said, both are playing at their absolute maximum when they manage average defense in center. Crow-Armstrong takes things to another level. He'll steal extra outs for Cubs pitchers and stop runners 90 feet sooner at times down the stretch, even relative to Tauchman and Bellinger--though those two figure to play plenty out there, too.
It will be interesting to see what the corresponding roster move is. One possibility (the cleanest and most encouraging) is that Canario will be sent back to Iowa, having gotten a taste of big-league life and a fortnight of big-league paychecks before finishing out his season in Triple A and setting himself up for the Arizona Fall League. After Jeimer Candelario left Sunday's game with back tightness, though, it's very conceivable that he could be headed for the injured list. Even if that's not the case, Candelario might need to be used more sparingly in the coming days, which would create the perfect opening for Crow-Armstrong. Nick Madrigal would, in that case, become the full-time third baseman, and Bellinger the everyday first baseman again, except perhaps against certain left-handed starters. That would open center field for Crow-Armstrong, without taking Tauchman out of the lineup; the latter could be the DH.
Even if Candelario is regularly available, expect an arrangement much like that described above, with the wrinkle being that Tauchman's playing time would be constricted somewhat. The Summer of Mike Tauchman is over, it being after Labor Day and all, and while he's stayed afloat recently, a walk feels like the best possible outcome when he comes to bat of late. Crow-Armstrong can take a chunk of his playing time without the team losing much of anything offensively, even if there's an adjustment period ahead for the dynamic rookie, and as we've already said, the defensive gains will be huge.
Crow-Armstrong probably won't start every day, even against righties, but he'll be out there a lot. David Ross likes his veterans, but he will also immediately spot the tactical value of this skill set on this roster. On days when Crow-Armstrong doesn't start, he'll get in often as a defensive replacement and/or a pinch-runner. His speed and his glove can both have an outsize impact, especially during this trip to the expansive outfields of Colorado and Arizona. If and when the Cubs reach the postseason, that leveraged value is redoubled.
If this move doesn't get you excited, check your baseball pulse. It's not enough, on its own, to give the Cubs a majority chance of catching either the Phillies (for the top Wild Card spot) or the Brewers, but it bumps their chances, and it expresses the sense of urgency this team ought to feel--not because they won't be back next year, but precisely because they will be.