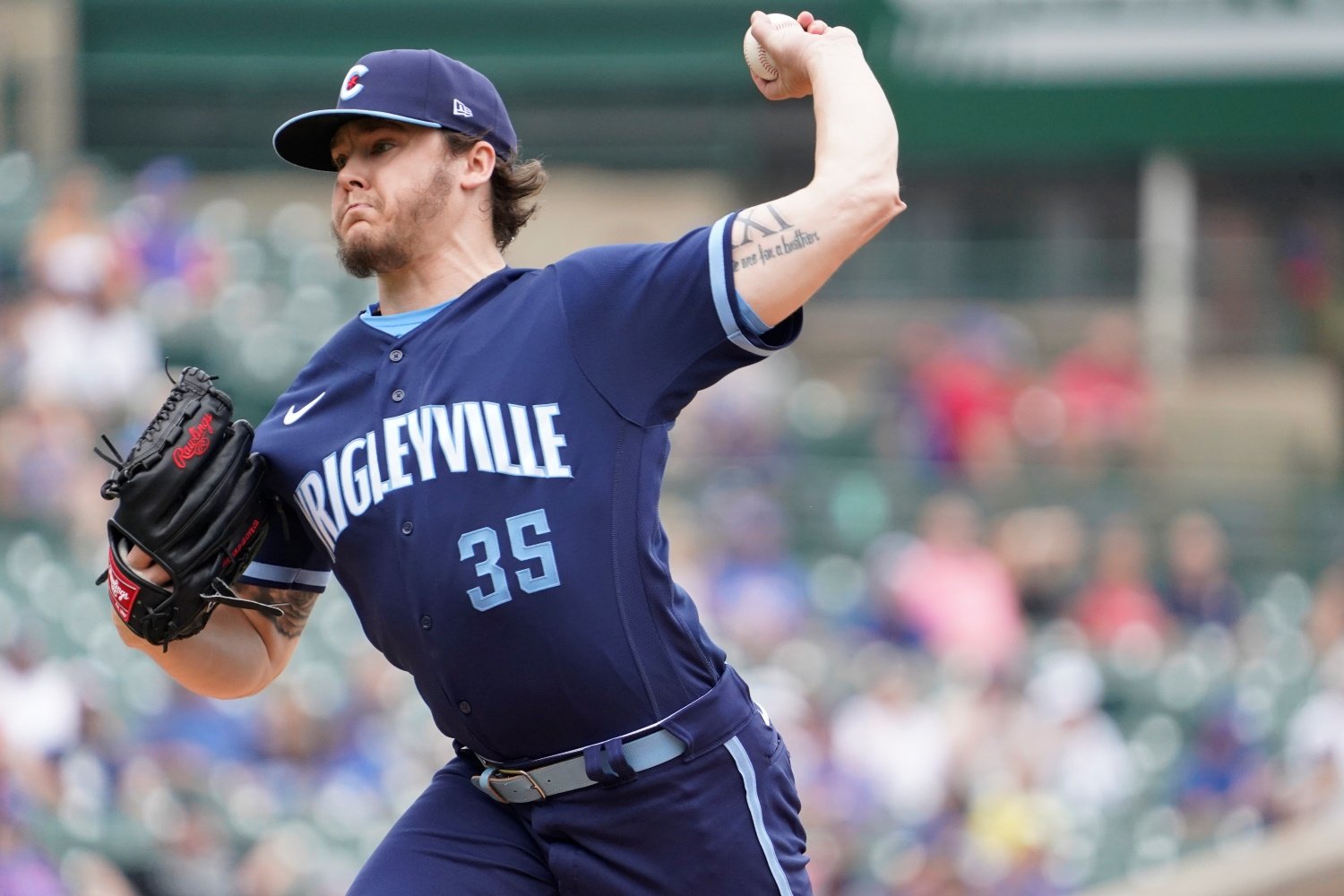 Image courtesy of © David Banks-USA TODAY Sports
I've written more than once about Justin Steele's fastball this year. Way back In April, I first documented the fact that his cut-ride fastball really lacked what we would typically call 'ride'. Last week, I wrote about Steele again in advance of his start in London, with the new information that Pitch Info has reclassified his heater as a cutter, not a four-seamer. 
Since then, though, Steele has made an appearance as an in-game interviewee on Marquee Sports Network, and during his outing Friday, analyst Lance Brozdowski spent considerable time weighing in with data-driven insights on Steele's fastball. Both Steele and Brozdowski repeatedly referred to Steele's fastball as a four-seamer, and Brozdowski compared it metrically to other four-seamers. All of this--probably unintentionally, in Brozdowski's case, but perhaps on purpose in Steele's--is part of a campaign of propaganda that is helping keep Steele's excellent streak going.
As I documented in those previous pieces, Steele's fastball just isn't a four-seamer, by any ordinary standard. Its movement (and the way some of it is derived from seam orientation) screams cutter. His grip and his hand motion through release say cutter. The pitch is a cutter. However, no pitcher is obligated to call their stuff by the name that best objectively matches what the pitch does. Pitch classifiers needn't automatically hew to what they say, but pitchers are allowed to think about a pitch in a certain way, if it helps--even if we see something totally different.
In Steele's case, there's no reason not to keep talking about it as a four-seamer, so that's what he's doing. It's hard for me to believe that he's unaware of its continued metamorphosis into a cutter, something well up the fastball-to-curve spectrum from his slider but decidedly moving in that direction. If he can get hitters to keep thinking four-seamer and swinging four-seamer when he throws it, though, it can only help him continue to miss barrels and induce ground balls with the pitch. For a cutter, Steele's heat actually rides pretty high, yet he has a 75th-percentile ground-ball rate on that offering. For a four-seamer, the frequency with which he gets grounders on the pitch would be downright elite, in the 94th percentile.
Obviously, hitters aren't sitting at home waiting to hear Steele's thoughts on his own repertoire before going out and trying to hit him. Nothing he or anyone else says can radically alter what happens when he takes the mound. Pitching rarely requires anything radical, though. Small shifts and small violations of expectation yield small but crucial advantages. Putting the wrong idea in a hitter's head--whether he does it in an interview, or with his alignment and the slight crossfire action of his delivery, or whether algorithms do it for him by misreading and misreporting his pitch mix--gives Steele a leg up.
That's not to say that the southpaw's success is smoke and mirrors. It isn't. His slider is as valuable as his cutter, especially against fellow lefties. It's just a fun way to celebrate and cerebrate on his breakout. He's winning with command, and tenacity, and good movement. He's also winning with deception, and some of that deception isn't physical or visual. It's verbal.