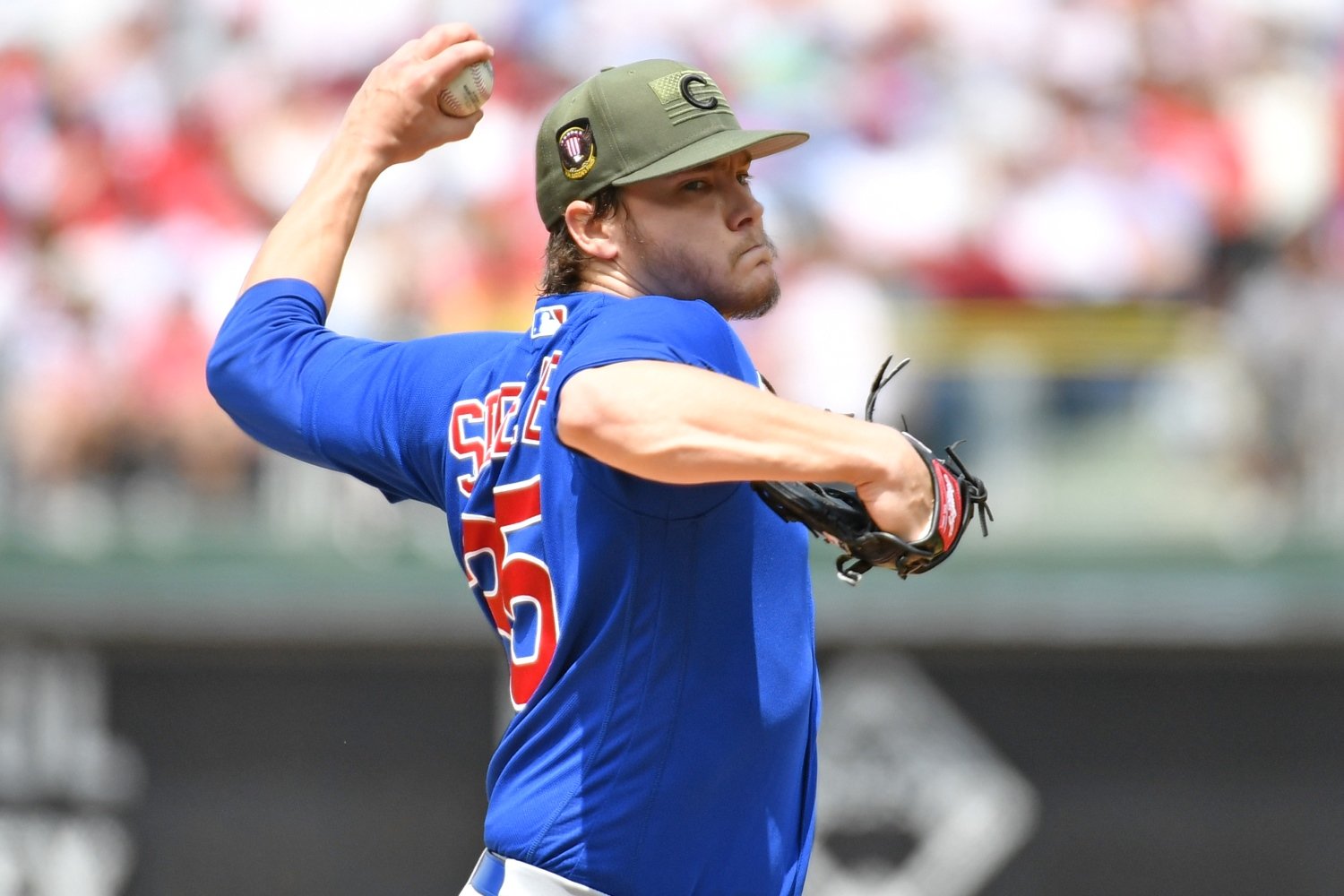 Image courtesy of © Eric Hartline-USA TODAY Sports
Earlier this season, I wrote about the fact that Justin Steele's four-seam fastball really wasn't one, anymore. Now, even the foremost classifier of pitches and pitch data, Pitch Info, agrees. According to Brooks Baseball (fueled by Pitch Info and Baseball Prospectus), Steele's primary pitch is not a four-seamer, but a cutter.
As I wrote in the first place, though, that's not bad news. It just underscores the uniqueness of Steele's approach. He's throwing hard, and the firmness of a cutter with that much movement is a problem unto itself. It's just silly to call the pitch a four-seamer, because it doesn't compare helpfully to any other four-seamer in the league. By contrast, comparing it to other pitchers' cutters can be illuminating.
When Steele, Dansby Swanson, and Ian Happ were asked about the history of baseball Friday, Steele was most confident in his reply.
Base Ball History 101 with the Cubs during today's press conference...

Steele: "I know baseball came from cricket."

Swanson: "Did it?"

Happ: "He's a historian."

Steele: "Pretty sure when they brought cricket over, we kind of made it into our own and turned it into baseball."

— Jordan Bastian (@MLBastian) June 23, 2023
It's interesting that Steele would be the one to say that, though, because his evolving style evokes one of the subtleties of cricket. In that game, there are several distinct and semi-distinct styles of bowling (the cricket equivalent of pitching). Some of the difference is more label than reality, but it's possible to move from one style and emphasis to another, adjacent one, in a way that is meaningful. 
If we believe and embrace that Steele's fastball was once dominant because of its cut-ride action, with rising movement at the top of the zone, then he was what cricketers would call a pace bowler. However, the rise on that pitch continues to deteriorate, or at least disappear. (We'll try to parse whether it's intentional, whether it's advantageous, and whether it's worrisome shortly.)
At this point (look at the way the vertical movement on the pitch has changed even in this month, let alone over the last year!), Steele is much more akin to a swing bowler in cricket. Yes, he throws hard, in a certain way, but his effectiveness relies on movement and deception, not on pure power. Indeed, that ability to overmatch hitters with balls thrown right over their bats for swinging strikes seems to be virtually gone.
Going back to the first graphic above, you can see that Steele is increasingly reliant on two pitches: his cutter and his slider. In fact, on Baseball Prospectus's Pitch Info-driven PITCHf/x Leaderboards, Steele's slider isn't compared with other typical sliders, but rather, with sweepers. Because he (unlike most pitchers in baseball this year) is not typically talked about as being part of the trendy emergence of the sweeper, that's a bit jarring. I probably wouldn't go along with that categorization, because the way Steele's slider plays off his cutter is quite different than the way many pitchers want their sweepers to play off their primary fastballs--usually four-seamers or sinkers. The differential in lateral movement between the two is just not as dramatic as a pitcher usually wants it to be when thinking sweeper. Steele's slider has more depth than the average sweeper, too, making it more like a true slider.
Either way, though, he's now depending on two pitches that exist on the same easily blurred spectrum. He's really seeing his margin for error shrink, although his command and execution of that simple pair of offerings are currently so good that he more than gets away with it. It would help if, even if only from time to time, he were able to generate more of that rising action and a little less of the cutter's dip and swerve, but he hasn't shown that ability at all since last summer. 
Because he only seems to be committing with increasing intensity to an approach he'd already established, I'm inclined to think he's doing this on purpose. That's the optimistic view. Even if it's somewhere shy of fully optimal, plunging into a mode of operation that's working so well is good business. He can always tweak things if (and when) the efficacy of that attack begins to diminish. 
Another possibility, alas, is that he's quietly compensating for some physical limitations here, and that his evolution is really an attempt to outrun a boulder bouncing downhill for as long as possible. He has a long injury history already. He lost the end of last season and a fortnight of this one, and the latest injury was of a kind that is often a forewarning of major elbow trouble. If Steele has transitioned from a cut-ride four-seamer to a true cutter because he's hurt, red isn't an alarming enough color for the flags.
Those worries can wait for now, though. On Saturday, Steele gets to show the whole baseball world what he can do, by taking the ball and working his swing-style magic on Cardinals batters. Cricket fans in the crowd and the TV audience will note many differences from what their favorite bowlers do, but Steele has just enough understanding and connection to the roots of his preferred game to evoke the nuances of an older one when he's at his best.