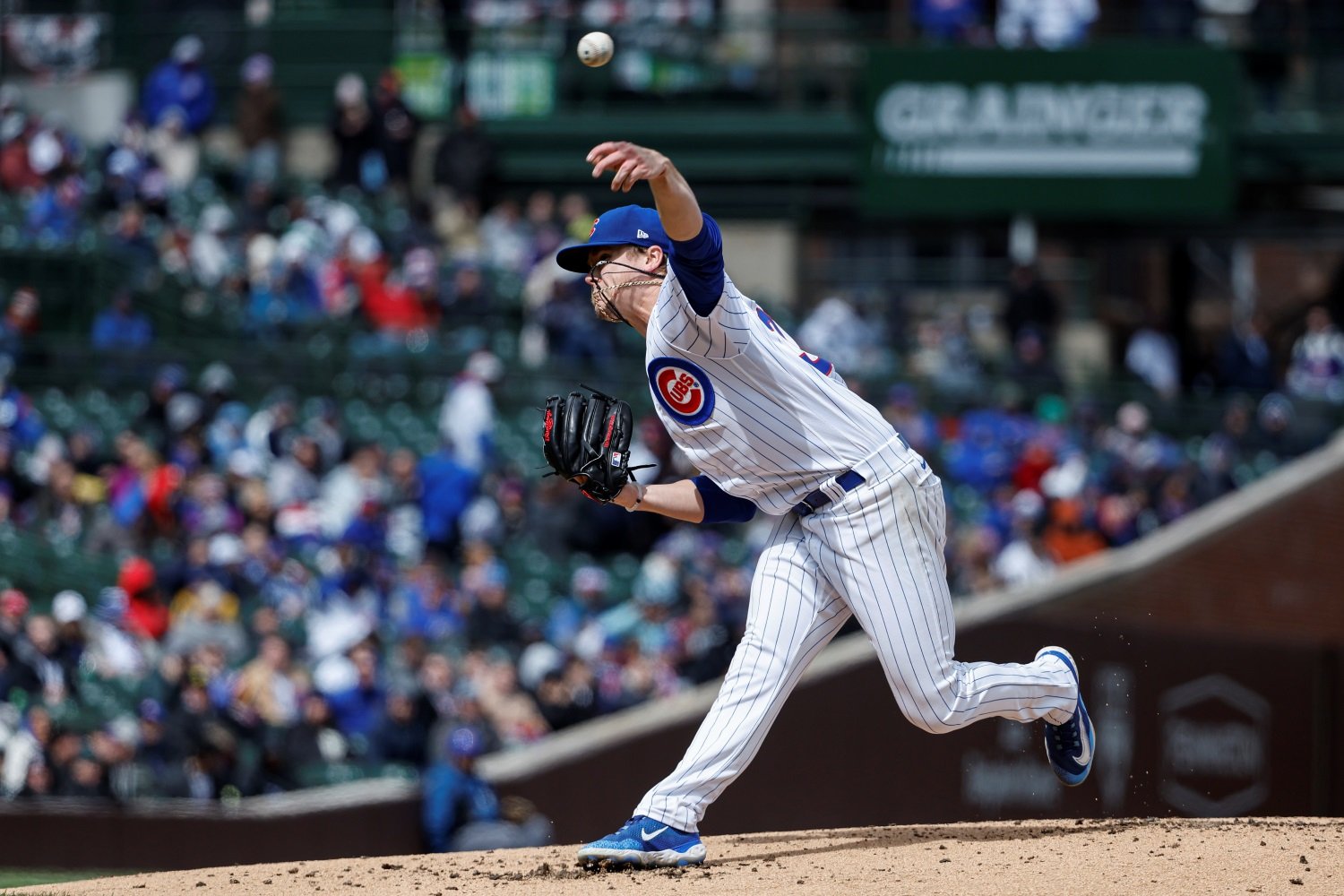 Image courtesy of © Kamil Krzaczynski-USA TODAY Sports
Justin Steele will take the mound at Wrigley Field Tuesday night, opposite San Diego Padres starter Blake Snell. It's a fascinating matchup of starters, because the two share a pitch almost perfectly in common–only, not really.
Snell's slider has almost identical movement to Steele's fastball, and only a little bit less velocity. Obviously, that's highly unusual. Snell is unique in his own ways, but it's Steele's fastball that should grab your attention. Specifically, notice how much more drop that pitch has than Snell's fastball. It's not just in comparison with Snell that Steele is throwing a heavy four-seamer. Of the 256 pitchers who have thrown at least 50 four-seam fastballs this year, only seven have had less rising action on the pitch than Steele. Of those, five use some variation on a sidearm delivery, and another one (the Rockies' Ty Blach) is really throwing a sinker. It's just not labeled as such. The only hurler who really has a four-seamer (in terms of spin rate, horizontal movement, and arm slot) with a similar vertical shape to Steele's is the Cardinals' Andre Pallante--who, suffice it to say, is otherwise pretty dissimilar from Steele.
We hear a lot about Steele's cut-ride fastball, and it was sound analysis in 2021 and 2022. This year, though, that categorization feels a bit misapplied. Steele has cut, alright. Only two of the aforementioned 256 pitchers have more cut on their fastball than Steele: Brent Suter, and old friend and cut-ride pioneer Carl Edwards, Jr. The ride isn't really there, though. Steele's fastball has morphed into something much closer to a true cutter.
That doesn't mean Steele (or anyone else) needs to start calling his fastball a cutter. Nor is it, for the moment, a problem. On the contrary, it seems to make it even harder for batters to distinguish his heat from his slider, a pitch that has roughly 10 miles per hour of velocity separation from it. He's getting more whiffs on each pitch this year (albeit only slightly so).
Some of that comes down to usage. Steele throws his fastball and slider in almost equal mixture to lefties. To righties, though, he uses the fastball almost twice as often as the slider. A good cutter, which is certainly what the evolving heater looks like, is an especially potent weapon against opposite-handed batters, so he hasn't had as much need for his curve or change against them this year. 
There will be a minor reckoning, at some point. Steele has discussed thinking about and manipulating the pitch differently based on where he's throwing it, and it's awesome that he's developed that much feel for the pitch, but when he's sitting in the low 90s and working with so little rising action, the pressure to command the pitch really increases. If Steele can more consistently get to 93 or 94 miles per hour with the fastball, or if he regains the ability to occasionally achieve more vertical movement, then he won't have to sweat that quite as much. 
For whatever it's worth, his new fastball shape keeps him out of the zone of vertical four-seam movement in which hitters have the most success. It also keeps him out of the zone where they have the least success, but on balance (and understanding, as Steele and the Cubs surely already did, that he was never going to generate above-average rise on the pitch), this adjustment might make the most sense. That's not to mention that, of course, he depends mostly on the lateral movement of the pitch to create deception and enfeeble hitters, anyway.
Justin Steele, Fastballs by Vertical Drop, 2021-23
| | | | |
| --- | --- | --- | --- |
| Year | % FA w/ < 15 in. Drop | % FA w/ 15-22 in. drop | |
| 2021 | 40.6 | 57.1 | 2.3 |
| 2022 | 10.6 | 66.6 | 22.8 |
| 2023 | 1.8 | 44.7 | 53.5 |
|   |   |   |   |
| Lg xwOBA | 0.328 | 0.369 | 0.349 |
There aren't many starters who can operate at the level Steele has achieved with just two primary pitches, but as we've seen here, his stuff is enough of an outlier to make it work. He and his batterymates have also gotten very good at the subtle science of sequencing with such a limited arsenal, and that makes his starts thrilling for the viewer. He's competing. He's out-thinking hitters, in addition to executing well physically. It's been a joy to watch, and there's no reason to doubt that he'll continue to evolve and adjust as the league adjusts to his changing angles.
1