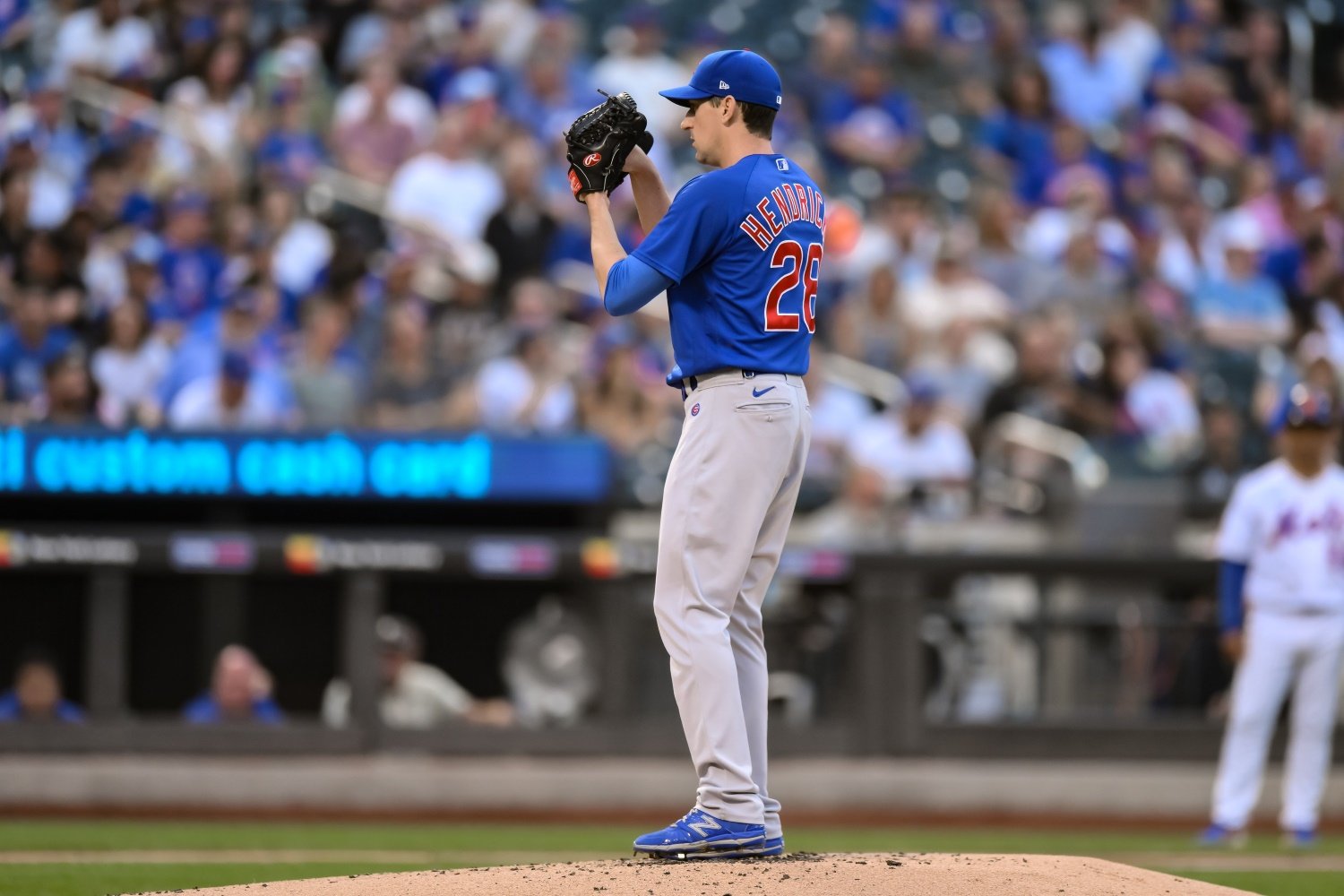 Image courtesy of © John Jones-USA TODAY Sports
Under the terms of the long-term contract to which the Cubs signed Kyle Hendricks in March 2019, they hold a $16-million option on his services for 2024. A year ago, that looked unlikely to be picked up, but he had a solid 2023. That changes the calculus quite a bit, because $16 million doesn't buy what it used to. Besides, thanks to a buyout worth $1.5 million, it's really a $14.5-million decision for them.
The Chicago rotation already has Justin Steele and Jameson Taillon firmly in place for 2024. Marcus Stroman is the one with a decision to make about his future, rather than the Cubs having one. Drew Smyly is under contract for 2024, though the team surely hopes they can relegate him to the bullpen, given what we saw in 2023. Jordan Wicks and Javier Assad, on the other hand, have earned the right to vie for places in the rotation to begin the season. 
That gives the team a fairly crowded rotation depth chart, which would tend to nudge you toward cutting Hendricks loose. On the other hand, in 2023, he pitched more innings (137) than all but Steele, Taillon, and Smyly, and had a lower ERA (3.74) than all but Steele and Assad. He not only returned from a career-endangering shoulder injury, but looked as good as he has since 2020. His walk rate was a minuscule 4.7 percent, and he induced weak contact at one of the best rates in baseball. 
Those are both fragile skills, though--at least at this stage of Hendricks's career. He will always run better-than-average walk and hard-hit rates, because of the nature of his approach, but to repeat (or even approximate) the numbers he put up in 2023, he'd need to remain nearly elite in those categories. That's hard to do, for a few reasons. First, limiting hard contact isn't a very sticky skill. Pitchers' rates don't correlate well year-to-year, even if one confines the sample to hurlers who had at least 250 batted balls against them in each of two consecutive seasons.
Second, Hendricks's low walk rate comes despite the fact that he doesn't throw very many strikes. Of 100 qualifying pitchers, Hendricks had the seventh-lowest Zone% in 2023. He relies on batters expanding the zone a little bit in order to keep that walk rate down, and while his stuff and command do encourage that, it's a hard thing to do on a long-term basis. Hendricks also faces a major hurdle, in that he really doesn't miss bats. Between nibbling so much (of necessity) and getting whiffs on just over 21 percent of swings, Hendricks's strikeout rate fell to 16.1 percent last year--his lowest clip since his rookie campaign of 2014.
According to Baseball Prospectus's Deserved Run Average, which accounts for park factors, opponent quality, handedness matchups and other factors on a granular basis, Hendricks was actually a below-average pitcher last year. His batted-ball data and that low walk rate made some of his other peripheral statistics look good, but DRA debits him quite a bit for the lack of strikeouts. It even accounts for the above: Hendricks is only credited with 88 deserved strikeouts (against 93 actual ones) and he's saddled with 32 deserved walks (against 27 actual free passes). 
If we accept the fact that Hendricks's hard-hit rate, walk rate, and strikeout rate are all likely to regress somewhat, it gets much less clear that he should come back in 2024--at least for $16 million. To those facts, add this one: shoulder capsular injuries like the one that sidelined Hendricks for the second half of 2022 and the first month and a half of 2023 have a tendency to recur. He survived that brush with pitching oblivion, but history suggests that he might get hurt again soon. 
However, Hendricks is important to the organization. He's the link to the championship team. He's also a valued mentor and exemplar for the team's younger hurlers. The Cubs can't afford to keep him at the price set by his option terms. If possible, though, they should explore an extension to replace that deal. Last winter, Smyly signed a two-year deal worth $19 million, with incentives that could (and did) push the value higher and a team option for the third year. Hendricks is in a strikingly similar position right now. His superior track record and the relationship between team and player probably means he would command $11 million per year on a similar contract, instead of $9.5 million, but even that number represents a meaningful discount from the price tag on the option.
As I wrote last week, the Cubs need to build a deep rotation for 2024. They should be ready to use six starters at a time, which means having eight or nine viable arms lined up going into spring training. Hendricks can be a valuable part of that. It just isn't going to work without a bit of maneuvering to get his price down, thereby creating more space for them to operate beneath whatever ceiling ownership puts on their winter spending.
1