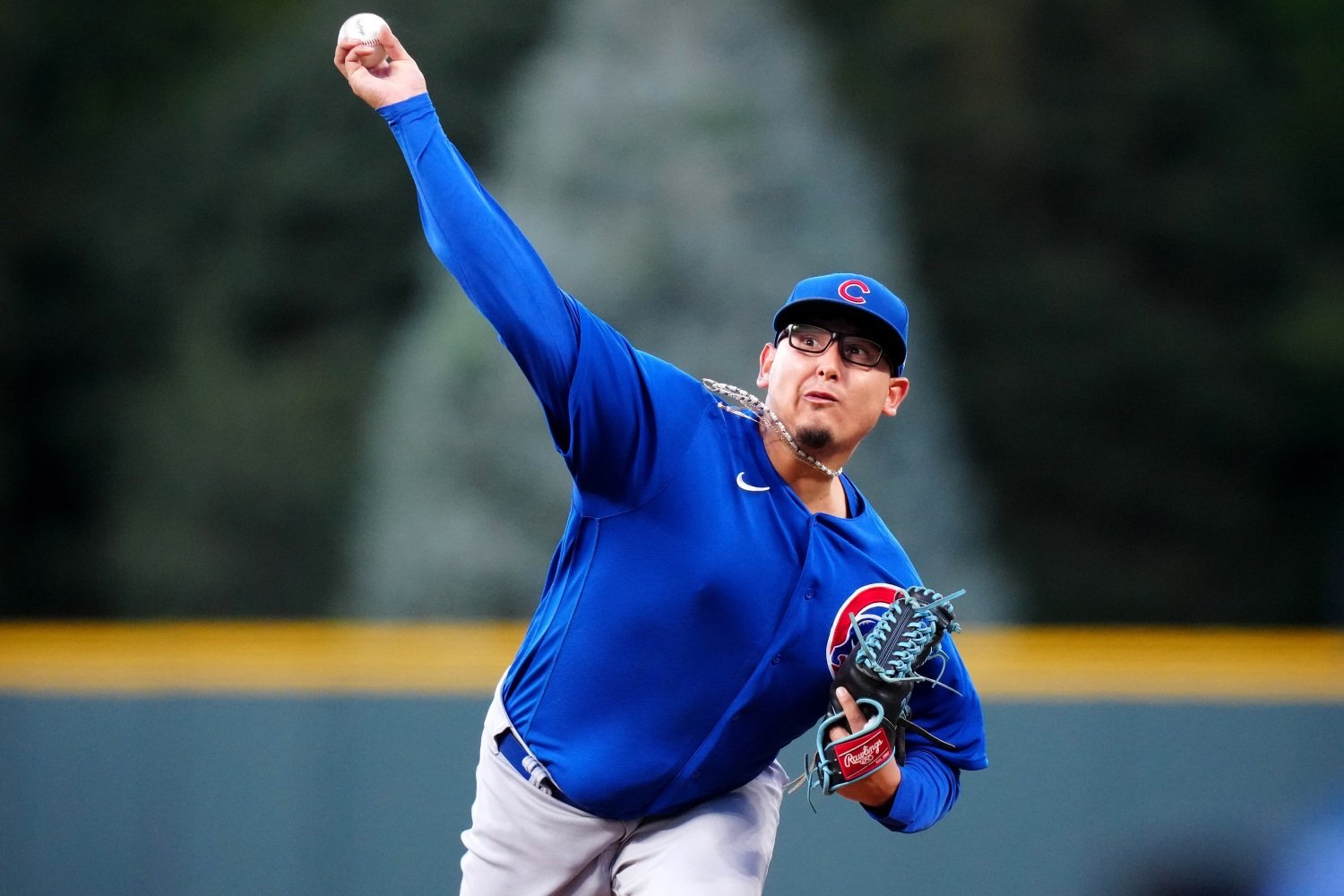 Image courtesy of © Ron Chenoy-USA TODAY Sports
It feels as though injuries are threatening the depth of the Chicago roster almost everywhere, with Adbert Alzolay and Jeimer Candelario hitting the injured list this week. At the moment, though, the team has established a certain level of stability in their starting rotation. This weekend, they'll send Justin Steele, Kyle Hendricks, and Jordan Wicks to the mound for three games against the Diamondbacks. If they reach the Wild Card Series, in a perfect world, they would start those three guys again, in that order.
Between this series and that theoretical one, though, there lurks a lot of important and high-stakes baseball. Three off days jammed into the final two and a half weeks makes things much simpler, because the team can afford to do exactly what the moment seems to demand: skip Javier Assad for one turn and delay his next start until next weekend, against the Rockies. 
Because of the day off on Monday, Steele can come back on regular rest after just three games, next Wednesday. That gives the team the choice to skip either Assad or Jameson Taillon, who would be the starters for the first two games of that series against the Pirates at Wrigley Field if the rotation were uninterrupted. It's important to skip one of them, because that sets up Steele to pitch the following Tuesday in Atlanta, with an eye toward having him available for a potential Game 162 start on the final Sunday of the season in Milwaukee. 
Much-maligned though he's been all year, Taillon has pitched better lately. He frequently gets unlucky, and doesn't seem to respond well to those instances of adversity, mentally. However, he still gives the team a chance to win almost every time he takes the mound, and his outing last Friday against Arizona showed what can happen when that bad break never happens. By contrast, Assad has given up a scary amount of hard contact in each of his last two starts, and while he competed impressively and worked out of trouble several times across those two contests, he ultimately came apart in Colorado. If he's just giving up sharply-hit balls, the team's elite defense has a chance to absorb the damage, but his control abandoned him this week. A break (during which he could still be available for an inning or two in relief) seems in order.
If Taillon starts next Tuesday and Steele goes Wednesday, it would line up Hendricks to make his final start at Wrigley Field for 2023 on Thursday evening against Pittsburgh. Then, Assad could slide back into the rotation on Friday, giving Wicks an extra day before he comes back Saturday. Taillon would go Sunday, and the following week, it would be Steele, Hendricks, and Wicks in Atlanta, with Assad, Taillon, and Steele lined up for the showdown in Milwaukee. 
If that last bit sounds unappealing, remember two things. Firstly, the Wild Card Series runs Tuesday through Thursday, right after the end of the season. That means that whoever goes Friday could be available no sooner than Game 2, and Saturday's starter would have to wait until a potential Game 3. The Cubs could flip Assad and Wicks and have the latter lead off the set against the Brewers on that Friday, to set the tone for the series, but it's possible that the Cubs will be staring at a potential Wild Card Series in the same venue, against the same team. Keeping the Brewers from getting a look at Wicks before the playoffs, if feasible, would be desirable, and anyway, the Cubs have to win their series in Atlanta in order to have a chance to catch Milwaukee. They might as well use their most reliable starters in that tough environment.
It might sound presumptuous to worry about hiding a pitcher for the playoffs or lining things up this far in advance, but again, the schedule brings the team both reprieve and constraints. They can get one of Steele or Hendricks four starts the rest of the way, but not both, unless they send each of them out once on short rest--which, for multiple very good reasons, they will not do. Two straight Mondays off means that Steele can't come back Monday after pitching next Wednesday, and thus, Hendricks can't pitch on the final Tuesday without displacing Steele.
That doesn't mean the Cubs won't get creative with the rotation. Marcus Stroman isn't slated to return in a traditional starting role, but it seems like he's gearing up to be ready for more than a single inning of work in a game. As the schedule unfolds, the front office will gain information about the team's place in the standings. They could, for any of a few reasons, elect to add a bullpen day into this schedule somewhere, led by Stroman, Hayden Wesneski, or Michael Fulmer--or by Ben Brown, if the hard-throwing prospect can smooth out the control issues he's had in his turns as a reliever while working back from a lat injury in Triple-A Iowa.
Still, the path forward looks fairly straightforward. The Cubs need wins, and their essential starters are in place. More than any miraculous arrangement or deployment of them, they need good execution from them. If they get it, they'll have at least three extra starts to map out two weeks from now.