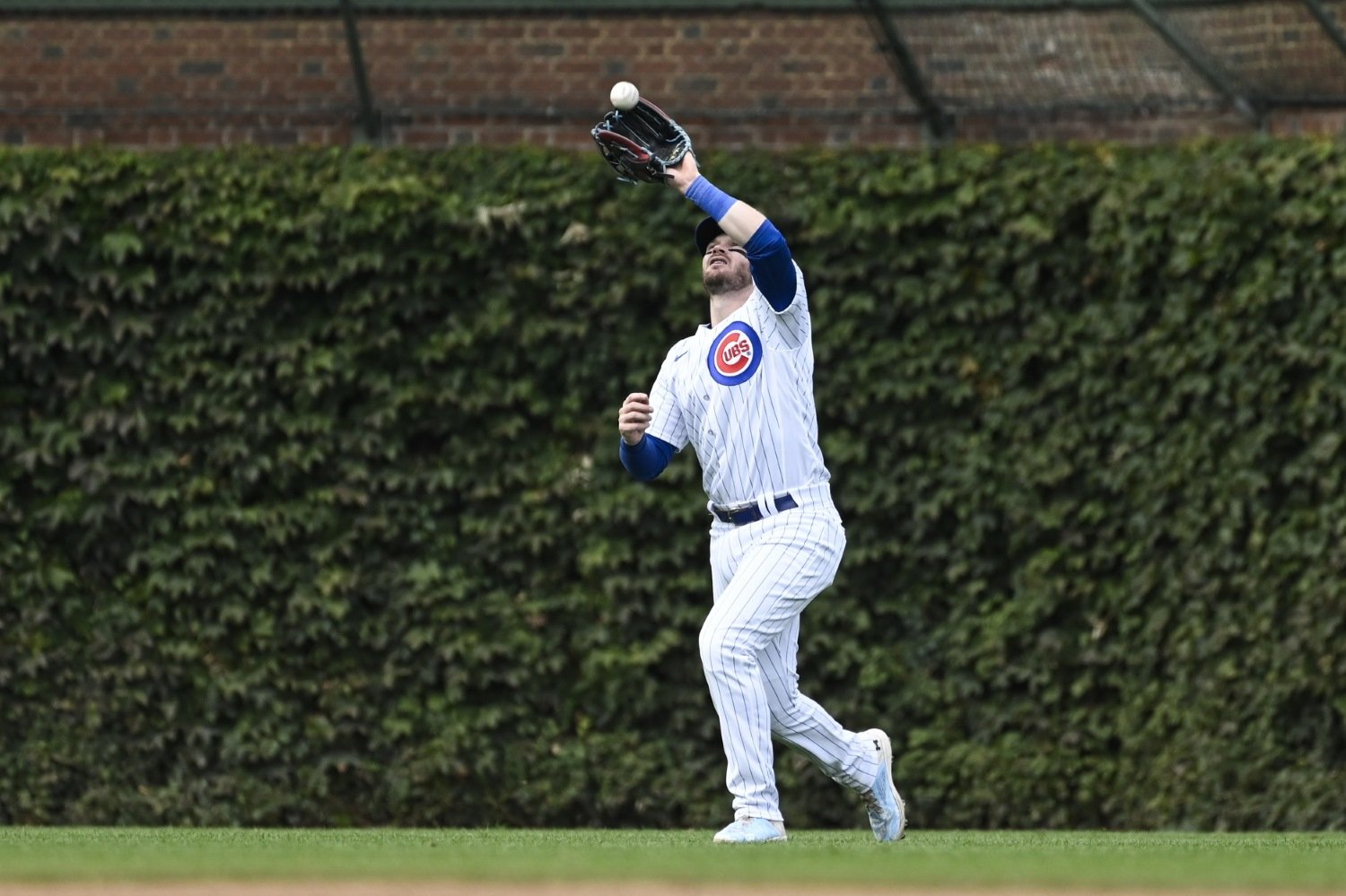 Image courtesy of © Matt Marton-USA TODAY Sports
Remarkably, I do think the numbers (Defensive Runs Saved, from Sports Info Solutions, says Ian Happ is 3 runs better than an average left fielder; Defensive Runs Prevented, from Baseball Prospectus, has him 6.5 runs to the good) are telling us the truth. Somehow, someway, Ian Happ is getting more outs than he's costing the Cubs. His arm has been in fine form this year. Despite not throwing unusually hard, he's been efficient, because he's gotten rid of the ball exceptionally quickly on a few plays and has been deadly accurate. 
He's not letting everything fall in, either. Happ has been an average left fielder this year, with a bit of added value because teams keep testing his arm. That's a fact. This next bit is not quite a fact, but I defy anyone to tell me they honestly feel differently: Watching Happ in left field this year has been painful.
If you're a Harry Potter fan, Happ's reaction to fly balls (and even a fair number of grounders and line drives that reach him on a hop or two) probably looks familiar. 
If not, consult the above, but you can still get the rough idea without watching. Happ isn't slower this year, and he isn't battling some highly technical mechanical flaw in his jumps or anything. The man is in a wrestling match with the baseball almost every time, even while it's still in the air. His legs don't look right. He lurches at the last second. About twice a week, I briefly think he's about to pull a Gregory Polanco. About once a week, he actually does.
Happ has had to slide for balls he shouldn't have had to slide for, including when cutting off hits in the gap. On the Cubs' final home stand of the year this past week, he developed an extremely weird habit of not only deferring to the center fielder on balls hit to left-center field, but turning away from the ball entirely, as if suddenly very interested in the ivy or the goings-on in the Cubs bullpen. He and Pete Crow-Armstrong nearly collided on a ball toward the gap in the ninth inning Sunday, and while it was perfectly catchable for either party and there was ultimately no trouble, it looked wrong. 
None of this is a criticism of Happ. On the contrary, he's done incredibly well to remain at least average at his position, given the severe, mysterious affliction with which he's battling. At the end of a long season in which he's played all but three games and has already come to the plate 668 times, it's possible he's just dead tired. It's possible that the visual training he's so famous for doing to make himself a better hitter has created some unforeseen issue with the different ballistic tracking required to chase fly balls. It's possible Happ is playing through an injury of some kind. Whatever the case, that he's out there every day and hasn't cost the Cubs more dearly in left field is to be lauded, not derided.
Still, the team should consider some alternatives. As hard as Happ is playing, he has hurt the team in multiple recent losses with bad defensive play. If they trust Christopher Morel in left field at all, letting him patrol that area might make sense, with Happ switching to the DH spot Morel often occupies in the lineup. Happ has been terrific at the plate this year, in ways that are being too much overlooked.
In 27 more plate appearances than he had last year, Happ has the same number of strikeouts (149), 40 more walks (98 vs. 58), and only four fewer extra-base hits, with two more home runs. He's posted an .864 OPS over the last four weeks, with the team's playoff hopes in the balance every day. He deserves to be in the lineup every day. He just might need a little time off from left field. It's either that, or they're going to have to give him a second glove to wrestle more of these midair bad hops into submission.