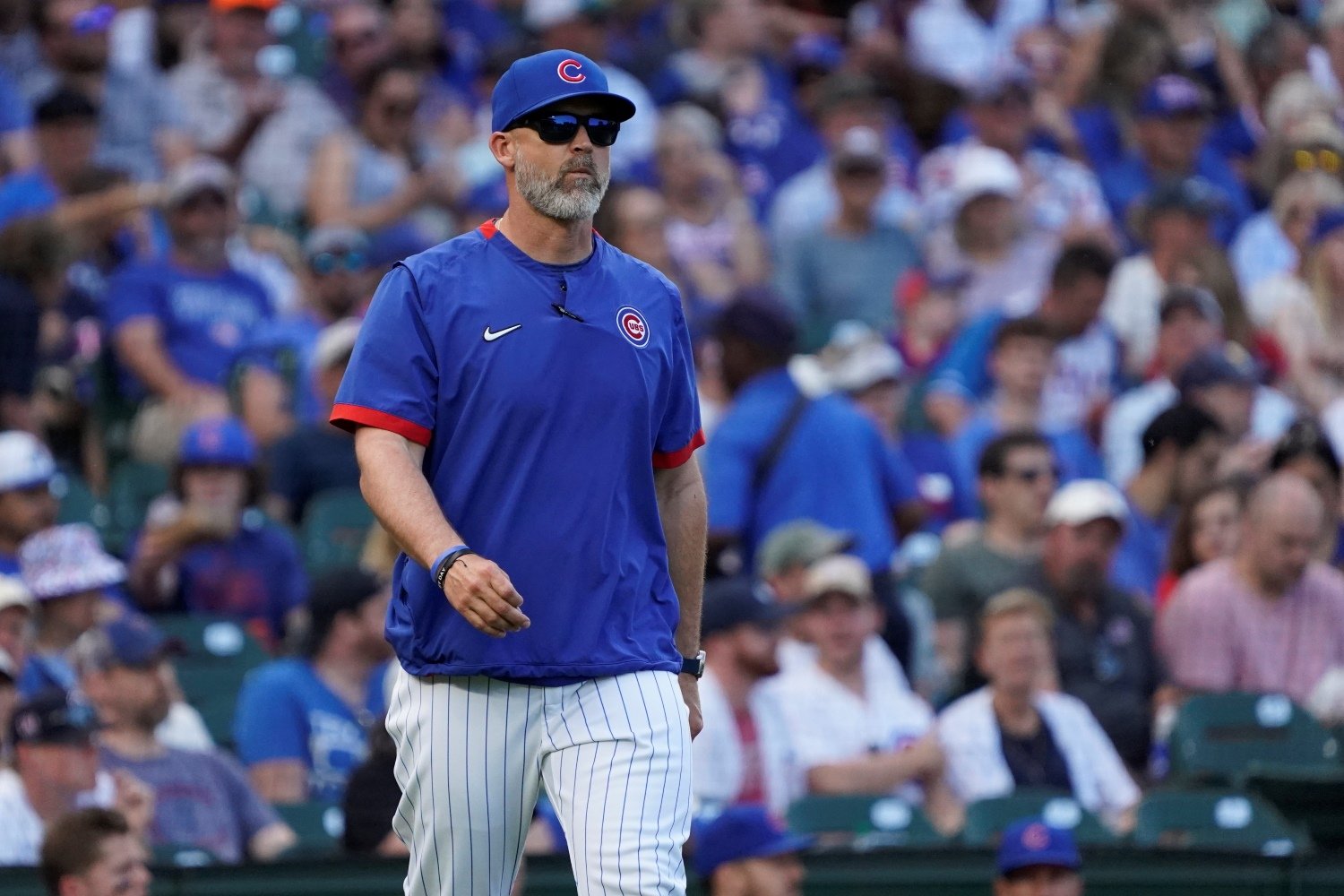 Image courtesy of © David Banks-USA TODAY Sports
Even at their early apotheosis, the Cubs weren't exactly favorites in the NL Central. Everyone knew, even as the Cubs fought to keep pace with the Brewers' hot start and to take advantage of the Cardinals' woefully slow one, that those two teams were deeper and more likely to contend than the Cubs were. Still, the difference in their apparent chances now (relative to after their 11-6 start) is tangible.
The above is according to FanGraphs. Baseball Prospectus, alas, is even less sanguine about the Cubs. They view the Brewers as near-locks to win the division, and only give the Cubs a 9.6-percent chance to reach the postseason. 
In a sense, these are meaningless numbers. They're probabilities based on simulations and statistical models. We live in just one reality at a time, so for as long as the percentages here are above 0.0, it's possible to convince oneself that the team will simply beat the odds--that we live in a 90th-percentile world. 
Still, the more closely one follows the season (and especially this year's Cubs), the more intuitive and accurate the numbers feel. In mid-April, the Cubs peaked with a 32-percent chance at the playoffs, according to FanGraphs. If most fans are honest with themselves, they'll acknowledge that they feel somewhere just south of half as optimistic now as they did then.
There's a determinism to these numbers, too. It doesn't need to (and won't) happen right away, but sooner or later, Jed Hoyer and company will use their internal version of these numbers to make decisions about whether to buy, sell, or hold at the deadline. Hoyer is dispassionate enough to make a few uncomfortable moves again this July, if the team doesn't earn at least some of his trust and further investment.
The most salient fact here is that the Brewers are clearly ahead of the Cubs right now--not only in the standings, but in any objective projection of the rest of the season. The proper response to that reality is to get aggressive. If the team plays better over the next three weeks than they have over the last six, they'll put themselves in position to get help from the front office, and they can close the talent gap reflected in these projections. If they have a repeat of May, then June will just be part of a long July Goodbye.
Let's talk about what those two possible outcomes would look like, in some detail. Firstly, should the team fail to make a quick recovery and push back toward the top of the standings, the Cubs do have some pieces to sell. It's not likely that they end up with as many appealing pieces as they had to sell in 2021, thanks to the rocky performance and injury that stopped Cody Bellinger's bounceback season in its tracks and to the extension to which they signed Ian Happ.
Speaking of the Happ extension, that choice began to concretize and clarify the team's long-term core, and that should make them pause even at a move like the Scott Effross deal last summer. Trading any potentially significant contributor for the medium term will be harder, with Happ, Nico Hoerner, Dansby Swanson, and Seiya Suzuki locked into a core to which the team hopes to add Pete Crow-Armstrong and others in the next year or so. 
Still, if someone offers something akin to Hayden Wesneski for Mark Leiter, Jr., Hoyer would have to listen. If a bidding war develops over the services of Marcus Stroman, the Cubs might deal him, knowing he's likely to hit free agency again this fall, anyway. Even Drew Smyly, enjoying something close to a career year at age 34, has to be a trade candidate, despite being under contract through 2024. Kyle Hendricks would be a trade candidate. 
In the right roles, Trey Mancini and Yan Gomes could help a contender. If the Cubs aren't one, both of them would become available, too. Now that Christopher Morel's best self appears to be more or less the same as Patrick Wisdom's, trading Wisdom would seem to make sense, too. 
That's a lot of potential change, but the Cubs would have to act decisively if they continue to fall from contention. They did so in 2014, the third season of that full-scale rebuild, and it allowed them to take an unambiguous turn toward contention in 2015. Still, it's depressing to consider a third straight sell-off for this team, whatever boost it might give to an already-strong farm system.
Let's briefly imagine, then, what it will look like if the team can even get their Playoff Odds figure back into the 30s. At that point, Hoyer and Carter Hawkins would need to go shopping. Much depends on the results of Justin Steele's MRI, of course, but for the moment, let's assume that he will return reasonably soon. In that case, the Cubs don't necessarily need another starting pitcher. Their more urgent needs are for bullpen and lineup depth. 
Cubs designated hitters are batting just .179/.259/.313 this year. Those would be poor numbers at catcher or shortstop. If the team hangs around, an easy and obviously necessary step will be to go out and trade for a more credible hitter, be he a true DH or someone who can rotate through that spot in addition to finding playing time elsewhere. Mancini has a bit more time to stake a stronger claim to that job, but his season has been so uneven and underwhelming that it's hard to imagine he'll do so. Matt Mervis should get a slightly longer leash, especially while the team lingers in this purgatorial region of the standings, but his numbers are those of a slightly overmatched rookie, not the slugger the Cubs need at first base.
Mike Tauchman's arrival obviates the need to go get a fourth outfielder. However, the bench could still improve, not only by pushing someone out of rotation every day with the insertion of that mystery slugger, but by upgrading the backup catcher spot. Tucker Barnhart has been a bust of a signing so far. 
Those are the two paths that lie before this Cubs team. June (and especially, the stretch between now and June 19) will set them on one of them for the rest of the season. At the moment, fans can only watch the painful process of the team confusedly conferring as they stand at the crossroads.