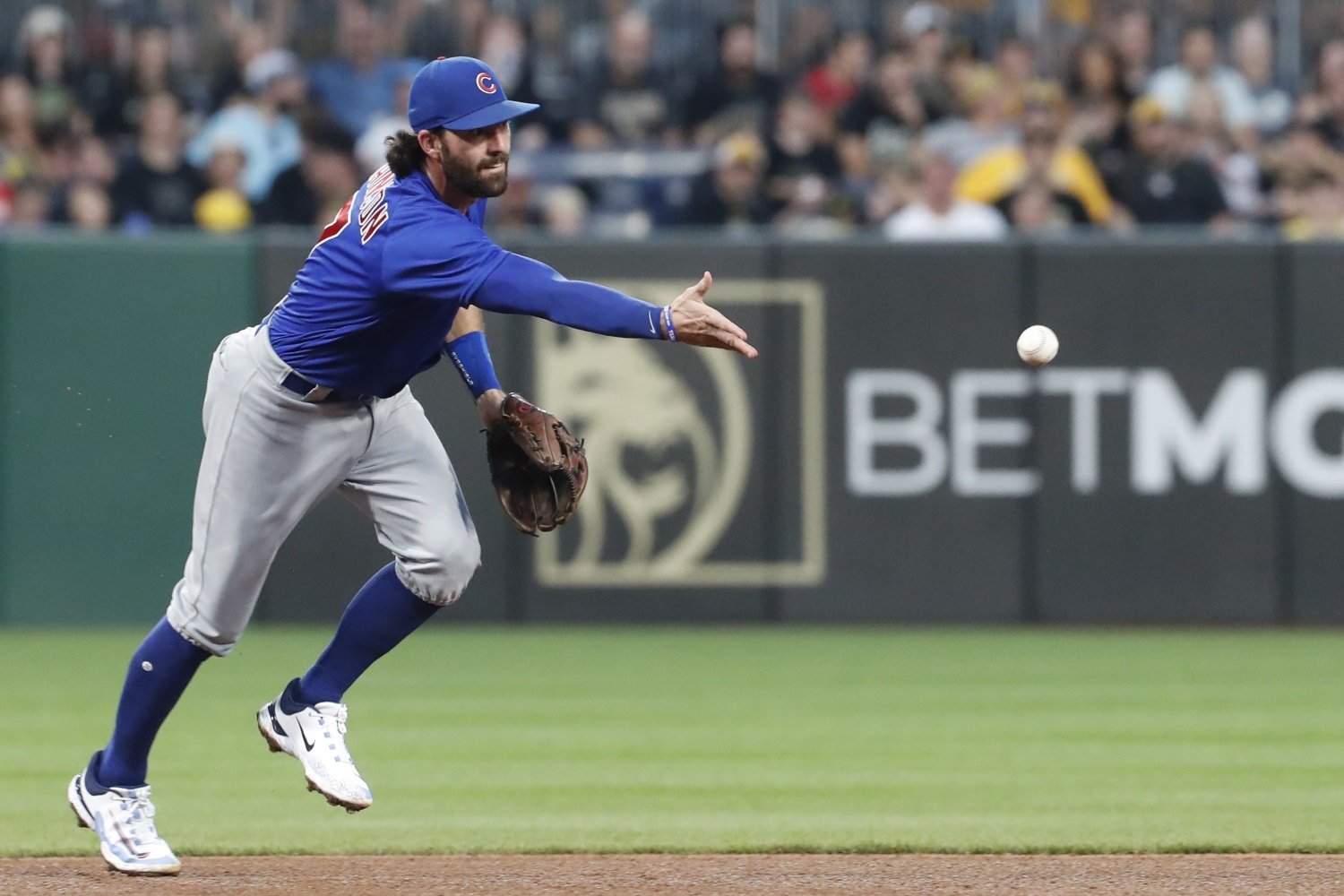 Image courtesy of © Charles LeClaire-USA TODAY Sports
In 2023, the Cubs assiduously navigated the season in such a way as to avoid exceeding even the first threshold above which they would have had to pay the luxury tax. Their full-season payroll figure, by the reckoning of the Competitive Balance Tax (which takes the annual average value of every contract for which the team is responsible), was abut $230.8 million, according to Cot's Contracts. That was about $2 million below the aforesaid threshold, which stood at $233 million for this season.
Next year, that threshold rises to $237 million. The Cubs will have to surpass it even to match their work from 2023, let alone to build upon it. Right now, they have just under $160 million on their books for 2024 (again, sticking with the average value of each contract, since that's the relevant number here). That includes Marcus Stroman's $23.67 million, because he's entitled to it unless and until he opts out of the $21 million he'll get if he elects to finish out his three-year deal. At this point, the broad expectation is that he'll stick around, so keeping him listed here is the right way to think about it. 
However, that estimate excludes a lot of money that really won't be optional for the Cubs. They have a genuine choice about whether or not to retain Kyle Hendricks, but given the important place he holds in the organization at this point and how well he pitched in 2023, it would be awfully difficult to see him walk away. Rather than simply picking up the option, the team and the pitcher could come to a multi-year agreement that would slightly lower the CBT number associated with Hendricks's contract--say, from $16 million to somewhere around $12 million. Add that much, and the payroll bloats to $170 million. You can add another $7 million, while you're at it, because Yan Gomes is certain to come back on the option the team holds on him.
Now, we have to account for the important players who will get significant raises via free agency this winter. That list contains (but isn't limited to) Justin Steele, Adbert Alzolay, Julian Merryweather, and Patrick Wisdom. The team might non-tender one or two of the players theoretically eligible for a raise their performance won't have earned, but all told, they're going to owe $190 million or more to their in-house talent--not the full crew we just saw win 83 games and fall just shy of the postseason, but that group, less the guys with the right to depart as free agents. There's $45 million and change left for the team to spend below the first tax threshold, and they have to replace the production of Cody Bellinger (even if it be by re-signing him), Michael Fulmer, and more.
I probably don't have to tell you this, by now, but $237 million is not the relevant number. That's not the target. The second threshold of the tax bracket, as it were, kicks in relatively gentle surcharges on the tax a team pays for overrunning the threshold. That comes at $20 million above the first threshold, so $257 million for 2024. The much harder cap, and one I don't expect the Cubs to exceed at any point within the life of this collective bargaining agreement, is at $40 million beyond the threshold--a cool $277 million. 
A team at the Cubs' point in the competitive cycle needs to be careful not to overspend and get stuck a tier or two above the bottom threshold for multiple years. That can make some of the penalties built into the CBA truly hurt. While there's no short-term financial or competitive reason why they couldn't spend as much as $275 million on next year's team, neither the free-agent market that looms this winter nor their current roster scream for that kind of brinksmanship. What's important is that the front office recognizes the need to spend something--to get well above $237 million.
It has to be that way, because the Cubs are good enough to win in 2024, and should treat that opportunity as the valuable and sacred entity it is. At the same time, they haven't been good enough at developing or positioning their young players over the last few years to lean on that group to take them anywhere any time soon. As highly-regarded as their farm system is, they haven't yet proved that they can translate a promising prospect into a valuable contributor with the smoothness or the speed necessary to get themselves over the hump. Nor is this farm blessed with the kind of superstar upside that some other, thinner systems possess.
The core of the Cubs, for the medium term, consists of Steele, Nico Hoerner, Dansby Swanson, Ian Happ, and Seiya Suzuki. Those are the guys the team controls for at least three more seasons, and who project to be above-average players throughout that period. That's not a bad group, but (unless second-half Suzuki was the real deal, which seems doubtful) there's at least one true star missing from it. It's also a pretty expensive core, really. The quartet of position players account for about $75 million of luxury-tax payroll by themselves.
In a vacuum, that's not a bad cumulative price for those players. In the context of this roster, it's imperfect. If both Stroman and Hendricks come back, they'll cost something like $35 million. The team will also have to budget about $38 million for the group of free agents from last winter (Jameson Taillon, Drew Smyly, Trey Mancini, and Tucker Barnhart) to whom they guaranteed multiple years--even though Mancini and Barnhart are gone, and Smyly seems certain to be relegated to a relief role. Just as it did when the team was working around a $23-million annual salary for Jason Heyward, the money spends quickly. The leash gets short once the tax threshold even comes into sight, especially given how inefficiently the front office has spent the Ricketts family's money recently.
Eyeballing this roster and using the roughest of projections, they need to add about 14 wins above replacement to position themselves well for 2024. You can't do that with average returns on investment in free agency. It will require Jed Hoyer and his gang to hit big on a signing or two, and to make an aggressive trade or two, and to improve at player development, including finding a way to make their big-league coaching staff better at getting the most from young players. Even if they do all that, though, they do need to spend more money. 
I'm here to say that if the Cubs don't spend at least $250 million next season, in terms of their CBT figure, Hoyer has missed the boat and been insufficiently proactive. I don't see how the Cubs can credibly expect to take their next step toward winning the NL Central and putting up a better fight against the best teams in the rest of the league, except by spending money to deepen their roster and supplement the infusion of young talent they expect. 
The X factor, as ever, is Shohei Ohtani. It's wildly unlikely that the Cubs will land him. I waited this long to talk about him for a reason. The kind of contract he should get (even after his injury last month) figures to be outside the comfort zone of Hoyer and company, but just as importantly, it's a big marketplace. Fans (and even some analysts) can easily lose sight of this, but a team has very little real control over whether it wins a free-agent sweepstakes. Yes, players usually sign with the team who gives them the most money, but in reality, there are plenty of cases in which a player's agent merely got the team the player most preferred to pony up whatever difference existed between their bid and that of a less wanted team.
Ohtani probably won't sign with the Cubs, because they probably aren't his first or second choice, and one of the teams above them on his wish list seems likely to do what it takes to secure his services. If, however, the Cubs sign Ohtani, it should be as part of an exceptionally aggressive winter, overall. It should come with calls to the Cleveland Guardians about Jose Ramirez. It should come with authorization to spend up to $270 million, to ensure the team's immediate competitiveness as they onboard some of the young players who would look to Ohtani as their leader. Failing that, though, the Cubs probably have around $60 million to play with this winter, if they're serious about 2024. That won't feel like much, once they either re-sign or replace Bellinger, because that could take nearly half of their available capital, but it's the most they're likely to get--and it's the least they can do, if Tom Ricketts's tough talk about not counting non-playoff seasons as successes is to carry any weight.
What payroll figure are you expecting for the 2024 Cubs? What's the least they can spend, and how would you resolve dilemmas on guys like Hendricks and Wisdom? Let us know in the comments.