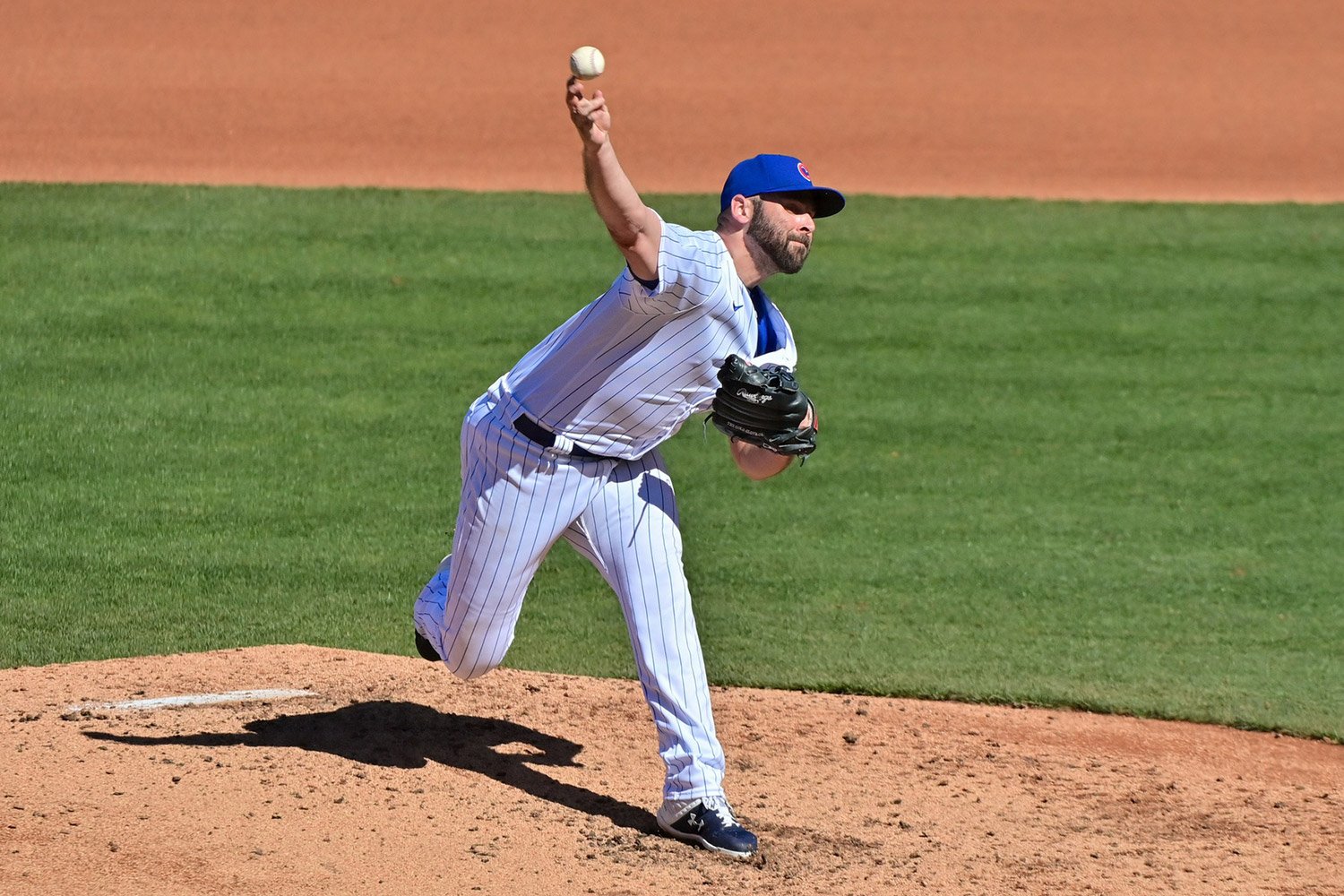 Image courtesy of © Matt Kartozian-USA TODAY Sports
Once an All-Star starting pitcher for the Detroit Tigers and a much-rumored Cubs trade target, Michael Fulmer had a hard fall from those heights beginning in 2018. He had never missed bats like a true ace, and that season, the league found a way to exploit that fact more consistently than they had in his first two campaigns. His ERA got bloated, and then he got hurt, and his career as a starter ended with a thud.
Since 2021, Fulmer has been a fairly successful one-inning reliever, tapping into more swing-and-miss and limiting hard contact as he was unable to in his doomed efforts to return from Tommy John surgery as a starter. He accomplished the metamorphosis that has made many pitchers rich, even when they seemed to be on the verge of falling out of the majors altogether.
As it turns out, though, that was always a begrudging transformation. The man who briefly dominated the American League with what radio commentator Jim Price lovingly called a "swingback fastball," faced with the reality that he could no longer stick as a starting pitcher, went to the bullpen and went right on plotting his return to that very role. This winter, as a free agent, Fulmer initially told interested teams he wanted to start again. That stalled out most conversations, and kept him on the market until the middle of February.
If you incorporate that information into your evaluation of Fulmer's last two seasons, they make more sense. Despite mid-90s fastball velocity, he didn't discover a new gear or start striking batters out at a 30-percent clip when he made the conversion to relief. In fact, since the start of 2021, his strikeout rate is 23.4 percent. That's barely average for all pitchers, let alone for a high-leverage reliever. 
Why didn't he find more whiffs next to the sunflower seeds in the bullpen? Much of the answer is that he kept pitching like a starter. He threw four pitches to lefties throughout the last two seasons: his slider, his four-seamer, his sinker, and his changeup. He even sprinkled in the odd curveball. Against righties, he was more slider-heavy, and he gradually shelved the changeup. He stuck with the cutter-shaped slider he had always used, though.
He could throw that bullet-spin slider at over 90 miles per hour. It had a sharp veer, a slower but no less aesthetically pleasing mirror image of that "swingback" sinker. He felt confident about throwing it for strikes, or at least about being near the zone with it. Unfortunately, the results showed that hitters had a similar comfort with it. They never crushed it, but they swung at it at an exactly average rate, and they whiffed considerably less often than at an average slider.
No more. Now, Fulmer is a closer. If he couldn't start, he at least wanted that opportunity, and that was the role the Cubs gave him a chance to earn. He came into camp even before his deal was official, and under the stewardship of the Cubs' evolving pitching instruction infrastructure, he's turned that cutterish slider into a whippy, sweeping thing that has a much better chance to miss bats.
The horizontal movement is just one aspect of the difference. Fulmer's new slider spins about 150 revolutions per minute faster than the old version did. It also has slightly more vertical depth, and it's about four miles per hour slower. That combination is the recipe for many more whiffs.
Fulmer hasn't abandoned the hard, short slider. He still has it as a supplementary option, and can go there if he needs a strike but doesn't want to pour in a fastball. For the first time, though, he's learning to really pitch like a reliever. He doesn't have to leave everything he learned in his years as a starter at the bullpen door. He can still use his four-seamer or sink the ball a bit, as situations, matchups, and his comfort warrant. He can still use the odd changeup to keep lefties off-balance. He can still use either variant of the slider. He just needed to embrace the fact that he's not the player he once dreamed of being, and now that he has, he can find the true upside of his best weapons, old and (especially) new.
This is part of what the Cubs have done well recently when it comes to the bullpen. Most of their high-profile, successful reclamation projects haven't faced the same dilemma Fulmer is just now resolving, but they've done that specific thing, too. In general, in addition to getting better at pitch design and analytics-informed training, Chicago is good at getting mental and emotional blockages out of the way for relievers at a tricky career stage. If they've unlocked Fulmer's potential by communicating well and being patient with a proud hurler, they could realize as much profit on this move as on any reliever deal in recent memory.