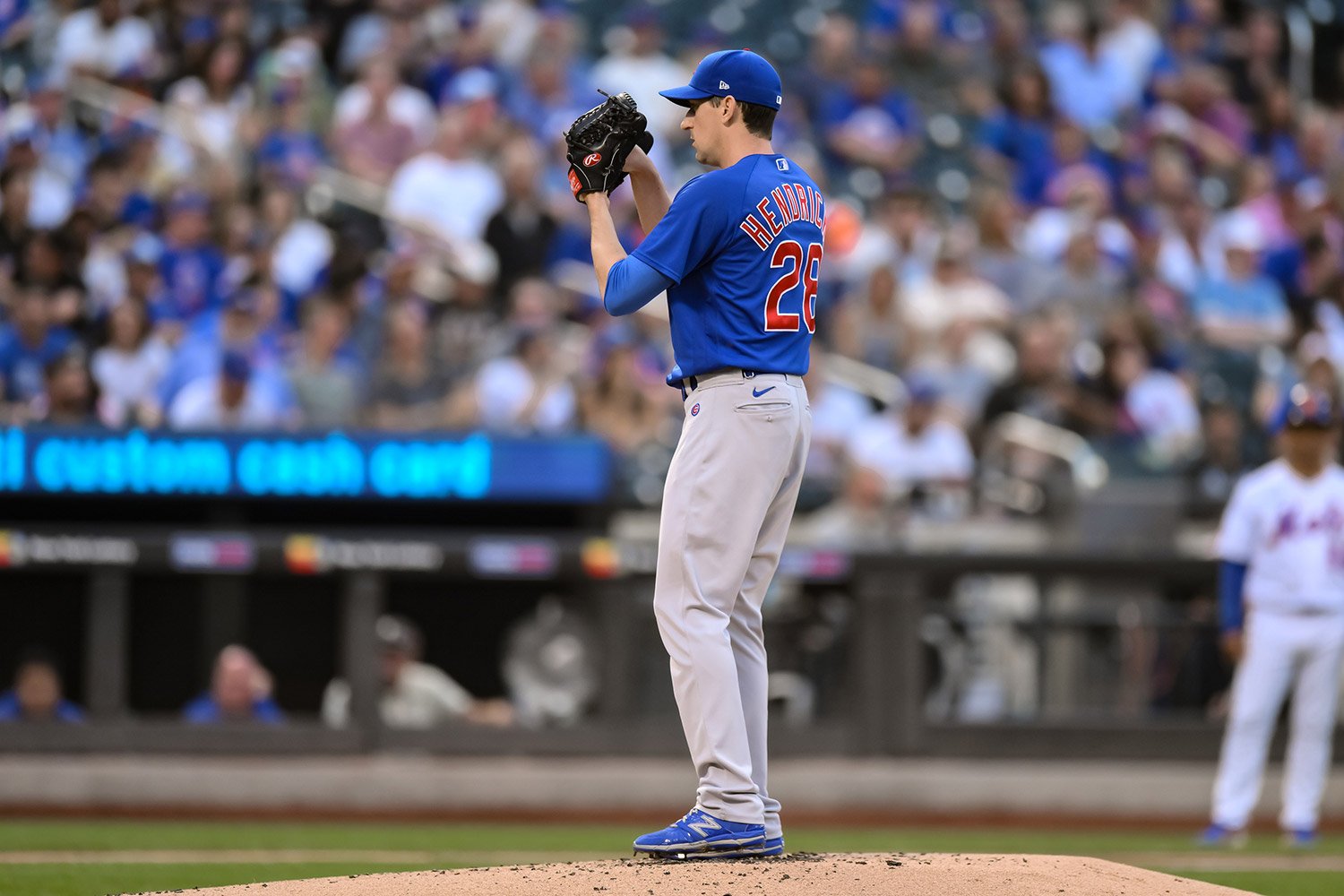 Image courtesy of © John Jones-USA TODAY Sports
The premise behind this is simple: at each position, we'll take a look at which roster had the better player(s). As you'd expect, the World Series winning roster will look a bit more stacked than the Wild Card hopeful one, but it's an exercise meant to demonstrate that one size does not fit all when it comes to contending for the championship. 
The Cubs 2016 roster data is from Baseball Almanac; the up-to-date Cubs 2023 roster data is from The Athletic. All stats are current through August 17, 2023.
This is part three of a three-part series. Part one, featuring infielders, is available here.
Part two, featuring outfielders, is available here.
---
STARTING PITCHERS
Jon Lester/Jake Arrieta/Kyle Hendricks/John Lackey/Jason Hammel v.s. Justin Steele/Marcus Stroman/Kyle Hendricks/Jameson Taillon/Javier Assad
There's just too much going on here to judge the entire conglomerate of starters against one another, so we'll go one by one. 
The Lefty Ace: Lester v.s. Steele
Lester finished 2016 second in the NL Cy Young voting; a placement Steele may be on pace to match this year. Lester posted a 2.44 ERA in 202 and ⅔ innings, while Steele has a 2.79 ERA in 126 innings so far this year. Their walk and strikeout rates are nearly identical, and they both have an ERA+ within points of each other (164 for Steele, 171 for Lester). Lester's FIP was higher (3.41 compared to 3.20 for Steele), but he pitched to the strengths of his defense, much like how Steele does now. 
This is exceptionally close, and the goal of this exercise is simply to look at where the players are in their respective careers in 2016 or 2023. That being said, part of why Lester was signed was his legendary postseason resume, and until Steele proves he has the same resolve under the brightest lights, it's hard not to give the edge to #34. 
Advantage: 2016 Cubs
---
The Right-Handed Sidekick: Arrieta v.s. Stroman
Calling either of these guys a sidekick is probably a disservice to them, but Arrieta followed Lester by starting Game 2 of the World Series, something Stroman would recreate behind Steele should the Cubs somehow get to that stage this year. 
Stroman is currently injured, and he's struggled badly recently. However, he was off to an incredible start this season, earning an all-star selection on the back of a 2.96 ERA in 112 and ⅔ first-half innings. He's among the best groundball pitchers in the league (a good quality to have in front of one of the best infield defenses in the majors), and he takes pride in pitching deep into ball games. 
That said, Arrieta was still near the peak of his powers in 2016. Though nothing could match his historic finish to the 2015 season, a 3.10 ERA and 190 strikeouts in 197 and ⅓ innings in 2016 wasn't too shabby. He was also tremendous in the World Series against Cleveland, going 2-0 with a 2.38 ERA in 11 and ⅓ innings across two starts in Games 2 and 6. 
Advantage: 2016 Cubs
---
The Kyle Hendricks Bowl: Hendricks v.s. Hendricks
The final remaining member of that World Series team, Hendricks, is still plugging away in 2023 as an effective mid-rotation starter. The Hendricks of 2016, on the other hand, was a bonafide ace, winning the ERA title that year with a 2.13 mark in 190 innings and finishing third in Cy Young voting (right behind Lester). 
It would be fun to dissect how Hendricks has evolved as a soft-tossing, control-first pitcher, but "The Professor" is no longer the same player he once was. Though he's still a valuable contributor to this day, he isn't the guy that threw nearly five innings of one-run ball in Game 7 of the World Series. 
Advantage: 2016 Cubs
---
The Veteran Free Agent with a $17 million AAV: Lackey v.s. Taillon
I already know what the big complaint for this matchup will be: "Um, technically, Lackey only made $32 million across two years with the Cubs, meaning his AAV was only $16 million." In response, I remind you Ken Rosenthal initially tweeted that the deal was worth $34 million and that I like the mirroring thing we have going on here. So deal with it. 
Lackey was a great #4 starter for the Cubs, putting up a 3.35 ERA with 180 strikeouts across 188 and ⅓ innings. Taillon's rebuttal? A 5.71 ERA in 104 innings. However, that stat is marred by a truly horrendous first half, where he posted a 6.15 ERA in 71 and ⅔ innings. 
Regardless, this isn't much of a competition. Lackey was still pitching like a near-ace in his first year with the Cubs, while Taillon struggled to find his footing for an ailing Cubs rotation. 
The 2016 Cubs are turning this into a blowout. 
Advantage: 2016 Cubs
---
The 5th Starter: Hammel v.s. Assad
Man, oh man, did the Cubs ever have some ludicrous stability in their rotation in 2016? Every single one of their five rotation members made at least 29 starts and pitched at least 165 innings. The Cubs of 2023 have shuffled through numerous pitchers, including both Hayden Wesneski and Drew Smyly making double-digit starts. 
This is probably the closest of all the starting pitcher competitions, not including Lester v. Steele, but Hammel still takes it going away. Assad was great in long relief for most of this year, but he's wholly unproven as a starting pitcher. Meanwhile, Hammel put up a 3.83 ERA (good for a 109 ERA+ in 2016) while taking the ball every fifth day. Hard to ask for much more from your fifth guy.
Advantage: 2016 Cubs
---
RELIEF PITCHERS
Aroldis Chapman/Carl Edwards Jr./Justin Grimm/Pedro Strop/Héctor Rondón/Mike Montgomery/Travis Wood v.s. Michael Fulmer/Julian Merryweather/Mark Leiter Jr./Adbert Alzolay/Drew Smyly/Hayden Wesneski/José Cuas/Daniel Palencia/Michael Rucker
We won't break this down like we did with the rotation (too many moving parts in a bullpen throughout the season), and I'll note that I used the World Series roster bullpen for the 2016 team (rather than the roster at the end of the regular season). This is probably closer than you think, given the names in the 2016 pen, though many will remember just how much Joe Maddon's "circle of trust" got overworked in the run to the title. 
The Cubs were ninth in the majors in bullpen ERA in 2016 with a 3.56 mark, though that ranking improved to sixth following the Chapman trade. Likewise, the Cubs currently rank 12th with a 3.97 ERA this year, though they are in the top five since the calendar has flipped to June. Also worth noting is that the bullpen was mediocre in the playoffs with a 3.94 ERA that was over a run and a half worse than Cleveland, though again, that mark is inflated thanks to Maddon's mismanagement of guys like Chapman and Strop. 
The Cubs of late have put together some really impressive relief corps for relative pittances, but that 2016 'pen held things together behind a dominant rotation. With a little more year-over-year stability next to homegrown closer Adbert Alzolay, the modern Cubs could make a case for the advantage here, but the cap leans left toward the 2016 squad for now. 
Advantage: 2016 Cubs
---
FINAL TALLY
Offense: 2016 Cubs = 3, 2023 Cubs = 4, 1 Tie
Pitching: 2016 Cubs = 6, 2023 Cubs = 0
Total: 2016 Cubs = 9, 2023 Cubs = 4, 1 Tie
So what have we learned here today? Well, for starters (no pun intended), having a dominant rotation that never gets hurt and pitches in front of an elite defense seems to be a good recipe for success. Oh, and having multiple guys that finish top five in both MVP and Cy Young voting probably doesn't hurt, either. 
In all seriousness, the real takeaway should be that while the 2023 Cubs would probably get swept in a seven-game series against their 2016 counterparts, this team isn't that far off from being legitimately competitive with the best of the best. There are reinforcements coming from the minor leagues in the form of both pitchers and hitters, and the team will have some salary wiggle room to add a couple of the missing pieces to the formula. Hopefully, these Cubs can ensure there doesn't need to be a drought before reaching the mountaintop again.