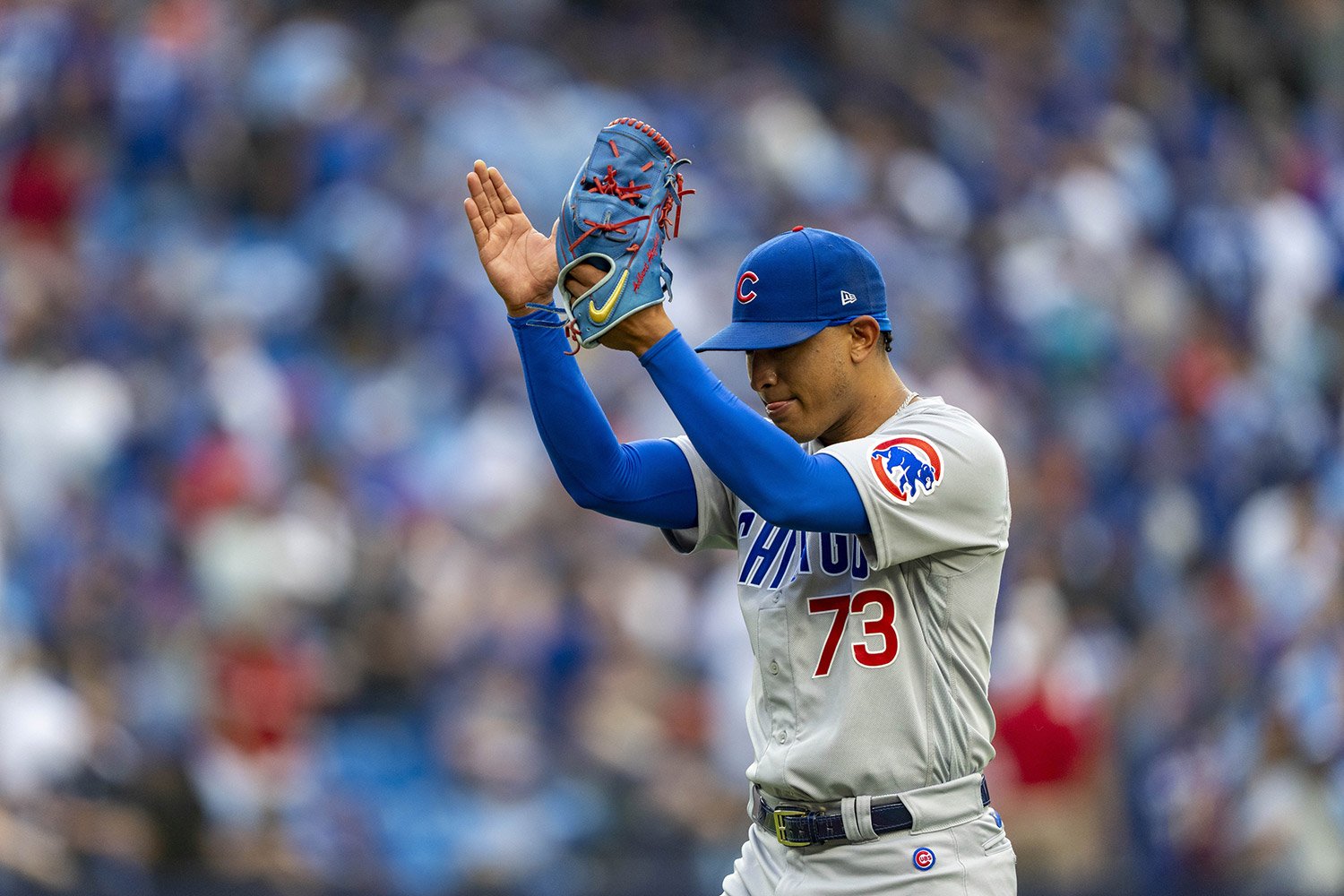 Image courtesy of © Kevin Sousa-USA TODAY Sports
I'll ask you to think back to the golden era of the last Cubs core. Two of the biggest acquisitions those teams made were Aroldis Chapman for prospects and Wade Davis for Jorge Soler. Joe Maddon famously kept his "circle of trust" in the bullpen extremely tight, carefully deploying relievers even with recent runs of lights-out pitching like Héctor Rondón and Justin Grimm. Those trades, while proving bountiful at the time (and certainly moves the Cubs would not take back even if given a chance), began the depletion of the farm system and organizational depth that would prove fatal to the Theo Epstein-built empire. 
It was obvious, in hindsight, that the Cubs needed to do a better job of not only developing their own in-house pitching (both starting and relieving) but also making the most of some low-risk, high-upside offseason signings in order to maximize their bullpen contributions for a lesser cost, both prospect-wise and monetarily. The Cubs of today had a new philosophy under Jed Hoyer: they were going to build elite bullpens out of boxes of scraps [in a cave?]. 
Over the last three seasons, including this one, the Cubs have ranked 8th, 9th, and 6th in bullpen ERA in the National League, respectively. Now, while those figures may not sound too impressive, it's worth mentioning that they climb into the top five each year once the calendar hits June. The games in April and May still matter, but the method by which the Cubs have built their bullpens lately necessarily leads to trial and error. Guys with established track records like Michael Fulmer and Brad Boxberger will struggle out of the gate whilst thrust into high-leverage roles, and under-the-radar acquisitions like Daniel Norris implode while trying to eat innings. It's not a perfect system, but it has led the Cubs to unearth gems like Mark Leiter Jr., Julian Merryweather, and homegrown closer Adbert Alzolay. 
All of that fails to mention another significant aspect of this methodology of roster construction: cost-cutting. Whereas some teams around the league have no issue handing out massive contracts to dominant relievers, the Cubs have shied away from the practice, preferring to trust their pitching infrastructure to help scuffling relievers reach their full potential. On this year's roster, two relievers are accounting for more than $1 million against the Cubs' luxury tax payroll: Fulmer and Boxberger, who combined are making less than one-third of Edwin Diaz's salary this season. As a result, the Cubs rank 20th this year in bullpen spending, with the roughy ~$8 million they've shelled out accounting for only 4.35% of their payroll. The two years prior to this one, the Cubs finished the season 28th (in 2022) and 29th (in 2021) in bullpen payroll. There should be no doubt that there has been a shift in organizational philosophy on this front.
Additionally, if you think these cheap, quality relievers are valuable for a winning team, then don't forget how valuable they were for a losing one. Last year, the Cubs traded Mychael Givens, David Robertson, Scott Effross, and Chris Martin for a bundle of prospects (and the now-departed Zach McKinstry), highlighted by starting pitchers Ben Brown and Hayden Wesneski. Those three veteran relievers were worth a combined $11 million on one-year deals, and Effross was and still is in pre-arbitration. Contending teams are always looking for bullpen help (see: the Nelson Velasquez for José Cuas trade), and it's made all the more valuable when those relievers don't force a team to recalculate their operating costs midseason. 
Exactly why the Cubs have zigged while the market for relievers has zagged is unclear. However, it's undoubtedly fueled by the notorious volatility of even the best arms on the market (remember how awful Craig Kimbrel was when he initially signed his contract with the Cubs? And then how terrible he was for the White Sox after the trade for Nick Madrigal?). It's not a flawless system the Cubs have, and some more year-over-year stability would do the team some good to help them avoid the early season slumps that have defined the last few seasons. However, there's no denying the Cubs have gotten awfully good at maximizing their return on investment in the bullpen recently. If that's a quality the team can maintain through this next competitive window, odds are the future is bright.
1