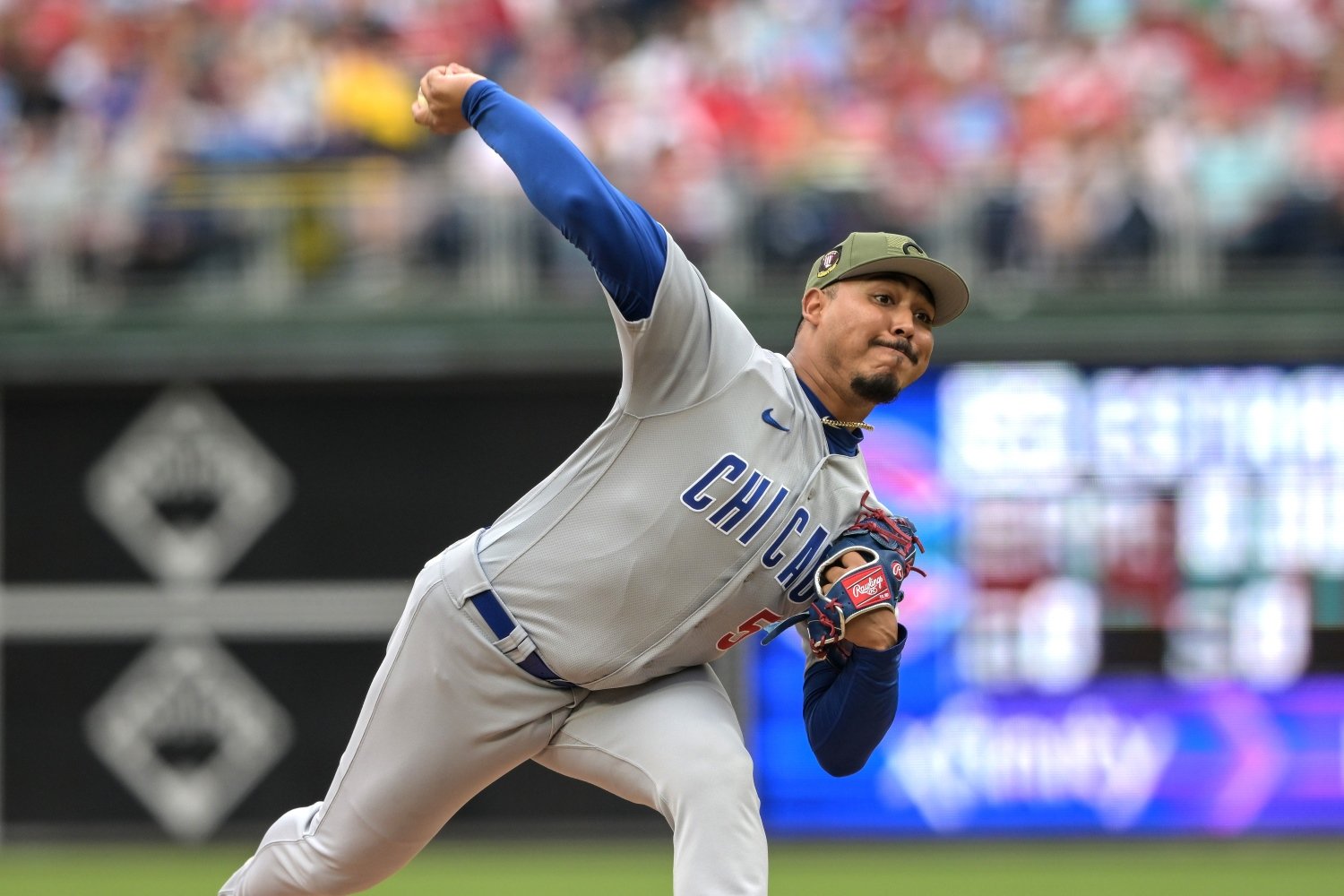 Image courtesy of © John Geliebter-USA TODAY Sports
In his major-league career, Jeremiah Estrada has now thrown 227 pitches. Of those, 173 have been fastballs. That's wild. It might not have been as radical even a decade ago, and it was certainly something relievers often did 20 years ago, but MLB is a league dominated by breaking balls right now. They're not the majority of pitches--that remains unthinkable--but they've become so much more prevalent than they used to be that seeing a pitcher throw their fastball 75 percent of the time is downright jarring.
If any pitcher is going to get away with it, it will be Estrada. His heater sits at about 95 miles per hour, and he's touched 98. More importantly, the pitch screams on the way to the plate. Its spin rate and direction give it tremendous rising action, with deceptively little arm-side movement. It's the kind of heater that can miss bats at the top of the zone and earn called strikes lower in it, a very valuable combination. 
Still, it's a fastball. Eventually, hitters learn how to spot and attack everyone's fastball. That doesn't mean that the pitchers in question become helpless, but dominance based on sheer heat--be it velocity, movement, whatever--never lasts all that long.
The per-pitch and per-swing numbers on Estrada's slider are really good. That's the good news. That pitch might be able to induce whiffs at an elite rate, and if hitters have to start looking for it, they'll be less able to handle the fastball, too. It was the development of better command on his slider that really let Aroldis Chapman transform from a novelty into a force of nature. Obviously, Estrada's fastball is special in a very different way, but that's the concept here. If his fastball can be a hair more of a surprise, hitters will have no chance against him. Obviously, since his ERA this year is 0.00, they already have some trouble.
Let's pinpoint why he's not there yet. Estrada isn't throwing his slider much, mostly because he has a problem disguising it. Here's a pitch he threw to Martin Maldonado in Houston this week.
Here's a pitch he threw to Jeremy Pena in the same game.
Can you tell which is which? Sure you can. The one to Maldonado is a fastball. The one to Pena is a slider. That's easy for us to see, because of the difference in his grip. His hand is behind the ball in the first shot. In the second, it's coming around it. 
Hitters, of course, can't really see that--at least not many of them, and not with much accuracy. They can't pick out the moment the ball is released, freeze the image in their mind, and process the hand position of the pitcher. If they could, sliders wouldn't work. However, take a closer look. There are more cues there than just the grip. 
Estrada, right now, humps up more on his fastball than on any of his secondary offerings. He gets his shoulder cocked higher and releases the ball about three inches higher. He also gets deeper into his legs and farther down the mound on his secondary stuff. Finally, his slider and fastball don't enjoy the advantage of spin mirroring--one pitch spinning in exactly the opposite direction as another, making them very difficult for hitters to distinguish. 
Add those things up, and hitters can spot Estrada's slider. So far, it hasn't bitten him, and they whiff very often when they offer at the pitch. They don't offer that much, though, and that won't change unless or until he can make some adjustments. In the meantime, he'll remain dependent on throwing his fastball a ton, and that puts a little bit of a limit on his potential as a dominant reliever.