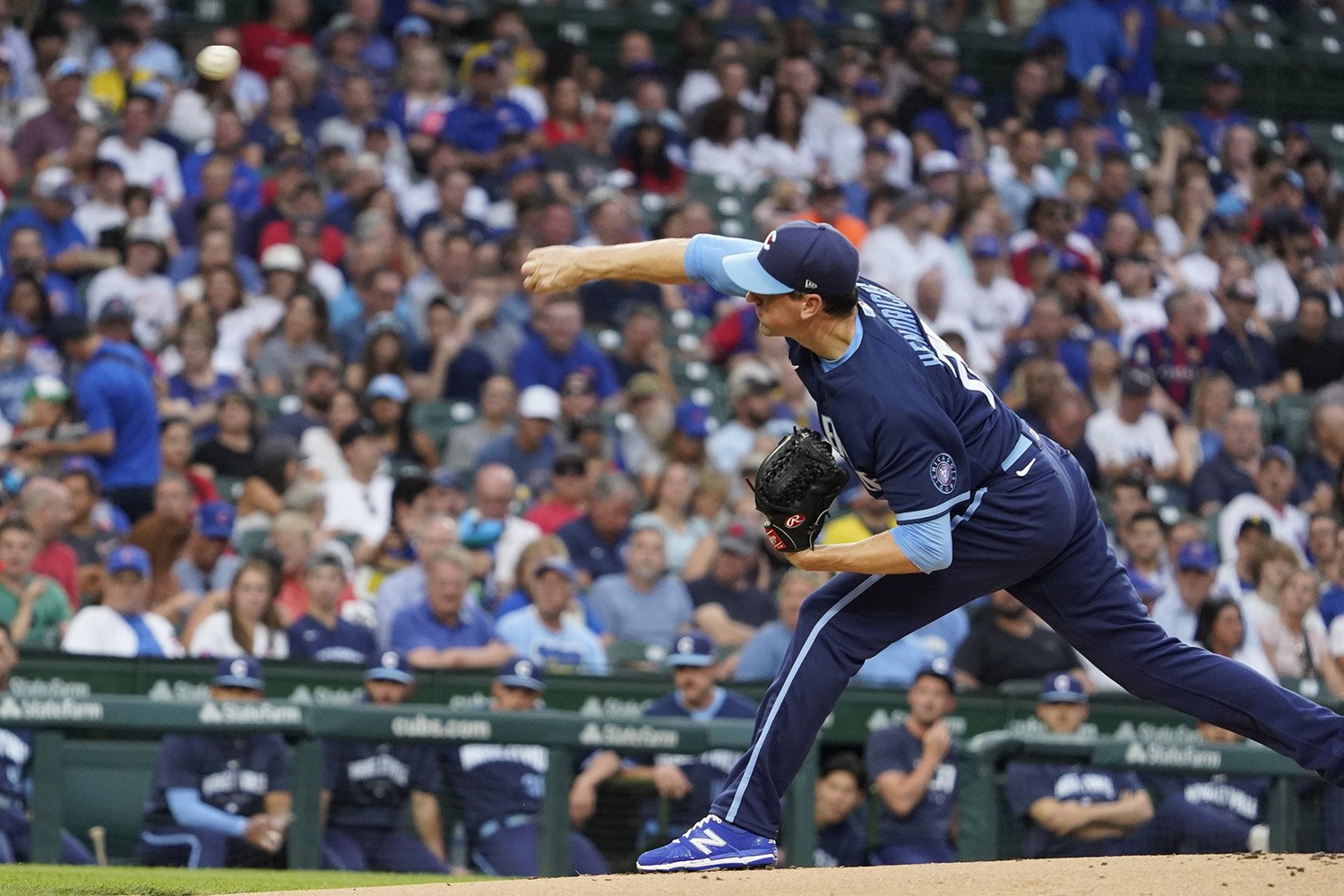 Image courtesy of © David Banks-USA TODAY Sports
The Cubs' rotation right now, heading down the stretch here in 2023 and in the heat of a playoff chase, is far from settled. Justin Steele has been a lockdown option atop the rotation, but he's already gone past his previous career high in innings (119 innings pitched last year, 121 already this year). Jameson Taillon has seemingly rediscovered himself thanks to a reworked pitch mix. Still, his massive first-half struggles raise questions about his ability to keep up his recent performance (2.67 ERA in five starts in July, 3.00 ERA in two starts in August) through the end of the season. Kyle Hendricks has been a highly valuable innings eater, but he's coming off a capsular tear in his throwing shoulder and was ineffective over the previous two seasons. Beyond that trio, already littered with their own asterisks, the Cubs have a lot of questions to answer in their rotation. 
Marcus Stroman started this year on fire, earning a deserved all-star selection for his first-half performance (2.38 ERA in 102 innings through June). But ever since the blister issue in London against the St. Louis Cardinals, he's struggled mightily (he has a 10.13 ERA in just 16 second-half innings!), and now he's on the IL with a hip inflammation issue that the Cubs are praying is the source of his downtick in performance. Drew Smyly similarly started the year hot (3.15 ERA in 60 innings in April and May), coming off a scorching second half-last season (2.83 ERA in 57 and ⅓ innings). However, he's been absolutely torched recently, giving up a preposterously high 7.22 ERA since May 28. He's also been almost unbelievably susceptible to the long ball, giving up 1.76 home runs per nine (which, among pitchers who have thrown at least 100 innings this year, ranks ninth-worst in all of baseball). 
The Cubs are responding in accordance with all of this information, moving Smyly to the bullpen and giving long-man Javier Assad another chance to lock down a spot in the rotation. Assad has been exceptional in long-relief, but he's generally been a two-pitch pitcher that will need to expand his arsenal beyond the fastball/cutter combo (and occasional slider and changeup) to make it through the second and third time in an order. 
Beyond him, the Cubs have some intriguing, though perhaps not-quite-ready, options available in-house to try and fill the void at the back end of the rotation that currently exists. 
On top of the guys listed, Hayden Wesneski and Caleb Kilian are already in the big league bullpen assisting as openers and in long-relief. With Smyly moving out of the rotation, chances are one of them could join Assad in the rotation, at least until Stroman returns. 
The Cubs will need a strong effort out of whatever five they choose to start in the hunt for a playoff spot. However, it's fair to lob a little criticism at the front office for not trying to plug this hole with a rental starter at the deadline (when the Stroman and Smyly issues were already apparent and actively hurting the team). 
Who do you want to see the Cubs give a chance to this year? No pressure on answering that question. It's only a spot in the playoffs on the line.