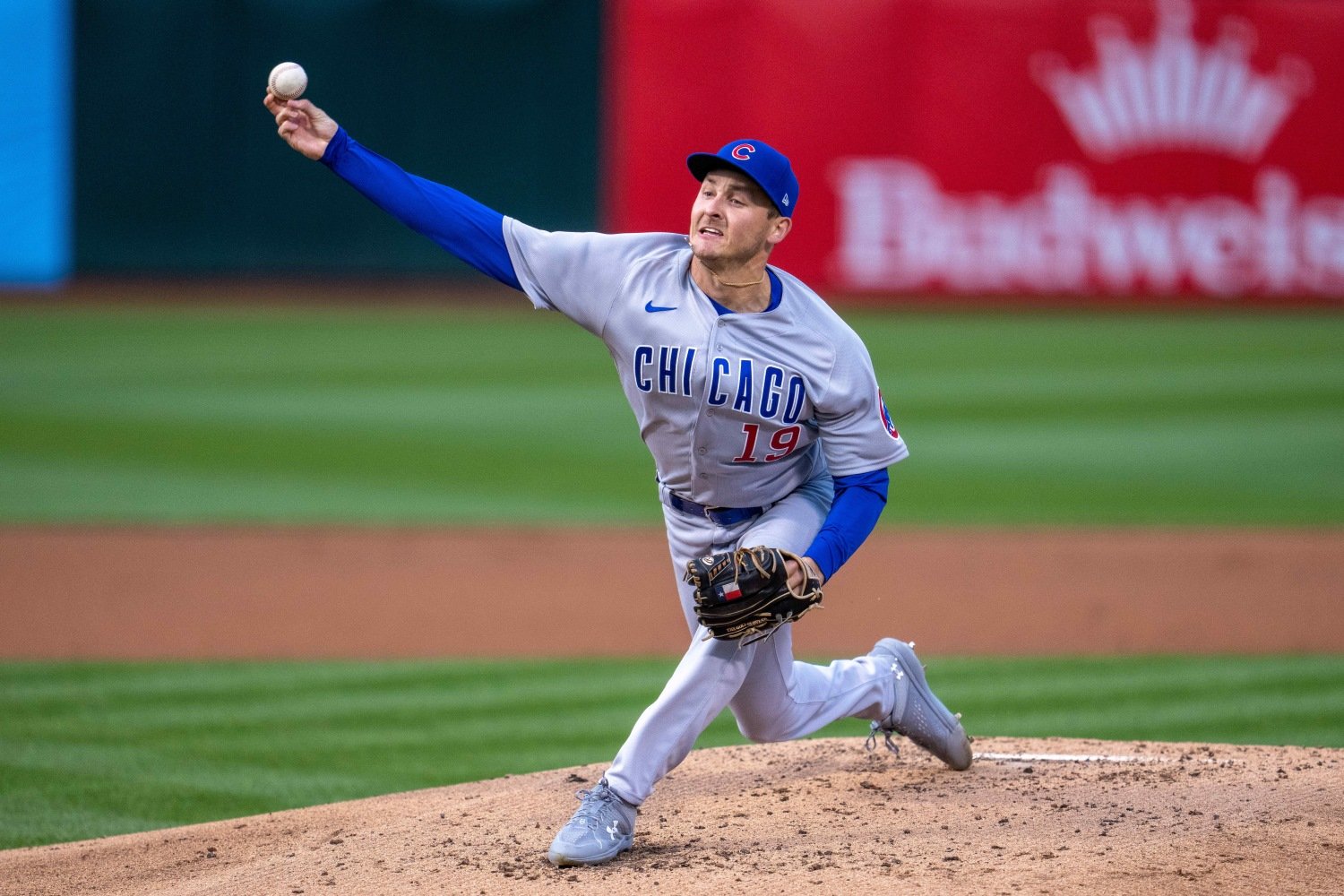 Image courtesy of © Neville E. Guard-USA TODAY Sports
Just over a week ago, we talked about how Hayden Wesneski altered the arm slot and release point on his four-seamer during the spring. It was a necessary change, because prior to that adjustment, he was throwing the four-seamer and his cutter from a different slot than his sinker, sweeping slider, and changeup. It cost him something in terms of movement and command of that fastball, but the tradeoff was worth making, in the long run.
When I wrote last Sunday night, though, there wasn't yet any evidence that Wesneski was making the same difficult convergence of arm slot with his cutter. Monday in Oakland, though, that changed. 
For a bit of perspective, let's look at Wesneski's release points for 2022:
Hayden W
Now, here's the corresponding chart for the first two starts of 2023:
Finally, here's where Wesneski released each pitch Monday night:
Let's name what we can see. Obviously, the four-seamer got mixed in with the sweeper and sinker in terms of release point early in 2023, after being quite distinguishable in 2022. On Monday night, though, it was back off on its own, though less far than it used to be. The striking thing, perhaps, is the progress of the cutter. It was distinct in 2022, and stood out even more sharply in his first two outings this year, because of the convergence of the fastball and the rest of the arsenal. On Monday, he only threw a few cutters, but the ones he did throw were mixed in much more nicely.
Instead of solely considering the release points of each pitch type relative to one another, though, take a moment to look at the absolute position of each cluster. Notice the small migration that has taken place. Wesneski has slightly lowered his release point and gotten it further toward third base, especially Monday night. 
When you see that, it's often a sign that a pitcher has moved over in terms of where they set up on the pitching rubber, but that's not what Wesneski did. He still sets up where he did last season, right around the middle of the rubber--though perhaps a little bit to the first-base side of true center. Rather, what Wesneski has changed is his posture throughout the delivery. Last year, he often showed some spine tilt, raising his release point and pulling it toward first base as he bent to his left just prior to release. 
This can be a tough thing to pick up on video, but watch his torso throughout the pitching motion here;
 And then compare it to this one:
Wesneski stays more upright this year. He gets out around his front half more, as opposed to yanking that front side out of the way in order to pull the rest through. The result is a lower release point, because he's not driving his right arm up in the air with that tilt of the spine; and a wider one, because he's not peeling off toward first base as much and gets better extension of his arm through release.
These are good mechanical tweaks for him. It's also good that he's clustering his release points a little more closely. He can stay at the four-seamer release point to which he reverted Monday night, if he also maintains this mechanical efficiency. He's not utilizing a truly distinct slot for any of his offerings, at this stage. The differences that remain aren't the kind that stand out and make it too easy on opposing hitters.
That doesn't mean every outing will be as rosy as his final line in Oakland, of course. In fact, that one started out pretty rough, too. As hitters did in Cincinnati and against the Mariners at Wrigley, the ones in the anemic A's lineup took some early and confident swings on Wesneski in the first two frames. Only after that did he settle in and overwhelm them, and even then, he wasn't getting as many whiffs as you might expect him to induce when things are going well.
What he did get a lot of, though, were called strikes. That's one key to all of this, and it feeds into the others. He'll be able to throw more strikes, especially with the sweeper and the four-seamer, with this increasingly repeatable and stable mechanical profile. Based on his body language and some of his misses, it's clear that he's still finding his way to that consistency, but it's available to him now in a way that it wouldn't have been before these refinements.
There's much he will need to relearn, or reconceptualize, as he integrates his repertoire into a streamlined delivery. His fastball moves differently when working from this slot and these mechanics. He's in the strike zone more. He, his catchers, and the Cubs coaching staff will need to work together to find a remixed formula for the best possible outcomes for him. Until then, he'll be vulnerable to some early contact, and won't get strikeouts at the rate his stuff would suggest. There's bound to be still more trial and error as they all work through the options to find the best approach.
Overall, though, that outing was wildly encouraging. It represented the next concrete step toward a polished, whole version of Wesneski, and gave more insight into how he can succeed even while he figures out both physical and mental aspects of his own evolution. There will be opponents who test him much more unforgivingly, and nights when his progress is less clear, but if anyone worried that the last two starts marked a semi-permanent stall in his development, those fears should have been allayed.