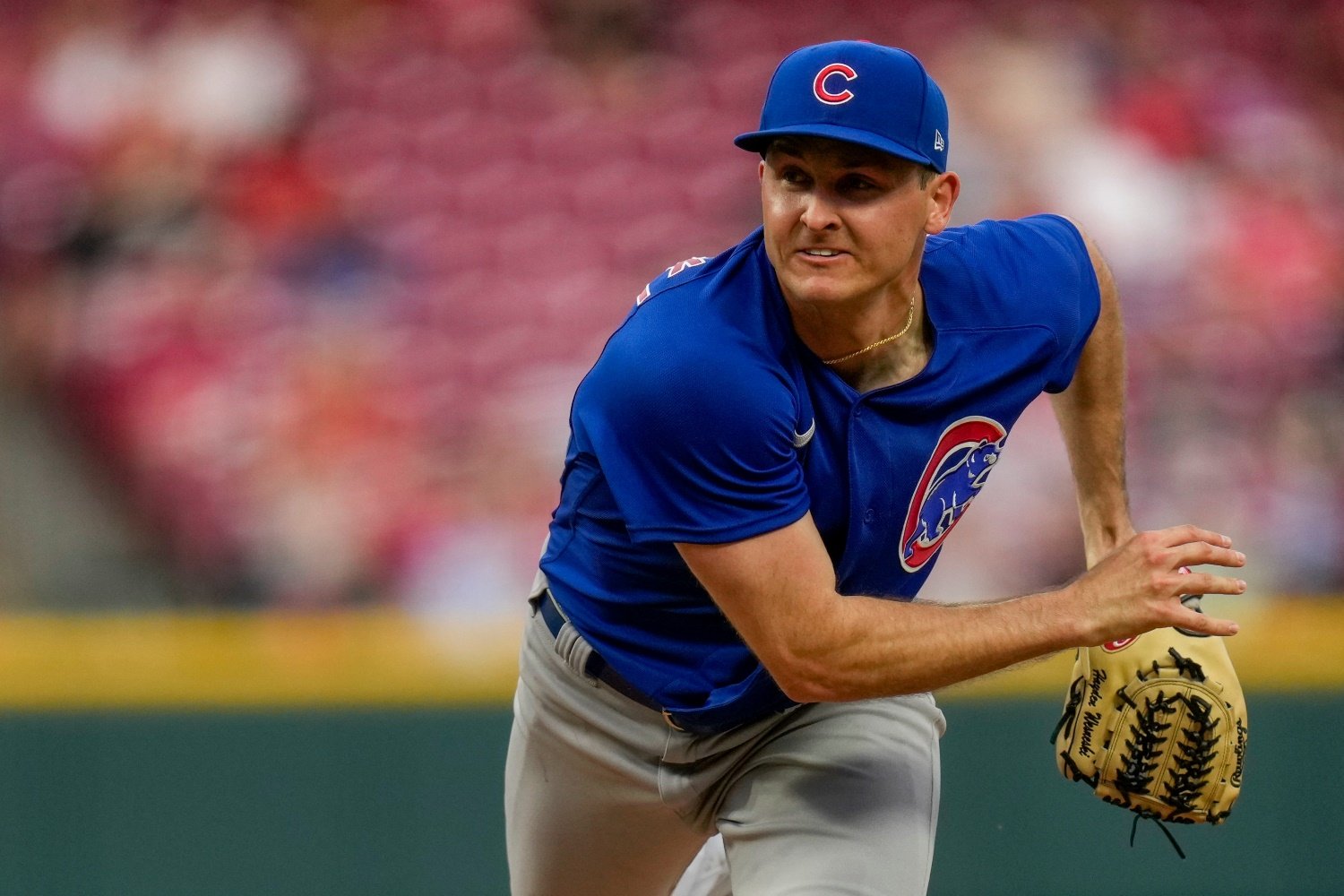 Image courtesy of © Sam Greene/The Enquirer / USA TODAY NETWORK
In all likelihood, Hayden Wesneski will always be a sinker-slider guy. That's his primary game. His slider is a two-plane, multi-speed weapon, and his command of the offering is good enough that it can essentially be his primary weapon, even in a starting role. Opponents whiff on about 35 percent of their swings against it, but that's only part of the story. Of 330 pitchers who have allowed at least 25 batted balls on sliders and sweepers since the start of 2022, Wesneski has induced a lower average exit velocity on those pitches than all but 30. Even when batters don't swing at all, they're in trouble. Of 423 pitchers who have thrown at least 50 sliders and sweepers at which batters didn't swing over the last year-plus, Wesneski has the 15th-highest called strike rate on them. 
Whiffs. Weak contact when he doesn't get whiffs. Called strikes when batters try to wait him out. That's the trifecta; that's the dream. Wesneski's slider is a miraculous weapon–a career-maker. That's the good news. The bad news is that everything in baseball, as in life, comes at some kind of cost. 
Last season, Wesneski showed five total pitches: that supernal slider, a great sinker, a changeup, a cutter, and a four-seam fastball. That's a full and delightfully varied arsenal, Alas, there was a problem with it: Wesneski had two different arm slots from which he threw those pitches. That compromises the effectiveness of even the sexiest arsenal. When hitters can start keying in on a release point and eliminating possible pitches, they gain the upper hand, and it was too easy to distinguish Wesneski's four-seamer and cutter from the sinker, slider, and changeup in 2022.
This spring, Wesneski and the Cubs talked about the possibility that he could turn a corner this year by using his four-seamer more. If that was going to work, though, he would need to solve the two-slot problem. He needed to stop hitters from seeing the four-seamer as a different pitch from his sinker or slider just based on his motion.
He's done it.
That's one problem solved! (The cutter is another fascinating element of Wesneski's story, but one we should discuss another time.) Wesneski identified the arm slot issue and moved to correct it, and now, his four-seamer comes from the same slot as the sinker, slider, and changeup.
Now we're getting to the cost of that unique, devastating slider, though. Taking the slot from which he threw the slider and adjusting it to meet the four-seamer was never going to work. That pitch can only come from a certain type of arm action. Thus, Wesneski accommodated the slider by moving the four-seamer down to its level, but a four-seamer can't move the same way from that slider-friendly slot. He's lost an inch of vertical movement on that heater, and it now runs almost three more inches to Wesneski's arm side. The four-seamer is still distinct from the sinker, but the difference in movement between the two has been roughly halved, which will probably cost him some whiffs.
Now that Wesneski has made the sacrifice of losing hop on the heat, however, he's able to move forward with the rest of his improvement and evolution. He's added a little over 1.5 miles per hour of velocity to each of his fastballs, in the early going, which makes up for the dampened movement. He's able to use the four-seamer as his primary fastball against lefties, without always having to pair it with his cutter. Moving the four-seamer's slot to that of the slider has allowed him to unleash that bigger breaker more often against lefties so far.
Against righties, having the two fastballs that work in different areas of the zone has made him less reliant on the slider, and in the long run, that's a good thing. He can get through an opposing lineup two or three times much more easily this way.
Wesneski knows that the slider carries his profile, and he's committed to it. Now, he just has to piece together the rest of the picture. Obviously, that does involve the cutter, and that remains a thorny issue. With two fastballs and that glorious sweeping wiffleball, though, he's closer to having both right- and left-handed batters guessing at all times. There might be growing pains, but the price has been paid, and the rewards will come as he gets comfortable with this new state of things.
1