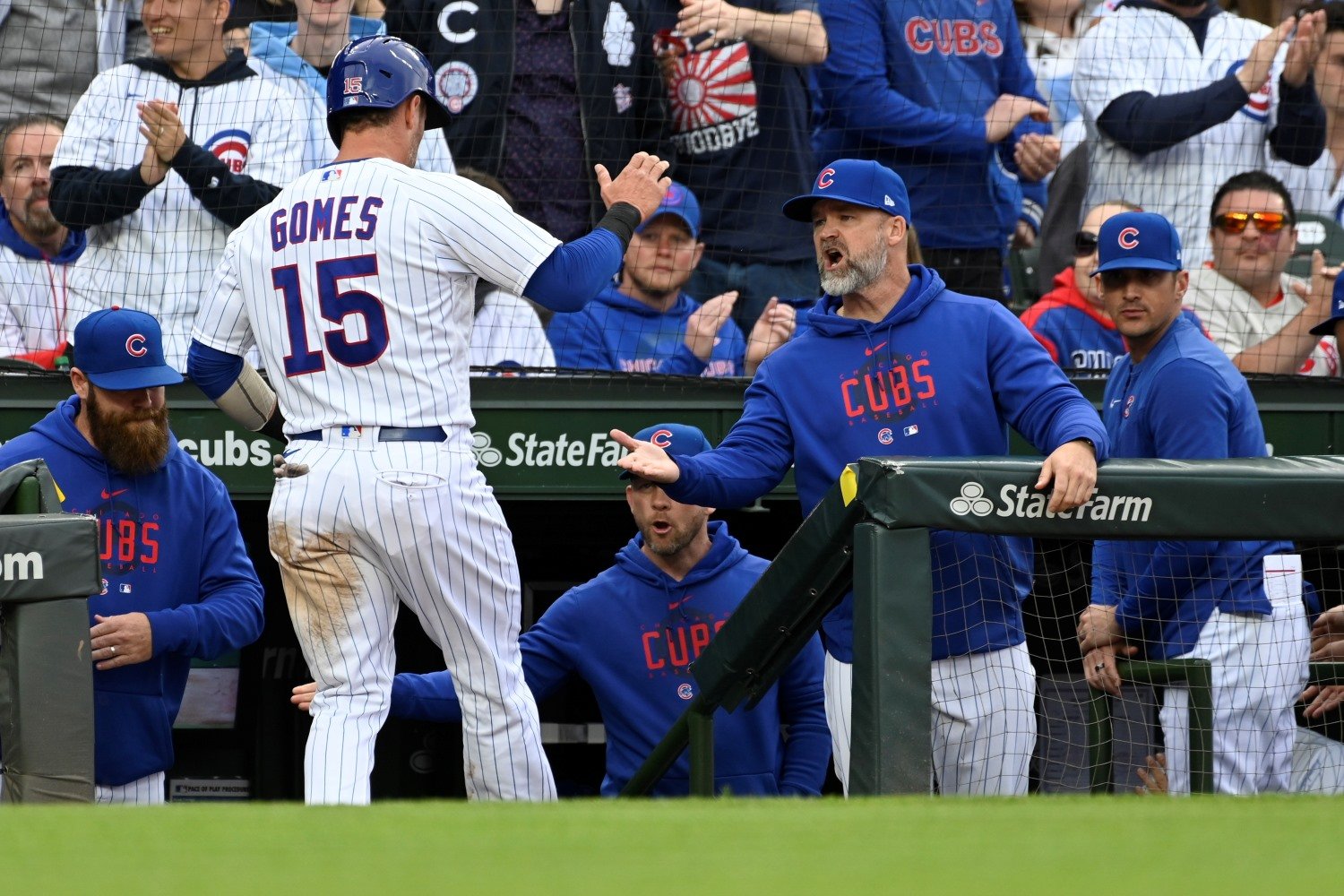 Image courtesy of © Matt Marton-USA TODAY Sports
It feels, for all the world, like the 2023 Cubs are doomed to another season of untenable irrelevance. In fact, there's a real and lethal sense of existential dread settling over Cubdom, and it's not unearned. It's heavy, and it's impenetrable, and it's not just in the heads or the itchy Twitter fingers of fans. Hopelessness hangs over this team, and is perilously close to defining it.
Sometimes, the written word just can't do what images and video can. I encourage you, then, to ponder this moment from NBC's The Good Place.
mentally i'm chidi goes insane & eats peeps chili pic.twitter.com/668OrBHHHf

— ❀ (@danalswai) November 7, 2020
The caption this particular user attached to the video is a little reductive, though. Yes, Chidi Anagonye is going insane in this sequence, but that term is too vague. Chidi has seen the real and terrifying meaninglessness of existence. He's been exposed to the cruel silence the universe provides in answer to human striving for ethical and moral perfection. His extreme irrationality--his giddy plunge into absurdity and disregard for the apparent essence of anything--is actually the rational response to that.
That's where we are with the Cubs. This team put its fans through, literally, a century of losing predicated on incompetence, punctuated by periods of winning that carried the unmistakable whiff of accident. Then, under new ownership and with an imported set of respected executives, the club rose up out of that quagmire and created a miniature dynasty--one on which it seemed possible to build a lasting contender.
If the petty penny-pinching of those owners was responsible for the early demise of that group, there's not as easy a narrative to explain why we're still down in this valley. New money has been splashed around over the last two winters. Those contracts have not all panned out, but they're realizing above-average return on their investments, on the whole. Ditto for the team's several trades of short-term pieces for those with long-term team control. 
At this moment, it feels like nothing the Cubs try matters, and like nothing they do will be enough to alter the underlying identity--losers, lovable or otherwise--that has been theirs since World War II. The Peeps are in the chili pot.
As Chidi (in more sanguine and lucid moments) would tell us, though, an existential crisis needn't force a permanent disengagement with reality. The alternative is to live with courage and conviction, not with the expectation of reward, but in rebellion against the very fact that those virtues are not systematically rewarded. 
Yes, I'm advocating firing David Ross, again. I don't mean to pick on the man. He had a distinguished career and remains beloved by many people within the game. I have nowhere near enough information to fully indict his managerial facilities, let alone to question his character. 
That said, we've all gotten too squeamish about saying it aloud when it becomes obvious: Ross needs to be fired The Cubs will still owe him more money than I'll make in my lifetime, on the contract extension to which they (inexplicably) signed him last season. He might well have a future with the organization, perhaps in the same kind of light-duty front office role he held before becoming Joe Maddon's successor. As long as he's running things, though, the chili will continue to be sprinkled with candy.
I don't mean to imply that Ross is the primary reason for the team's failures, or that those failures have broken him in some obvious way. It's just that he doesn't seem to have whatever combination of baseball IQ, communicational versatility, and towering charisma is required to fix what's happening here. 
Do you remember when the 2007 Cubs had their backs to the wall? They were 22-30 at the start of play on June 2--the same record the 2023 team has now. They lost that day, too, falling to 22-31, but that was their nadir. During the game, Angel Pagan was thrown out at third base, and it was a close (but correct) call. Lou Piniella stormed out of the dugout and created what would remain the indelible image of his tenure with the team.
???? ?, ????

Lou Piniella goes off on umpire Mark Wegner to save the 2007 Cubs season. pic.twitter.com/tPrxFKJEOA

— This Day in Chicago Sports (@ChiSportsDay) June 2, 2020
That's not the way I prefer to see people behave, in times of trial and adversity. It's not the primary reason why, from June 3 onward, the Cubs went 65-44, including 20-9 from that day through early July. Crucially, too, Ross isn't Piniella. A similar display of fireworks from him wouldn't feel as authentic, wouldn't have the same catalytic effect, and wouldn't wake this team up the same way, because of who he is, and because of the very different composition of this team, compared to that one.
Still, Piniella had something in his back pocket. He had an ace in the hole. It doesn't feel, at all, as though Ross has that left in him. In his book about the 2016 Cubs, Tom Verducci relayed a poignant anecdote about Ross. In the thundering quietude of the clubhouse after the Cubs lost Game 4 of the World Series and fell behind 3-1, someone fired their glove into the back of their locker. Ross rebuked the doubters, and told the team he would be in the lineup the next night, and that he would ensure they won.
That works from a beloved veteran mentor. It doesn't work the same way for a manager. If Ross could replicate that recipe, surely, he'd have done so by now--not only this year, but when the should-be contenders of 2020 flagged at the end of the shortened season, or when the 2021 squad collapsed so thoroughly and embarrassingly in the month running up to that year's trade deadline.
The 2023 Cubs probably aren't the 2022 Phillies. They're probably not the 2007 Cubs, either. However, they're dramatically more talented and complete than their record reflects. Their run differential, alone, tells us that much, but even it doesn't tell the full story. Even more importantly, with the Brewers just 28-25, the gap the team would need to close to get right back into the mix is smaller than those faced by either of the aforementioned teams.
Since their 11-6 start, this club is 11-24. That can't continue, and while it feels like firing Ross won't put an end to it, they have to try something. It doesn't have to be Peeps, but this chili needs some new ingredients.