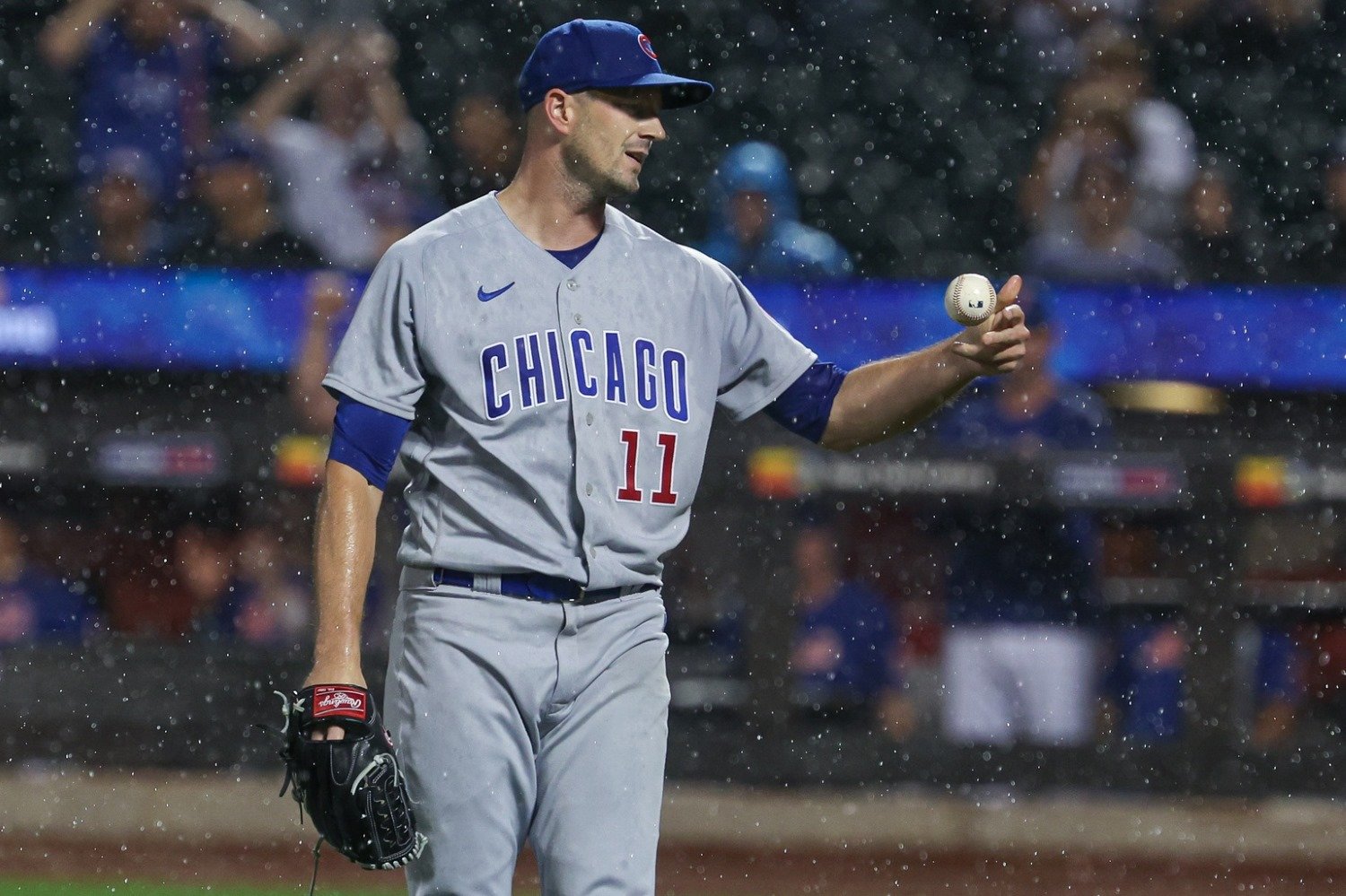 With the fifth spot in the Cubs' rotation coming up for the first time in a week and a half, a decision was due at the end of the team's series against the Royals at Wrigley Field Sunday. During their three-game set in Detroit to open a weeklong road trip, the Cubs will send Javier Assad to the mound Monday night, then let Drew Smyly return to the rotation Tuesday. In doing so, they'll eschew the opportunity to call up lefty prospect Jordan Wicks for that start. That's a glaring error, and one that should surprise and disappoint Cubs fans.
Over the last month, David Ross and Jed Hoyer have given both voice and action to the notion of a sterner meritocracy governing the construction and usage of their roster. They traded for Jeimer Candelario to bolster the lineup, and in so doing, they said goodbye to the underachieving Trey Mancini. They also used that acquisition to (temporarily) disenfranchise Seiya Suzuki, giving more playing time to Mike Tauchman, despite the massive difference in the level of organizational investment in those two players. Earlier this weekend, they parted ways with Tucker Barnhart, another player to whom they were financially committed for 2024, because he was no longer able to help the team win.
A fortnight ago, they had the same clarity about Smyly. He was demoted to the bullpen, amid a tailspin that has lasted considerably longer than did his impressive start to the season. He's looked better in short relief work, and given that he's a two-pitch pitcher anyway, it seemed like a tidy fit for him. Even so, when it became clear on Tuesday that Marcus Stroman would not be returning to claim this fifth slot in the starting rotation, Ross nodded in Smyly's direction from the beginning.
That was fine, insofar as it was a gesture of organizational loyalty and commitment to a veteran player who will probably return next year in some capacity. Now that it seems to have been an earnest declaration, though, it looks like an unwelcome departure from the new mode the team adopted after its season-saving winning jag in July. 
In his last 13 starts (and start-like appearances, when Smyly worked behind openers Hayden Wesneski and Michael Fulmer), the aging southpaw had a 7.22 ERA, and there was not one iota of bad luck involved. He allowed 17 home runs in those 13 outings, and opponents batted .312/.380/.592. Pitchers who looked even more cooked than this have come back from the brink of unusability, but the odds are against Smyly being a successful starter again anytime in 2023.
By not trading for reinforcements for the rotation at the trade deadline, the front office voluntarily left themselves open to the possibility of needing stop this particular gap. That was probably a miscalculation, but it did make some sense, given where they were when the deadline came and what it would have cost to add more than a backend starter on an expiring contract. The wall into which any justification of using Smyly this week runs is not about a player who might theoretically have been available three weeks ago; it's about one whom the team should have called up from its top minor-league affiliate.
Jordan Wicks was the Cubs' first-round pick in 2021, which means that he hasn't yet been added to the 40-man roster. In fact, he doesn't even need to be added to that list this winter, which means that bringing him up to the parent club this year would be a proactive profession of faith in him. It wouldn't have to cost them anyone on the current 40-man roster, because they currently have two open spots, but it would force some early and difficult decisions this winter. That does have to be accounted for. Surely, the Cubs wish that Ben Brown were healthy right now, or that Caleb Kilian had figured things out to the extent they hoped when they recalled him earlier this month.
Sometimes, though, it's the front office's job to embrace future headaches in exchange for making a playoff-capable team better in the short term. This is one of those times. Wicks saw an uptick in his fastball velocity in his most recent start with the Iowa Cubs, and with even that small bump, he profiles as a starter who can effectively go through an MLB lineup twice. In that same start, he also debuted a reengineered slider, with a combination of firm velocity and tilt that he hadn't previously shown in Triple A.
In fact, Wicks's whole movement profile made more sense in this latest outing than in any of his previous ones at Triple A. He's getting more run on his sinker, so he can lose some of the depth and sweep on his slider without losing the effectiveness of that movement. It becomes easier to command, and easier to land for strikes, but not materially more likely to be hit hard. Those two pitches--the sinker and the slider--will be his bread and butter against lefties initially.
Against righties, Wicks is a four-seamer and changeup guy, and he uses the curveball to change eye levels. That pitch had more depth on it than ever in his last appearance, and the extra velocity on the fastball only accentuated the contrast there. He's not yet a fully-formed mid-rotation starter, but he's taken major steps in that direction. The Cubs could and should have called him up to pitch Tuesday night with confidence, especially since the date beyond which his rookie status will be intact for 2024 has now passed. 
Maybe Smyly is a glorified opener, himself. If the Cubs intend to start him Tuesday night, but then swap him out for Wesneski after an inning or two, that's a fine stratagem. If they make it a bullpen game, sandwiched between what they surely hope will be long outings by Assad and Jameson Taillon against a weak Tigers lineup, that's acceptable, but it risks tiring out that relief corps at the front end of a long and crucial stretch during which they'll play 27 games in the same number of days. (Their only off day between last Thursday and Sept. 14 comes on Aug. 31, and it's immediately canceled out by a doubleheader in Cincinnati the next day.)
At some point during the next month, the Cubs will need Wicks. As their upper-level pitching depth has been thinned by injuries and some truly nightmarish implosions, they've gotten steadily closer to being truly desperate. It would make more sense to work Wicks in now than to blindly hope that Smyly figured something out during a side session that he can bring back with him from short relief to the starting staff. Instead, the team is back to betting on a questionable veteran, rather than trusting and trying it with a younger and more talented player. 
Normally, this would be the kind of small thing at which we could shrug and grumble, but over which no serious worry would be warranted. Unfortunately, the Cubs haven't put themselves in a normal position. This is a contending team, with every bit of the talent possessed by any of the teams with whom they're vying for playoff spots, but they still bear the standings scars of their long period of mismanagement and underperformance in May and June. They also haven't fully availed themselves of opportunities to create a little more margin for error. They went 3-2 this week, but 3-2 at home (with plenty of chances gone by the wayside in the losses) at home against the Royals and White Sox only constitutes holding serve. 
All of that means that the Cubs need to treat every game as winnable and important. Starting Smyly sends the message that they still think they can afford to go easy now and then. It would be great if that were true, especially with the grueling schedule ahead. Alas, it ain't so. Wicks might make a start in Pittsburgh, or next week in Cincinnati, but if the team doesn't leave with at least a series win in Detroit, the pressure eventually placed on the young hurler will only increase.