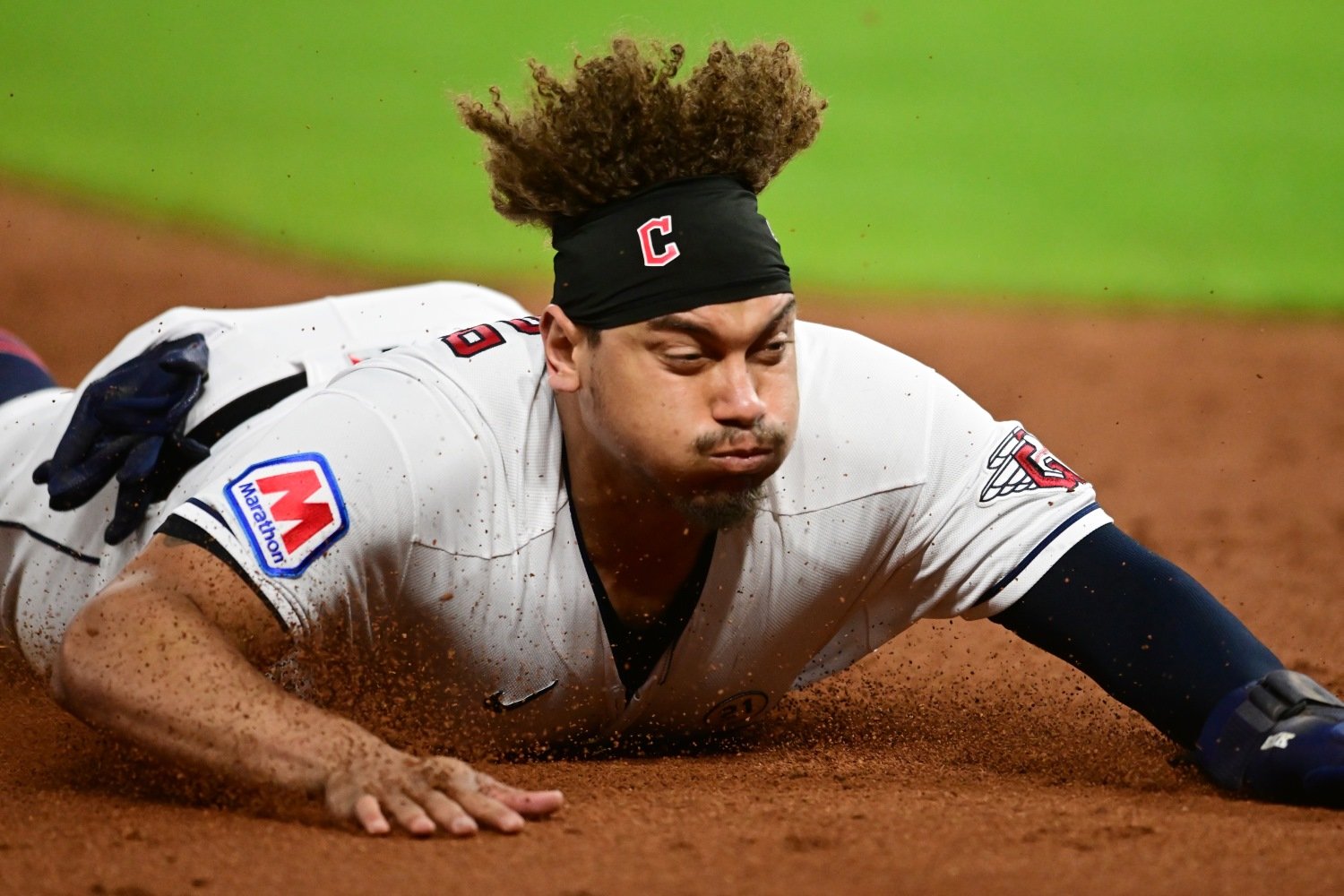 Image courtesy of © Ken Blaze-USA TODAY Sports
There really shouldn't be any particular urgency for the Cleveland Guardians to jettison Josh Naylor. He's a livewire personality. His brother is their catcher of the present and future. He's even under team control for another two years. Alas, where the Guardians are concerned, "shouldn't" doesn't often go far enough. 
According to MLB Trade Rumors, Naylor is in line to make roughly $7.2 million in 2024, via arbitration. That's a team-friendly price for a hitter of his caliber. Although a bit light on raw power, Naylor has emerged as a very good overall hitter since the start of 2022. He's hit .282/.336/.471 during that span, and was much better than that in 2023. With above-average contact skills and the ability to plug the gaps even when he doesn't clear the fence, Naylor is the kind of slashing presence that lengthens a lineup and cashes in rallies started by good tablesetters like Nico Hoerner and Ian Happ.
Naylor won't turn 27 until next June. There's no reason to think he'll decline any time soon. In fact, on the contrary, there's still room for him to improve, given the talent he's already demonstrated. A team should jump at the chance to retain him for a salary that won't even crack eight digits, but the Guardians have never operated that way. This offseason, they're even more likely than usual to behave penuriously, because their cash flow has been (and will, in all likelihood, continue to be) disrupted by the fallout of the Diamond Sports Group bankruptcy. 
Between a genuine pinch on revenue, the retirement of Terry Francona, and the fact that the Twins asserted what could be a long-term primacy in the AL Central, this winter looms as something more like a rebuild than a lean-in on the shores of Lake Erie. That could shake Naylor loose. If all that wouldn't do it, though, the trade the Guardians made with the Rays this summer might. In exchange for right-handed starter Aaron Civale, Cleveland acquired first baseman Kyle Manzardo, a prospect on the cusp of MLB readiness. He's five years younger, but in all other respects, he's close to being a carbon copy of Naylor. 
The Cubs have what it would take to acquire Naylor. It might be an uncomfortable deal, in which they give up either high-upside prospects some distance from the big leagues or some of their prized pitching depth at the highest level--guys like Javier Assad, Hayden Wesneski, or Ben Brown. Those are the hurlers who can help Cleveland recover some of what they've lost over the last year or two--thanks to the ravages of both injury and ineffectiveness. None of those guys are stars, but they all have considerably more team control left--at a lower cost--than Naylor has. This is a good moment to remember, too, that Cubs GM Carter Hawkins is a former Cleveland employee. These teams have some common DNA. Surely, Cleveland would think they could do something interesting with each of those guys, and that they could continue the good things the Cubs have already done with them.
Alternatively, of course, there's the possibility of a deal involving a young outfielder. The Cubs wouldn't give up Kevin Alcantara for anything less than a star, and Naylor (for all his gifts) is not that. Alexander Canario could be a fine piece in this kind of deal, though. The Guardians are always short on power in the outfield. One way or another, a fit is there for these two teams, if they want it.
The obvious alternative to all of this is the first one I mentioned: the Cubs could re-sign Cody Bellinger. Certainly, after the year he just had, that would be just about everyone's first choice. There's a lot to consider, though. Bellinger was a joy to watch in 2023, but there are all sorts of reasons to think him unlikely to repeat that performance in 2024--or, perhaps, ever again. He hits the ball much less hard than does Naylor (although hr does get it in the air with authority a hair more often). They walk at roughly even rates, and Naylor struck out even less than Bellinger did last year. Sure, Bellinger has greater defensive value, but that's more than canceled out by the fact that he'll sign for something like four times Naylor's 2024 salary, with guarantees of making that much into his mid-30s. 
If watching another long MLB postseason unfold without the Cubs has yielded any irrefutable lessons, one is this: the Cubs need more than one more good hitter. They're far short of being a World Series contender. Naylor can't fix all that ails them, but he could be a very, very good complementary piece, at a bargain price.