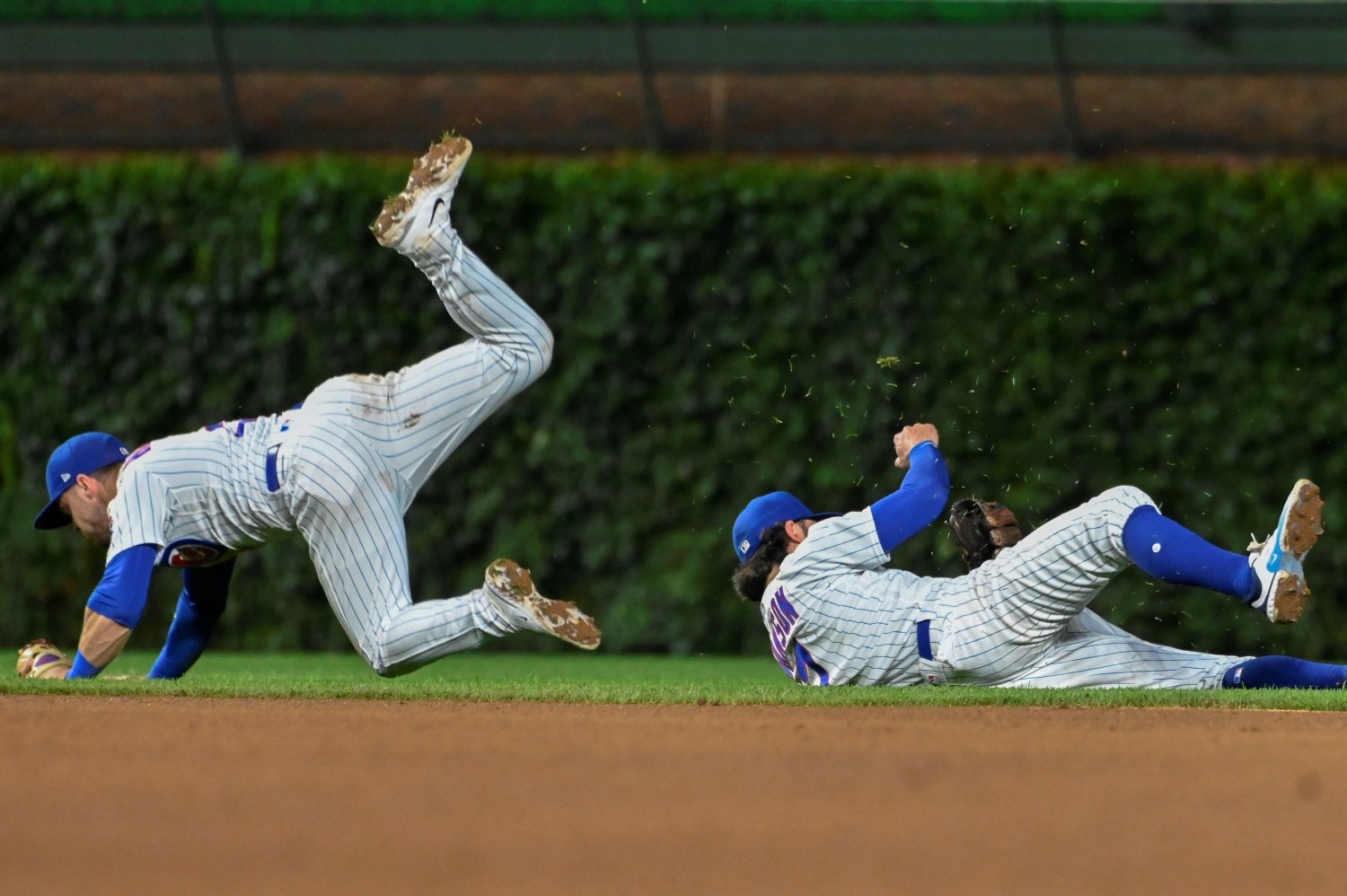 Image courtesy of © Matt Marton-USA TODAY Sports
The Cubs started what is, technically, the second half of their season Sunday night with a game that neatly summarized their first half. It was, in turns, infuriating, depressing, wildly exciting, and then deflating. The ultimate culprit in their failure was bad luck, but that didn't change the fact that they also had a talent shortfall, and that shortfall was a factor, too. For the weekend, the Cubs outscored the Guardians by one run, but lost two games out of three. One step forward, two steps back. That's the season, and that's the story of Sunday, too.
It's hard to imagine that the Cubs can keep running Jameson Taillon out there every fifth day, but they've done it 14 times, now, and they're now 2-12 in those games. Taillon put them in a hole it seemed like their feeble offense would have no hope of escaping, but the bullpen did admirable damage control, and Christopher Morel hit a home run to give a little bit of juice back to the crowd in the bottom of the eighth.
Then, just the way the team climbed off the mat to make a surge throughout the middle of June, they miraculously put themselves back in the catbird seat in the ninth. It took a pair of cheap dribblers to first base breaking their way, but they strung together enough good outcomes to come back from four runs down and tie the game. It was a good moment.
It couldn't last. Adbert Alzolay hit a frequent snag for this team, when he was unable to fan Amed Rosario and equally unable to give in and work around him.
Rosario hit a single that could almost have been a groundout, but instead just led to a collision between Dansby Swanson and Nico Hoerner that gave every Cubs fan a scare unlike any since Justin Steele left a start a month ago with forearm trouble. Jose Ramirez hit what could have been a go-ahead single, but Jared Young (who'd made an error earlier that contributed to Taillon's continued misery) made a stellar stab, took the out at first, and held both runners. 
Up the rollercoaster had risen. Now it had to fall again. Josh Naylor had the same at-bat Rosario had had, only from the left side. Alzolay has only walked six batters all season, and eight since returning to the majors in the second half of last season. He's always around the zone. It's one of the things that makes him a great high-leverage reliever. Every now and then, though, it's a bug, not a feature. As happens too much to Taillon, and occasionally to Stroman, and to Julian Merryweather, and to other Cubs, Alzolay couldn't find a way even to pitch around Naylor, let alone to retire him. Sometimes, hitters show Chicago hurlers that they have them measured--that their swings are an unsolvable fit with the pitchers' offerings and their shapes--and the Cubs just can't figure out how to escape the plate appearance without giving up the deciding blow.
Naylor's ground ball up the middle wasn't so different from the one Morel hit to bring the Cubs within a run in the previous half-inning. It was well-hit, but a ground ball. It got through because the infield was drawn in, and so two runs scored, instead of one. 
This time, the Cubs had no answer. They went down so meekly in the bottom of the 10th that whether they trailed by one run or two hardly ended up mattering. It was an anticlimactic ending to a great game. That, again, is how it's felt to follow this team for much of the season.
Pat Hughes is fond of remarking that .500 teams don't simply win a game, then lose the next day. Baseball isn't like that. The 2023 Cubs are starting to have the uneasy vibe of a .500 team, even though their run differential rides on the high side of that and their actual record rides on the low side of it. They'd lost 10 of 14 when they arrived in San Francisco just over three weeks ago. They won 11 of their next 13, through the first game of the London Series, but since then, they've dropped seven of eight again.
There's not much time left on this ride. There are four weeks left until the trade deadline, and one week left before the All-Star break. In that week, everything is going to come to a head. The Brewers and Reds are six games up on the Cubs. Milwaukee and Cincinnati play themselves nine times in these next four weeks, but before that, the Cubs go to Miller Park for four games. They then wind down the unofficial first half with a weekend set in New York. If they don't win at least four of those seven games (and really, five is the target figure), then the team will be deadline sellers. This is their last stand. They don't seem ready for it, at all, and luck has been so steadfastly against them all year that they hardly seem to have a chance. The only solace to be found is that, every time we've had such certainty about anything so far this year, that certainty has been immediately shattered.