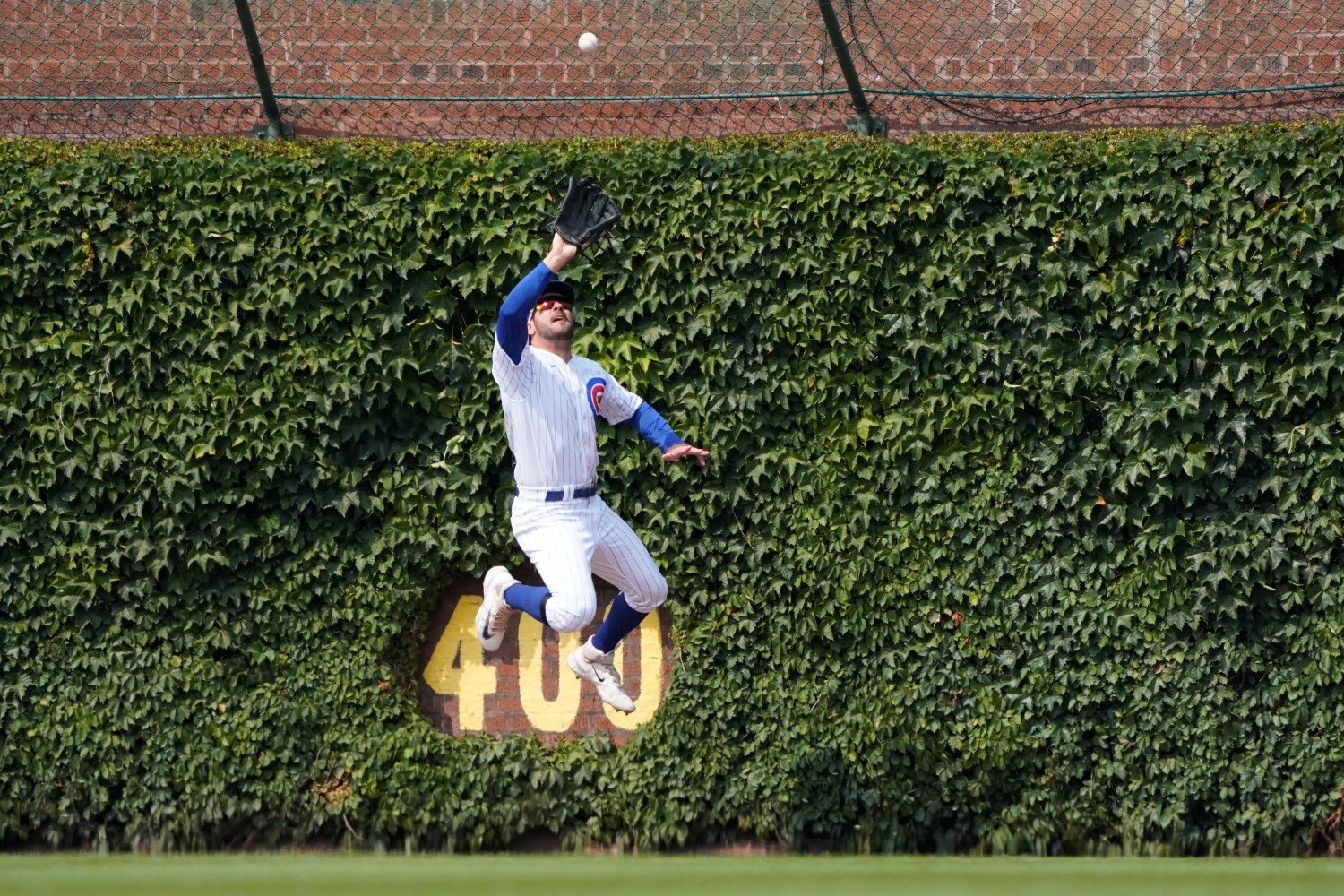 Image courtesy of © David Banks-USA TODAY Sports
Back on June 2, Matt Trueblood wrote a piece in which he detailed the underwhelming defense of the Chicago Cubs. The crux of the discussion was that while the team was lauded for their defense on paper (especially given the signing of Dansby Swanson), they ultimately were coming up short in an area where they needed to thrive. No lies detected, as a team with as slim a margin for error as this iteration of the Cubs possesses almost needs to be elite defensively in order to be competitive longer-term. 
There are elements of the defensive configuration of these Cubs that have never been up for debate. Yan Gomes and Tucker Barnhart form an upper-tier defensive pair behind the plate. Swanson and Nico Hoerner are (perhaps) the best middle-infield duo in matters of the glove. And Cody Bellinger was shining on the outfield grass prior to his knee injury. Elsewhere, though, they were not meeting expectations. 
We're now speeding toward the end of the month in which that piece was published, and things look slightly different, but in a way that is far more impactful than a small change might indicate. And it's very much for the better. Of course, it's important to note that such changes have been triggered by injury more than any other factor. But with the Cubs winning five of six heading into their week of division matchups against Pittsburgh and St. Louis, it's hard not to wonder if the new look in the field could lead to an extended run of much-improved play (to say nothing of the overall vibes). 
The first of the changes was the selection and subsequent call-up of Mike Tauchman. He's certainly played his part with the bat, turning in his steadiest offensive performance since 2019 with the New York Yankees, but he's also ensured the Cubs have not experienced a drop-off in centerfield play following the Bellinger injury. 
Through 27 games (just over 200 innings), Tauchman has posted 2 Defensive Runs Saved and 0 Outs Above Average. So one metric likes him, and the other considers him just about average. Bellinger was at 1 DRS and 3 OAA through about 330 innings. While other outfield metrics don't love him, especially his jump, the Cubs haven't lost anything trotting Tauchman out there in center. 
This was likely at least part of the thought process when deciding to place Bellinger at first base upon his return (in addition to the health considerations & struggles of Matt Mervis). Bellinger is likely overqualified as an athlete to man the position, but he has a solid history there. His rookie year notwithstanding (where the numbers were decidedly worse), Bellinger has posted a DRS of 2 and OAA of 1 in the years since 2017, at a position where it's difficult to shine in the eyes of defensive metrics. 
The trio of Mervis, Trey Mancini, and Eric Hosmer, responsible for almost the entirety of first base play prior to Bellinger's return, combined to post a -3 DRS and -2 OAA. So you're getting stability in center (albeit with an athletic drop-off) and a defensive boost at first base, which seems essential given the high-level play elsewhere on the infield. Score one for the defense. 
On the other side of the discussion is the hot corner. Patrick Wisdom started 41 games at third prior to hitting the injured list over the weekend. The numbers there are, well, not great. As exciting as his early offensive stretch was, his defense hasn't followed suit at any point. He's gone for -6 DRS and -3 OAA thus far, a season after posting -6 and -11 in those metrics, respectively. Miles Mastrobuoni has started seven games there (for some reason) and been largely fine, while Edwin Rios has only appeared in five. Third baseman Christopher Morel has yet to appear at third base this season.
Dare I say the Cubs have their solution at the spot, though, in Nick Madrigal? 
Since returning from his brief demotion to Iowa on June 9th, Madrigal has appeared in eight games at third and started seven of them. He has a DRS of 1 and is exactly at the 'average' threshold by OAA. A move that was originally born of necessity in order to get Madrigal's (ideally) high-contact bat into the lineup has actually not been anywhere near the disaster most of us expected. The bat obviously needs to come through in the way that his skill set says it should, but the defense appears to be–shockingly–the best option for the Cubs at the position at this point.
Elsewhere, we're now in a stretch where Seiya Suzuki is healthy and looks steady on both sides of the ball. Ian Happ looks better by the eye test, even if the metrics still don't look terrific. (Ultimately, we're talking about volatile numbers that require far larger samples anyway.) With improvements at those spots happening organically combining with those that were necessitated by injury, we may be looking at the best possible defensive configuration that this team could offer–which seems like an absolute imperative at this point.
It would be negligent not to note that we're working with as minuscule a sample as possible for defensive metrics in a 2023 context. Even from the start of the year, it's hard to lend too much credence to any performance, for better or worse. Ultimately, though, this particular configuration has worked in ways that others have not. And while we don't know how things could change when Wisdom returns or if the Cubs will ever decide to allow Morel to ply his trade at a single position, there are worse lineups that we could see from a defensive standpoint (and we probably have seen them). You'd love for this movement to have been internally developed and not prompted by outside factors, but even if injury ends up being responsible for the shuffle, the improving defense is at least one factor boosting the Cubs into contention in their immensely winnable division.