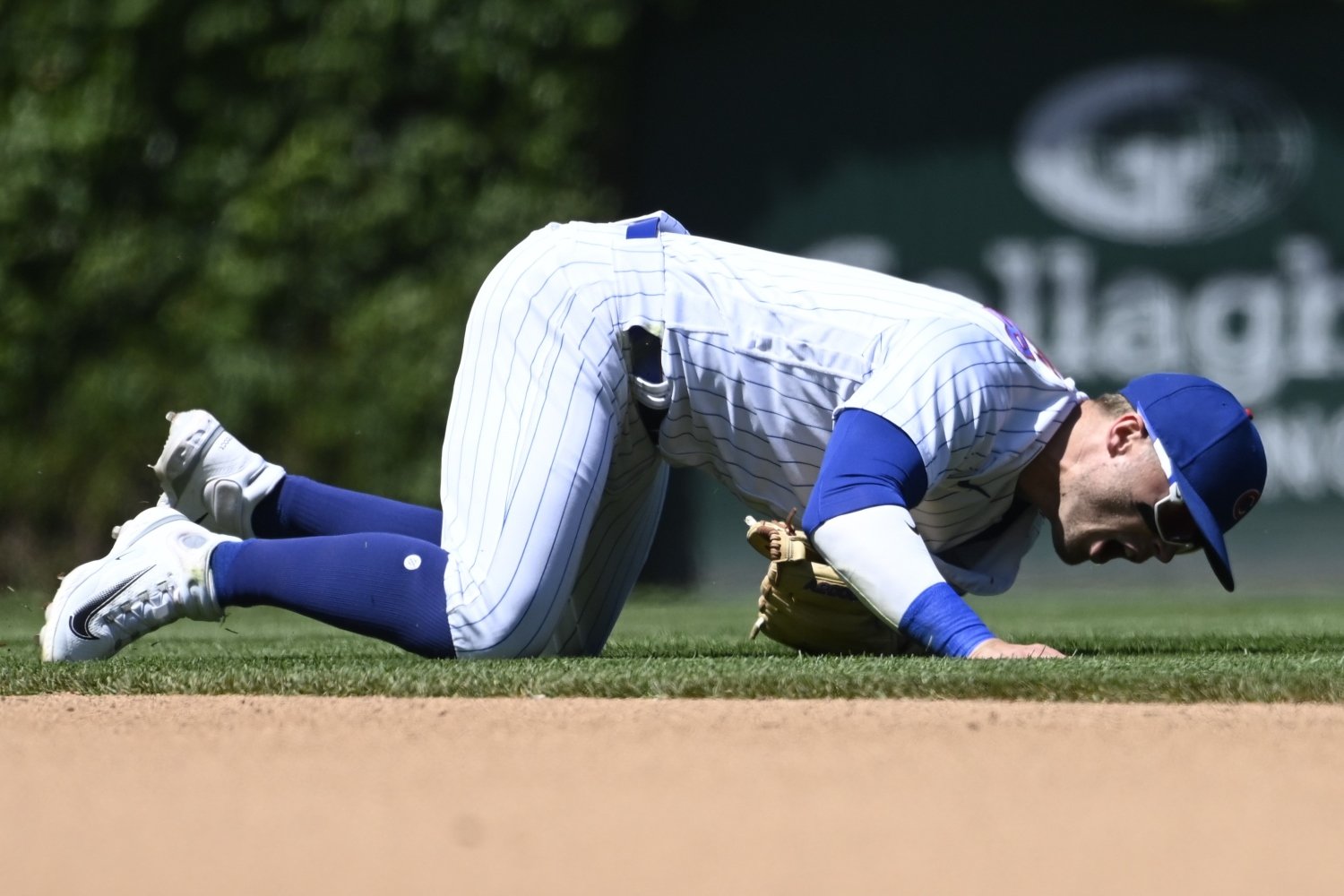 Image courtesy of © Matt Marton-USA TODAY Sports
The focus of most Cubs writers and fans, coming into this season, was on the spine of a great defense that the Cubs have constructed up the middle. That has panned out exactly as hoped, and might be the most exciting and compelling thing about this team thus far. Yan Gomes continues to look like the anti-Willson Contreras behind the plate. Dansby Swanson and Nico Hoerner are not only brilliant defenders on the middle infield, but an increasingly coherent miniature unit, making plays and communicating flawlessly.
Even Cody Bellinger was living up to the hype, and then some, before he got hurt a fortnight ago. Between catcher, shortstop, second base, and center field, the Cubs have 14 Defensive Runs Saved already, according to Sports Info Solutions. That's what the team needed. However, elsewhere, the club's defense has collapsed hideously. The corner infielders and corner outfielders have combined for -14 DRS, canceling out the great work up the middle. 
Good glove work from their pitchers and sound positioning have kept the team above average. Still, they're 10th in MLB in DRS at the start of June. That's not good enough, for a team built around pitching and defense and without a deep or dangerous enough lineup to slug their way to many tough wins. The Cubs weren't expected to be a playoff team this year, of course, but any version of the team that did get there was going to be one that converted batted balls into outs at an elite rate. Instead, the rival Brewers (first place in the division, four and a half games up on the Cubs) are the best fielding club in MLB. 
Some of this problem is already being ameliorated. Seiya Suzuki missed the first two-plus weeks of the season, but he's back now, and with some rough adjustments seemingly behind him, he's likely to be one of the league's best defensive right fielders the rest of the way. The Cubs rack up negative value whenever he's out of the lineup, because neither Miles Mastrobuoni nor Patrick Wisdom nor Trey Mancini have proved able to acquit themselves in the outfield this year. In general, though, that problem was short-lived and is already solved.
It's harder to say the same, with confidence, about the other spots. Matt Mervis's glove looks (if anything) better than advertised at first base, but his bat hasn't been good enough to guarantee either everyday playing time or much job security so far. Wisdom and Christopher Morel still look uneven at the hot corner. Morel is clearly a better defender at second base, but the Cubs need him at third, and it hasn't clicked for him there. 
Most glaringly, Ian Happ has only occasionally looked like the guy who won a Gold Glove last year. He's trending in the right direction, to be sure, with a couple of fine catches and throws, but he's been as inconsistent out there as he used to be at the plate. To be worthy of the contract extension he signed in April, Happ has to be that strong defensive presence, even at an ostensibly unimportant defensive position. That hasn't been the case so far.
In the NFL, you'll hear knowledgeable people debate which is more valuable: a great cornerback or a great pass rusher. In any particular case, obviously, the players' quiddities could tip the scale, but in its anonymous form, it's a fun philosophical argument. Ultimately, the point I find most cogent is this one: to have a significant effect on a play, everyone in the secondary has to do their jobs correctly. If even one guy is beaten, the cost can be massive. One shutdown corner only narrows the opponent's options. A great pass rusher, though, can alter a play without anyone else having to succeed. 
That's the way with the two components of run prevention, pitching and defense. A great pitcher is much more like a great pass rusher. They can take over games and make the defense relatively unimportant. A great defense, by contrast, requires everyone to be good. If there's a weak spot in the phalanx, the whole thing becomes vulnerable. Defense is a team effort, and building a great defense means prioritizing that side of the ledger in an extra decision or two about how to build the team as a whole.
Right now, the Cubs are learning the hard way that they don't have strong enough supporting defenders for their star-caliber ones. If they hang around and become trade-deadline buyers, one thing they need to do is shore up their defense at the hot corner. In the meantime, though, they need the players in place to bring their full concentration and talent to bear at all times, because their margins for error are too thin to accommodate disappointing defensive showings.