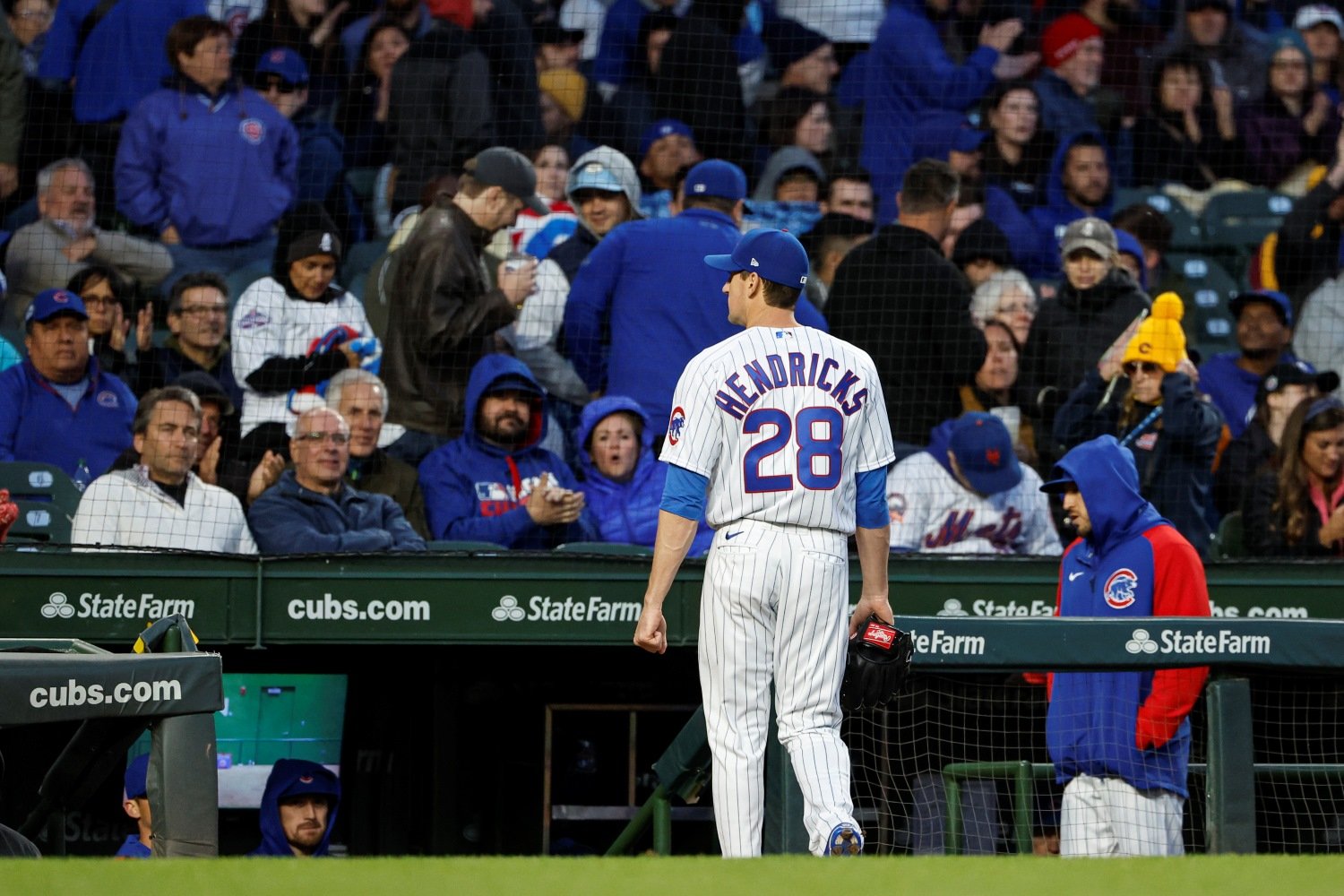 Image courtesy of © Kamil Krzaczynski-USA TODAY Sports
It would have been wildly unfair to expect vintage Kyle Hendricks on Thursday night. In his first appearance on a big-league mound since last July, Hendricks was bound to be a bit less than dominant. He was, but he also showed flashes of the good version of himself. His velocity was fine, and the movement on his changeup (both versions) was encouraging. He looked just good enough, in fact, that there was a lot of talk about his bad luck.
In the Mets' three-run second inning, Hendricks allowed four straight two-out hits, none of which were clean, blistered batted balls. His shaky control from the first inning was tightened up, though, and after that (before running into more trouble in the fifth) he would lock things down. Naturally, some fans even dismissed the damage he did allow, because some of the key hits seemed so fluky.
I understand the impulse, but I don't think pretending that bad luck was the driver of his bad numbers is necessary, even for those determined to find optimism in this outing. Again, based on his sheer stuff, Hendricks looked good enough to have a chance to stabilize and be a workhorse for the back of this rotation the rest of the year. However, he was the catalyst for his own misfortune Thursday night.
All four of those hits in the second inning came with two strikes. All four came on changeups, and the last three came on changeups in the strike zone.
These were still not dreadful pitches. Last year, when things went especially sour, Hendricks was missing over the heart of the plate with those, and they were getting hit out of the park. These, at least, stayed on the edges, which is why they induced seemingly innocuous contact, rather than thunderous homers. 
Still, it's neither the fault of his fielders nor a product of bad luck that Hendricks gave up those hits. In those counts, with that pitch, based on the way they had them each set up, Hendricks needed to throw those hitters strike-to-ball cambios. The pitch needed to dip below the zone, even if not by much.
When people talk about Hendricks having a thin margin for error, this is what they mean. It's not that he can't afford to attack the heart of the plate; plenty of pitchers only find danger there. It's that Hendricks has to be able to execute that kind of pitch, and so at a high rate. When he misses just a little, he falls behind in counts, or he gives up seemingly weak and unearned hits. That's always been true. At his best, Hendricks not only hit those spots with good movement and deception, but repeated the trick with staggering consistency and accuracy. That feel--that special skill--deteriorated badly in 2021 and only intermittently resurfaced in 2022. 
That he didn't have that feel back in his first start in 10 months is no big deal. We just need to be clear about what was and what wasn't really going on there. Next time out, Hendricks does need to better locate those two-strike changeups. If he can't, he's not going to regain even an attenuated facsimile of his former glory.