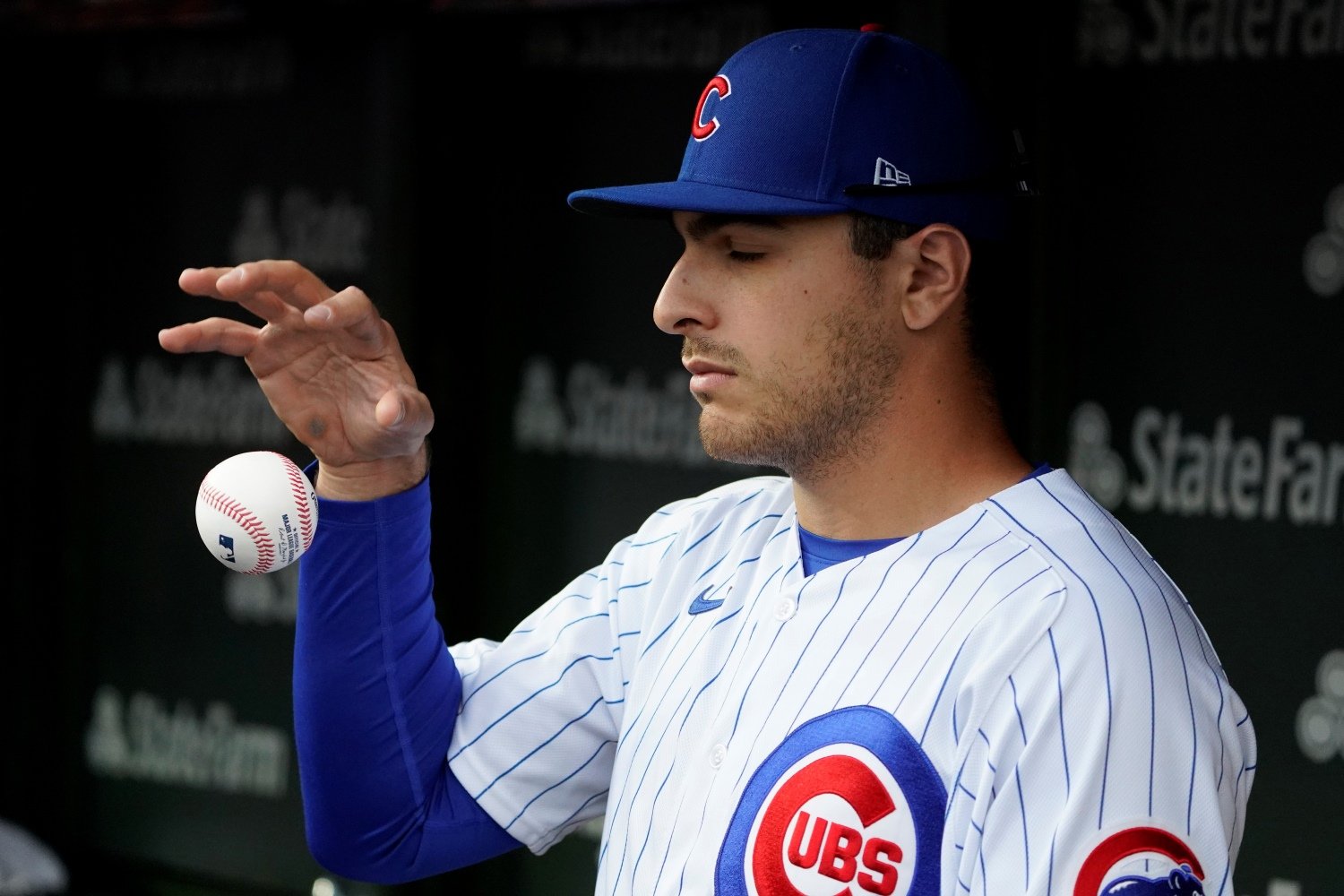 Image courtesy of © David Banks-USA TODAY Sports
In the first few weeks after his call-up, Matt Mervis was in the Cubs lineup virtually every day. He made his first start on May 5, and started eight of the next nine contests. He was in there at first base for 16 of the first 20, in fact. However, his sluggish start (a frightening .188/.268/.297 batting line, with too many strikeouts and too many ground balls) seems to have cost him the trust of David Ross. 
Trey Mancini has been in five of the last seven starting lineups, and four of those starts have been at the direct expense of Mervis. Twice, Mancini has started over Mervis despite a right-handed starter being on the mound for the opponent. If Ross was hoping to fructify the offense by going to his veteran soi-disant slugger, it hasn't worked, because Mancini is now down to a season line of .247/.320/.338. The difference between him and Mervis is solely that Mancini has had good luck on his batted balls, whereas Mervis has had buzzard's luck on his.
It's not just about the starting lineups, either. In the last start Mervis did get, Wednesday against Tampa Bay, Ross pinch-hit for him with Mancini in order to gain the platoon advantage in the seventh inning--but that led to a second plate appearance for Mancini later on. 
Plainly, the Cubs are trying to win this season. They can't make all of their decisions based on optimizing player development, especially while the scramble for position in the unimposing NL Central is still ongoing. Mervis has whiffed on nearly half of all non-fastballs he's seen since coming to the big leagues. That's a catastrophic rate, and while his ability to adjust as he ascended through the levels of the minor leagues implies that he'll bring it down, the fact that teams can currently throw him soft stuff so fearlessly is a major problem.
However, they need to balance the urgency of winning with the importance of making a clearer short-term commitment to Mervis, because they need information about him, and the only way to get it is to have him try to hit big-league pitchers. We can't learn anything about him by having him ride the bench against right-handed starters, or by sending him back to Iowa.
If the Cubs need to add a first baseman at the trade deadline, they need to know it by the start of July, and the window for properly evaluating Mervis is already shrinking. Taking an even wider-angle view, they need to know by this winter whether they have any kind of long-term solution at first base in Mervis, and they won't know that if he misses out on 60 or 70 plate appearances due to Ross's preference for a veteran who looks just as prone to whiffs and ground balls as Mervis does. This was a pitfall into which the team fell too often in their last competitive cycle--robbing themselves of the chance to seriously judge the fitness of a prospect or young player by focusing too much on optimizing the lineup every day.
Maybe the Cubs' hitting coaches are working with Mervis on something specific, and they feel he can best lock in those adjustments by getting an extra day or two off. That's valid, if it's true. Players often struggle to implement swing (or even stance or setup) tweaks in-season, because a lot of good cage work can be undone by the muscle memory that kicks in when a pitcher in a different uniform is trying to get you out in a game setting. Maybe Ross has just been trying to give Mervis a gentle mental reset. That's a reasonable approach with a rookie, too. If this continues any longer, though, it will go from suspect to flagrant. The Cubs need to know whether Mervis can hit, and they can only find that out by having him play.