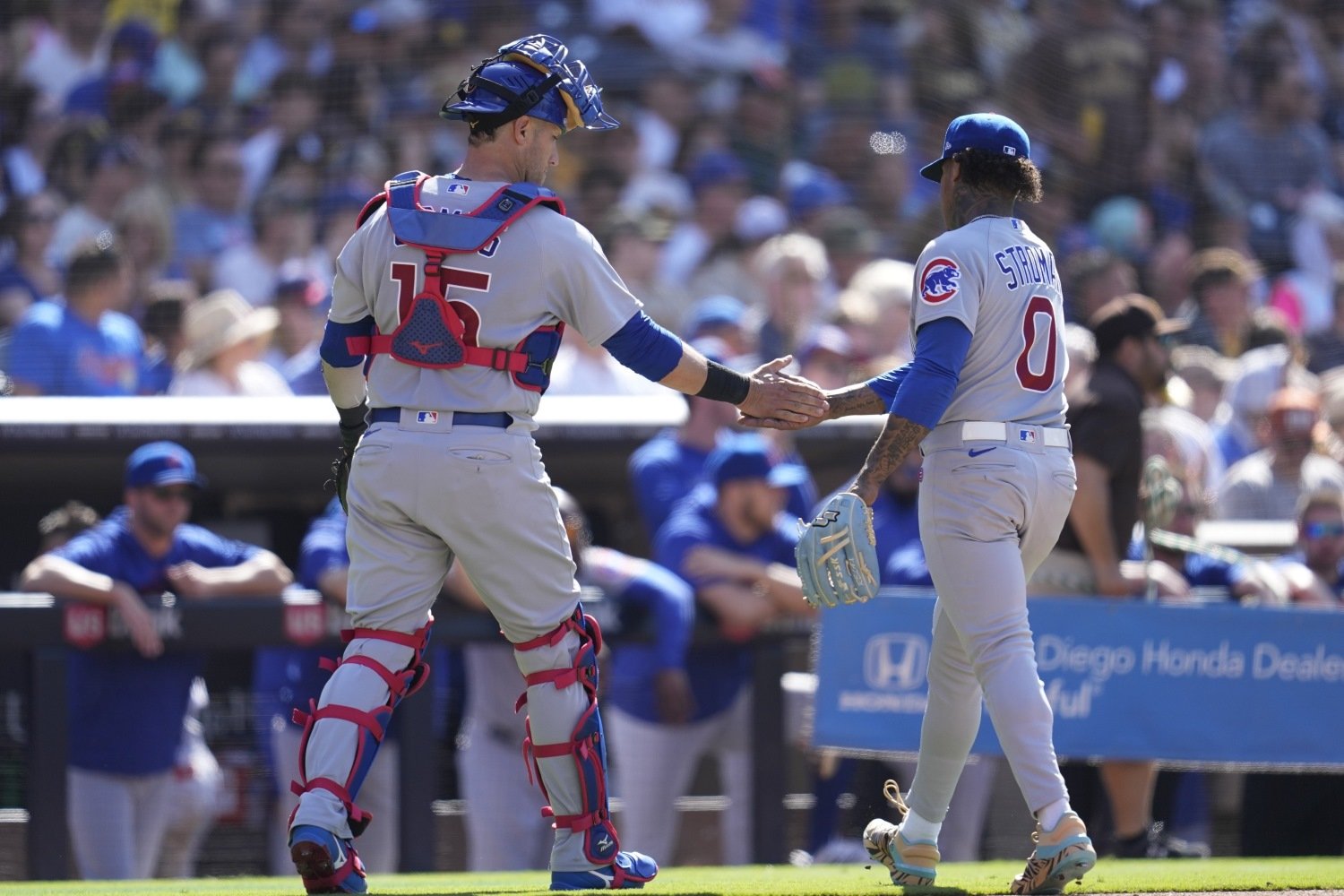 Image courtesy of © Ray Acevedo-USA TODAY Sports
We already know that Marcus Stroman has drawn interest from the Rays this month. He'd be a good fit, because despite being famous for their pitching depth, the Rays have suffered so many injuries that they need more help in the starting rotation. The Rays are an extremely rational buyer in trades like these, though, and wouldn't give up any of the prospects the Cubs might truly covet in a straight-up deal for a rental player like Stroman.
On Thursday, though, Rays catcher Francisco Mejia sprained the MCL in his left knee. Mejia was in a timeshare behind the plate for Tampa, with Christian Bethancourt. Now, the Rays are dependent upon Bethancourt, who was splitting time with Mejia for a reason. They're thin at catcher overall. That could create an opening to package Yan Gomes with Stroman and send both to the Rays.
Gomes has that very attractive $6-million club option for 2024. He's a good contributor to the run prevention effort, and he's having a terrific year at the plate, too. The Rays would love him, and the price the Cubs could extract for a Stroman-Gomes pairing would be much higher than the one they could get for Stroman alone. This is akin to the deal the team struck with the Mets in 2021, in that they threw in Trevor Williams (who was under team control through 2022, and filled a glaring need for optionable starting pitching depth) along with Javier Baez in order to get Pete Crow-Armstrong.
The Rays have an entire tier of prospect talent that could come into play once the Cubs agree to include Gomes and Stroman, though any deal would probably need to include some insurance for the Rays against Stroman getting hurt and exercising his $21-million player option for 2024. While Junior Caminero has become too good and too heralded a prospect to acquire even for both Stroman and Gomes, putting both of them on the table would make it at least plausible to discuss Curtis Mead, Kyle Manzardo, or Jonathan Aranda. 
Mead is an Australian, with some of the rough edges that come with going through the process of amateur development in a context much different than the one that produces prospects in the Northern Hemisphere. However, he's an absolute monster at the plate. His 2022 season ended early due to an elbow injury, and his 2023 has been interrupted by a broken wrist that occurred when he was hit by a pitch. Despite that, he's hitting .306/.370/.493 as a 22-year-old in Triple A. He might end up at first base, but even if he does, he projects to be the kind of hitter who can be valuable in that role. If he sticks at third base, he would solve a lot of problems for the Cubs in a short time.
Manzardo, 23, is a pure first baseman, and has been since college. It was a mild surprise to see the Rays spend a second-round pick on him in 2021, because they usually favor athletic, versatile players, but Manzardo has made it clear why they took the chance. He's a left-handed hitter with a patient approach. He gets the ball in the air, but doesn't strike out often. His numbers at Triple A this year reflect the need for him to slightly adjust his approach to use the big part of the field more, but he's likely to bat .300 a few times in the majors before all is said and done, and he should have 20-homer power based on his ability to elevate.
While no longer technically a prospect on the big lists, Aranda, 25, still has six years of team control left, and he's wasting away in Durham behind the stacked Rays infield group. He has his warts--including lousy defense, no matter where he plays on the infield--but he also shows an excellent, all-fields approach. He's struck out far too often in his very limited exposure to MLB pitching, but that hasn't been a problem for him in even the high minors, and his swing doesn't suggest that whiffs should be a long-term problem. He's put up stupid numbers in Triple A over the last two seasons: .328/.419/.552, with 45 doubles, a triple, and 35 home runs in 802 plate appearances. 
Acquiring Mead would be a bet on solving third base with a plus bat for the long term, even if there's a lot to smooth out defensively. Landing Manzardo or Aranda would be something more on the order of ensuring that first base is solved, by adding one of them to Matt Mervis and knowing that the odds favor one or the other panning out sometime very soon. If it were Stroman and Gomes in the deal, the Cubs should also be able to get some low-level lottery ticket from Tampa to go with Manzardo or Aranda.
Moving on even from Stroman would be painful for Cubs fans. Gomes is valuable, not only for his right-handed bat and veteran presence, but because of that year of cheap team control remaining. Last week, we saw the Braves extend the contract of Travis d'Arnaud, making it even tougher on teams who will be hunting for catching help this winter. If the Cubs can bear it, including Gomes could let them grab a lineup-altering bat for the long term. It would mean a real reconfiguration is ahead for this roster, but that's necessary anyway.