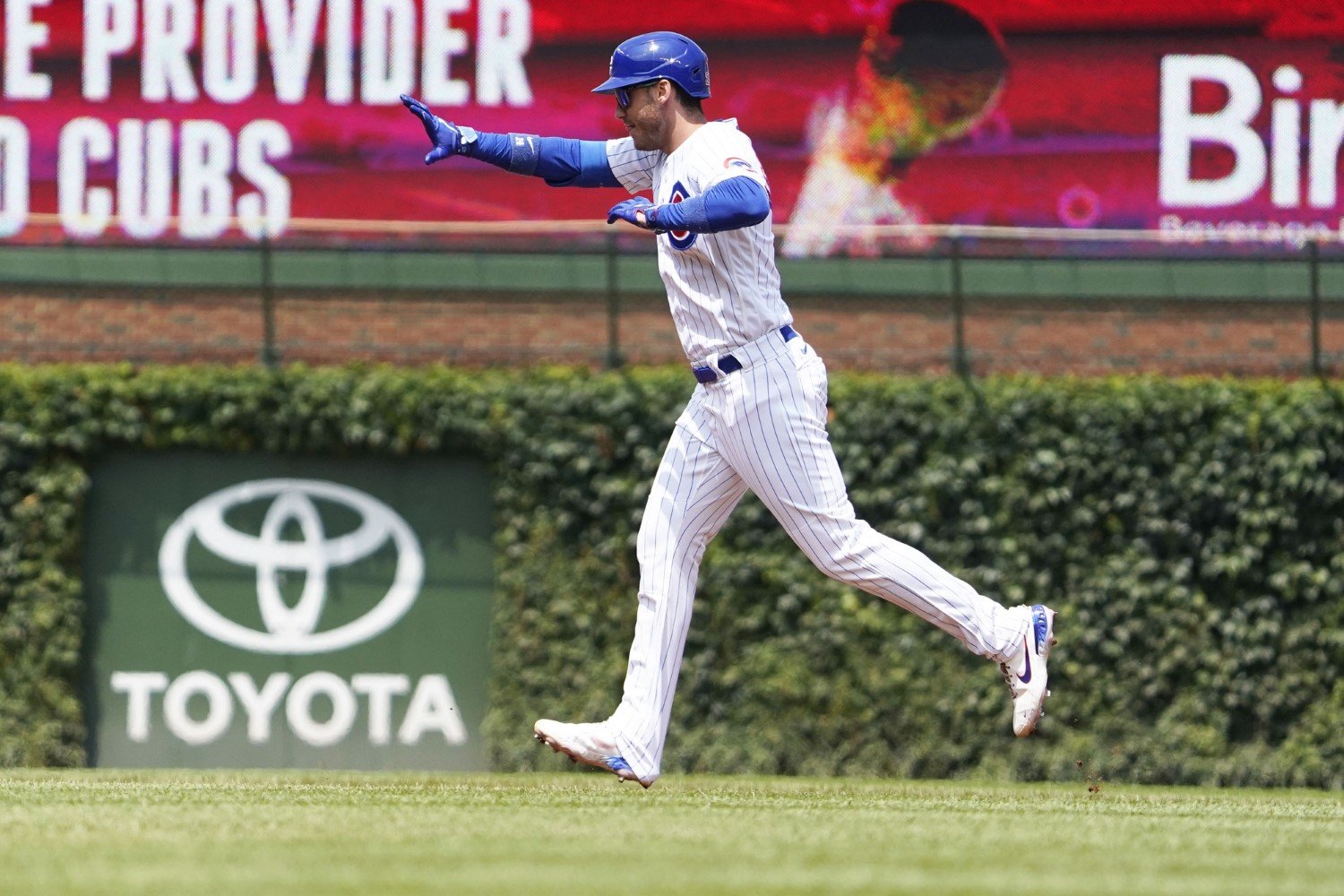 Image courtesy of © David Banks-USA TODAY Sports
On the surface, any trade of Cody Bellinger would seem to signal that the Cubs are letting go of the idea of winning anything in 2023. If they're serious about reaching the postseason, trading a player as productive and as obviously talented as Bellinger seems hilariously misguided. 
No matter what, though, Bellinger is going to hit free agency when this season ends. That's why the team is even considering trading him. He's not going to sign an extension. The chance of that isn't 1 percent or 0.1 percent. It's not 0.001 percent. It's zero. He might re-sign with the Cubs, eventually, but only after testing the market and determining his full value.
That doesn't mean that there's no value in keeping him now, from the perspective of wanting him around for the long run. Trading a player makes it less likely that they will be back the following year; the only thing that varies is the magnitude of that effect. In Bellinger's case, especially, holding onto him would confer an advantage on the Cubs, because they'd be able to issue him the qualifying offer, making signing him more expensive (however slightly) to everyone else than to them. 
So, if the Cubs are going to trade Bellinger, it needs to be because they get more in exchange than the prospect value of the draft pick they'd get if they lost him via free agency. The assumption has been that it also needs to be because they're out of the fight for the playoffs, but is there a version of a Bellinger deal that would allow them to compete even after his departure?
To answer that question, start with this information: Pete Crow-Armstrong is hitting .282/.361/.507 at Double-A Tennessee. Since the All-Star break, in an admittedly minuscule sample, he's hitting .367/.424/.767, with seven extra-base hits, three walks, and just four strikeouts in 33 plate appearances. I'm generally against rushing prospects at all, and there's little doubt that Crow-Armstrong has more to learn in the minors, but that's rather tempting.
Say, then, that the Cubs found the right fit for Bellinger in Texas. With Corey Seager on the injured list, the AL West-leading Rangers are down a key left-handed bat, and they're regularly starting Travis Jankowski in left field. If Jed Hoyer and Carter Hawkins could get the Rangers to include Mitch Garver in the return for Bellinger (as a throw-in, with the Cubs getting a quality prospect, too), the Cubs would have dealt Bellinger and added a useful right-handed bat at the same time. That's a need for the current Cubs roster, and into the breach left by trading Bellinger, the team could then plug Crow-Armstrong.
This would be a high-risk maneuver. Getting back a piece like Garver would dramatically decrease the prospect value the Cubs could get for Bellinger, and Crow-Armstrong might not hit, which would leave the team damaged in both the short and the long term. Given the team's stuck-in-the-middle status, though, this move might also maximize their upside. They could get (a little) better in the long run, and they'd give themselves a chance to be a more functional, productive roster in the short term. They'd be improving their defense, even over Bellinger's fine glove work in center field, and they'd have a lineup of similar overall quality, with one fewer dynamic power hitter but one more lefty masher and one more true speedster.
Being caught in the new purgatory created by MLB's bloated postseason format is not an enviable position. One way or another, the Cubs face some dilemmas this week. A Bellinger trade that both bolsters the farm system and preserves the potential for the team to chase down one of those playoff spots over the final two months could be the best way to thread this narrow-eyed needle.