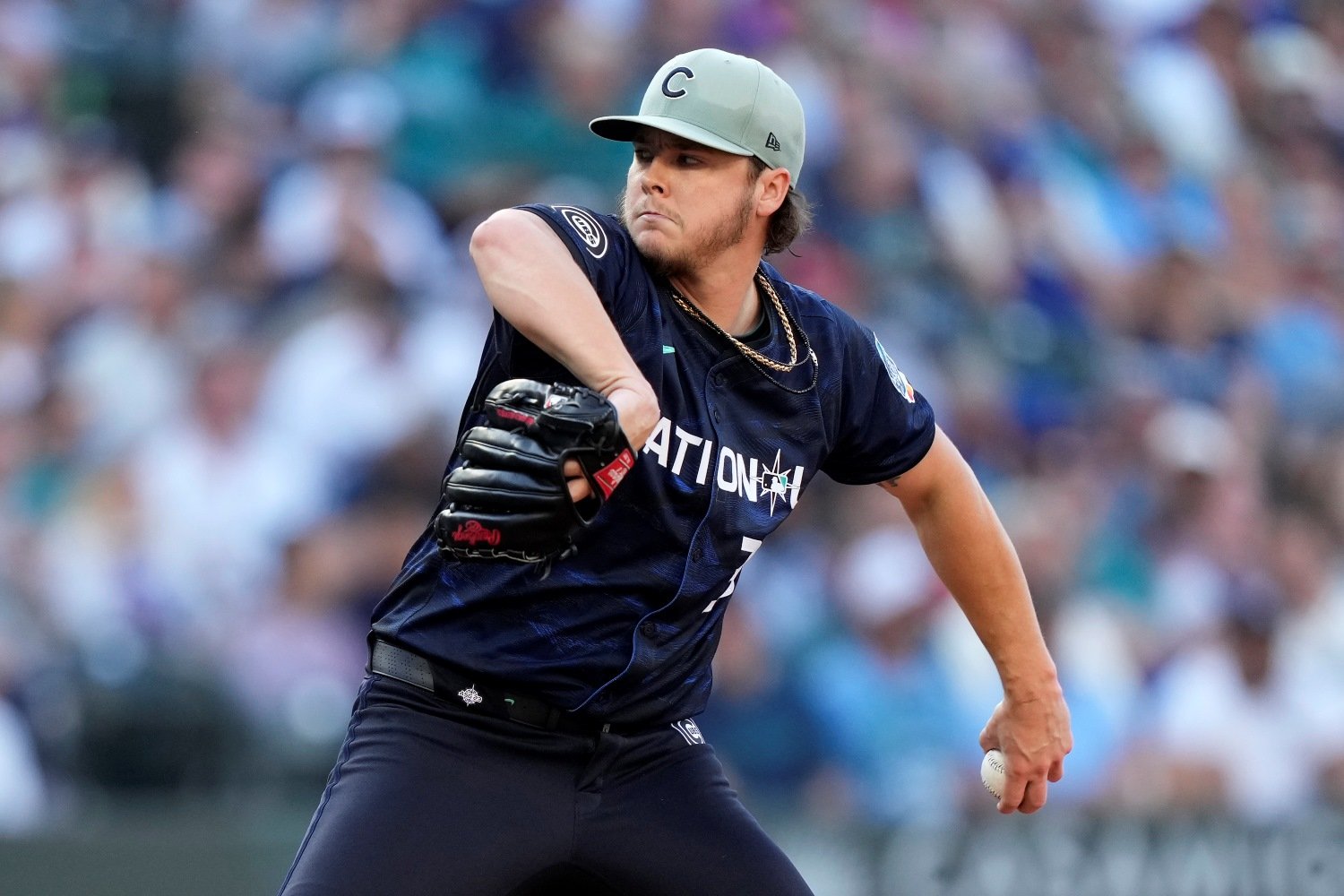 Image courtesy of © Stephen Brashear-USA TODAY Sports
This piece is in honor of longtime reader and Twitter compadre Matt White. When Daniel Burnham wrote, "Make no little plans; they have no magic to stir men's blood," something deep inside one of Matt's forebears stirred at the very ambition of it. He's a good follow for denizens of Cubs Twitter, precisely because his mind is always in motion, and because he's unafraid of turning over big notions like this one in his head.
Way back on July 1, Matt emailed me with one of those thoughts: Why not explore trading Steele this month, as an alternative to doing so with Marcus Stroman? He made some strong points, too. To summarize them:
It might be the team's best chance to break out of the quagmire in which they've seemed stuck since 2019. Steele would give the Cubs access to high-ceiling young hitters, in a way any other trade chip would be unlikely to do.

Steele, for all his strengths, shares the signature shortcoming of the Cubs' starters, in that he really doesn't miss bats within the strike zone. They need to remake their rotation and address that specific issue in the medium and long term, so why not get proactive about it while his value is sky-high?
Before anyone jumps on Matt for the sense of backward momentum this type of deal would seem to imply, know that he specifically mentioned extending Stroman this month as part of the maneuver. (This was well before we heard virtually ironclad confirmation that that won't happen.) He also recommended focusing on either immediate or imminent contributors, such that it wouldn't feel too much like a selling move.
To be sure, Steele (who's going to become arbitration-eligible for the first of four times this winter) has the sheer value in trade to land someone good, and someone on whom the Cubs wouldn't have to wait long at all. The fit that leaps to mind for me is the Orioles, a clear contender who could even dream on a trip to the World Series this year, but who are also positioned to be good for the balance of Steele's term of team control. Baltimore's farm system is deep, and its depth leans toward position players.
Not even an All-Star starter whom the team can retain for at least four years will pry loose Gunnar Henderson or Jackson Holliday, but the Cubs could still talk to the O's about Colton Cowser, Jordan Westburg, Coby Mayo, and Heston Kjerstad. Depending on whom you ask, Mayo or Kjerstad could be the best fits. Each is now in Triple-A Norfolk, and each has already raked in Double A at a very young age. They're the controllable power bats the Cubs have been lacking, even if they each come with warts.
Is this likely to happen? Not at all. Steele is the linchpin of the Cubs rotation, especially with Stroman set either to depart or to get a significant pay raise for 2024. To trade him, the Cubs would need to acknowledge the risk that comes with his two-pitch mix; the unique but not traditionally dominant characteristics of his fastball; his shaky health record, as he nears 30; and the dearth of whiffs in the strike zone that we've already discussed. They'd need to have major faith in the combination of Jordan Wicks, Cade Horton, and Ben Brown, and while this is a good moment to feel good about just about all of them, the danger of that gambit is obvious.
Still, it's a fascinating concept. The Orioles have the combination of urgent need, use for all of Steele's years of control, and depth on the farm to supply the Cubs with some very exciting talent in exchange for Steele. Failing that, the Cubs could raid the systems of any of a few other pitching-needy contenders, like the Dodgers, Astros, or Rays--the last of whom, in addition to having just as deep and impressive a reserve of potential sluggers as Baltimore, would love to get ahold of a cost-controlled star.
Talking about a trade like this--even a wholly hypothetical one--can be frustrating. It doesn't feel like something the Cubs should be in a position to even ponder. It doesn't seem right that they might need to let the greatest success story for their pitching development pipeline in over a decade go elsewhere just to make up for a shortfall elsewhere. That's not the fault of the idea, though. The frequent lament, "How can you get closer to winning by trading away good players?" misses the point. A few good players can't ensure a good team, as the 2023 Cubs prove on a daily basis. There is some price, even if it's not a good bet that anyone will meet it, at which trading Steele would move the Cubs forward, because they would be breaking the cycle of mediocrity that has so aggravated fans in the first place.
The excruciating facts are that the Cubs are not succeeding right now, and that they're a bit hemmed in by what were either poor evaluations or poor developmental plans for some key players on whom they've spent a lot of money that will remain on their payroll in coming years. To work around that, they'll have to bear some pain somewhere. Unless you believe the Ricketts family is ready to run a $300-million payroll, it's likely that wince-inducing trades will be part of that, eventually. Moving Steele right now, while he's healthy and running a sub-3.00 ERA, is a concept with a lot of merit, even if it causes you to break out in hives that look exactly like Tom Ricketts's face.