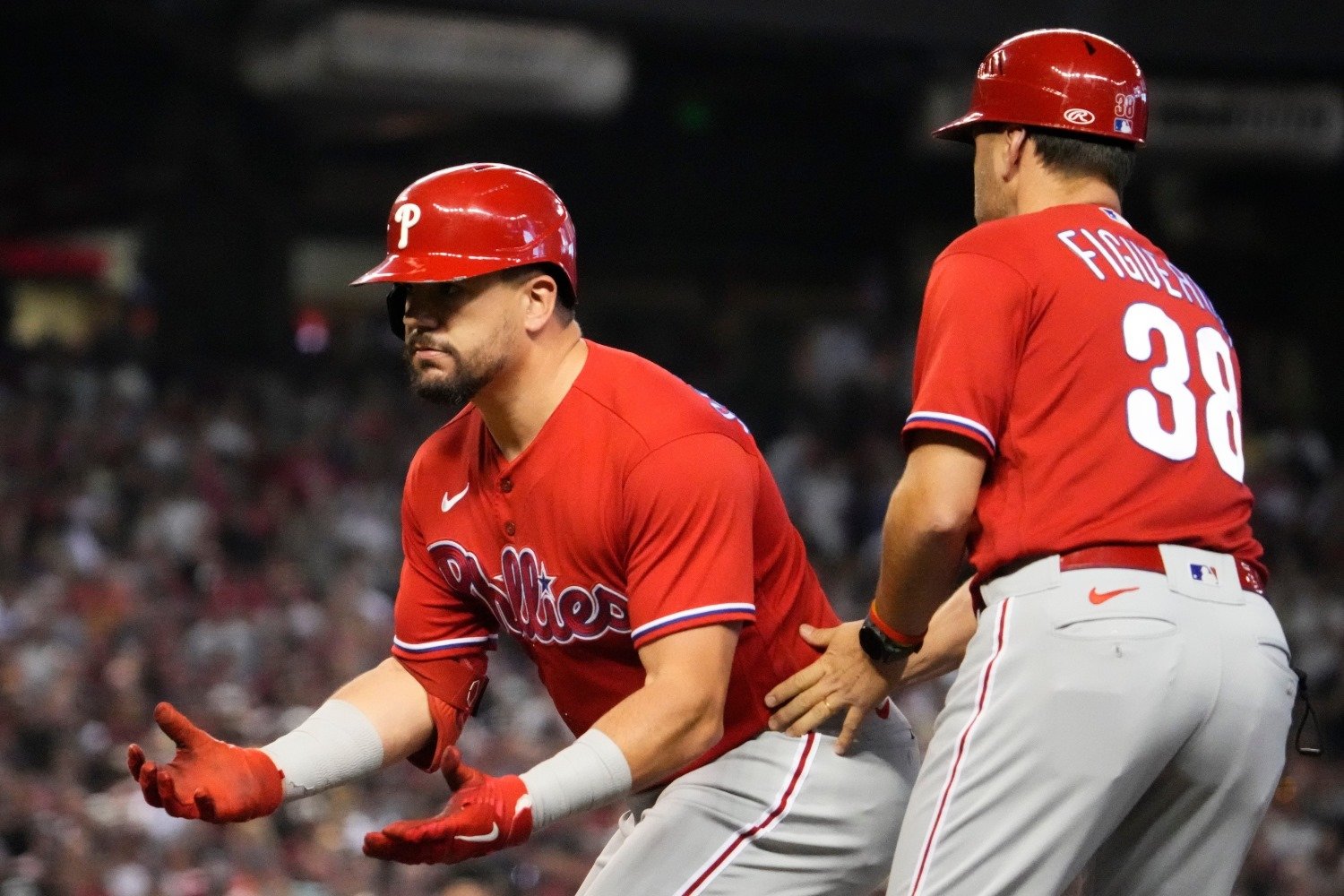 Image courtesy of © Rob Schumacher/The Republic / USA TODAY NETWORK
When Kyle Schwarber launched his 19th career postseason home run into the Arizona night on Friday, he made some history. With the 403-foot blast, Schwarber passed Reggie Jackson and became MLB's all-time leader in playoff home runs for a left-handed hitter. He added another dong Saturday, to continue his ascent.
Hearing that, frankly, made me feel all sorts of emotions. Happiness, for one. I, along with many other Cubs fans, find Schwarber to be an easy player to root for. Not only does he seem like a likable person, but very few players are more fun to watch with the majestic home runs that he so consistently hits.
Nostalgia, for another. I think we all feel it, with basically any player who appeared in any bit of game action for the 2016 World Series champion Chicago Cubs. I think we all feel it a bit more with certain players. Maybe even more so with Schwarber, who we all watched miraculously return to game action in that World Series after early-season knee surgery. 
The fact that he topped his return off with a 7-17 performance, including the hit that kickstarted the 10th-inning rally that would eventually lead to the Cubs scoring the game-winning run, was icing on the cake of an already-storybook return. 
Lastly, I felt a little bit of sadness and anger, over the fact that the Cubs basically let Schwarber go to save $9-10 million. We can examine all of the reasons why they may have felt the need to do that, but it's hard not to continue to be a bit upset by it after watching him go on to launch huge playoff home runs for two other teams after the fact. That frustration is magnified when we remember that the dictate that led to his non-tender was effectively reversed a month or two later, leading to the signing of Joc Pederson for nearly identical money.
Look, Schwarber is far from a perfect player. He provides negative value defensively. He strikes out far too often, and he didn't get the bump in batting average this year that many expected with the new shift restrictions. Despite all of that, his 129 wRC+ is 27th in baseball since the Cubs jettisoned him. He has been worth 6.9 WAR, per Fangraphs, and has hit 125 home runs in that same time frame. 
Would you believe that each one of those numbers is better than those of Kris Bryant, Anthony Rizzo, and Javier Baez in the same span? Willson Contreras, the other core member of the 2016 Cubs now playing for another team, does edge him slightly in WAR at 7.8, but we are at a point now where Kyle Schwarber is arguably the most relevant 2016 Cub, and that is something I am not sure many people saw coming. 
What makes this even harder for me is that the Cubs were 25th in baseball in overall production, by wRC+, from the designated hitter position. They sorely lacked a big home-run hitter in the middle of their order. Schwarber would fit with this current group very well. 
I believe that time has shown that the Cubs made the correct decision on trading Bryant, Rizzo, and Baez when they did–even if the fact that those three have had such disappointing second or third acts in their careers is partially an indictment of the team's player-development infrastructures. I may even cover that more in depth later this offseason. 
But when it comes to Schwarber, I just can't believe they let him walk for nothing. They swung and missed here. The guy with the big home run in the 2015 Wild Card game–the guy who launched a dagger into the Cardinals' hearts, all the way to the top of the Wrigley Field scoreboard; the guy who is now the all-time postseason leader for home runs by a left-handed hitter–departed for free, simply because the Cubs didn't want to pay him anymore.