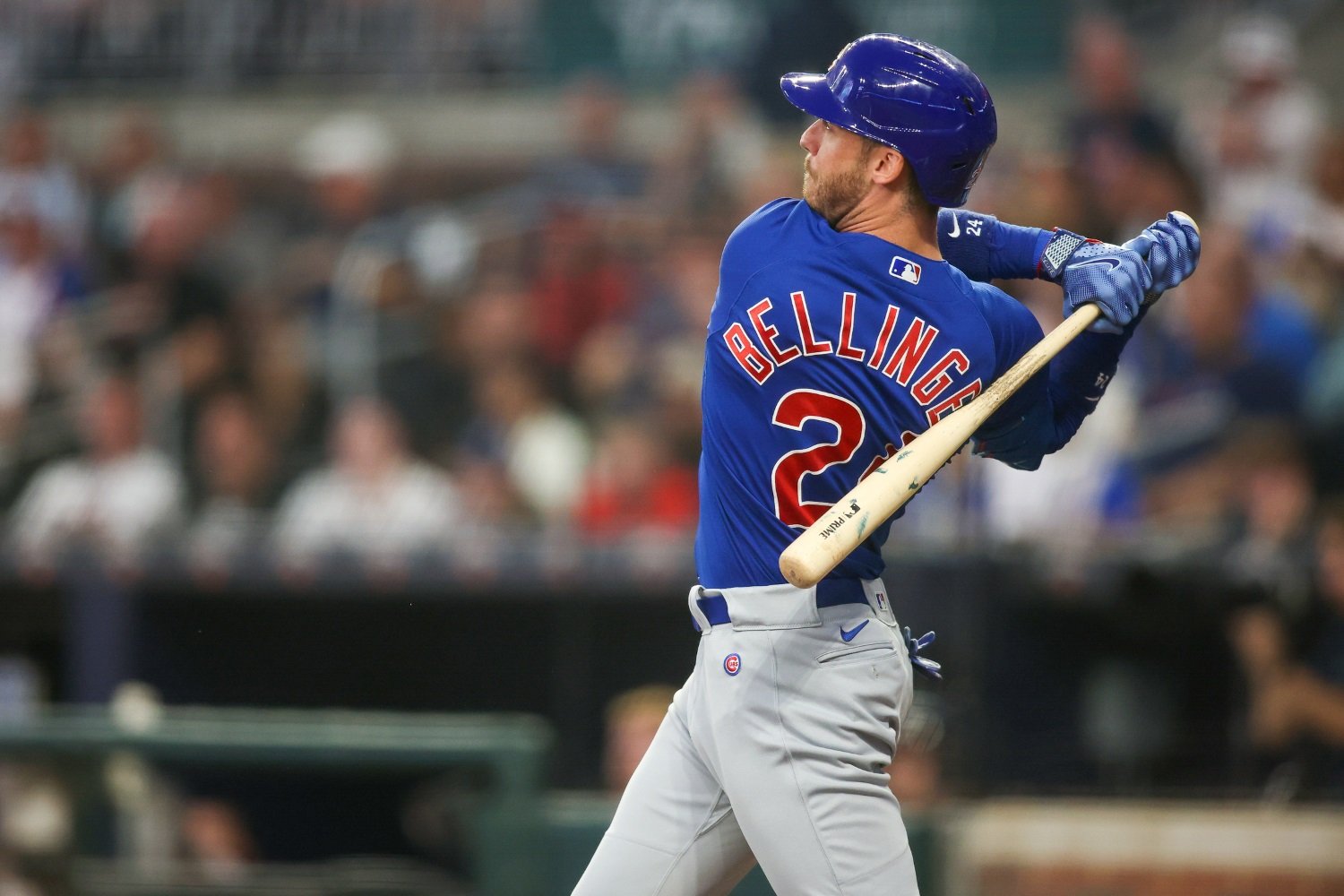 Image courtesy of © Brett Davis-USA TODAY Sports
For most Cubs fans, it will be a massive disappointment if Cody Bellinger's Cubs career comes to a close Sunday. He's been too good, and too perfect a fit for their needs, for the team not to make every effort to retain him. Non-tendered by the Dodgers last winter, he signed with Chicago for $17 million, and he's been worth half again that much. Re-signing him won't be easy, and might not even be possible. Still, at this moment, it looks likely to be Jed Hoyer's first priority when the offseason comes.
Before then, though, let's pause and consider just how good and fun Bellinger was in 2023. If he doesn't play Sunday, he'll finish the season with a .307/.356/.525 batting line. He's hit 26 home runs, driven in 97, and stolen 20 bases. That's an impressive collection of numbers. In Cubs history, the only other players to have 20/20 seasons in which they also hit at least .300 are Leon Durham, Ryne Sandberg, and Sammy Sosa.
Obviously, of those three, Bellinger most resembles Durham. He hasn't blown past 30 in either power-speed category, as Sosa and Sandberg each did at least once during their years of filling up box scores. He's also been aided in reaching 20 steals by the rules changes that led to an explosion of steals throughout the league this year. Still, it's an impressive fun fact. Yet, it doesn't even fully capture the aesthetic pleasure of watching Bellinger play this year.
With that lithe build, upright stance, and leaning, stretching swing, Bellinger is simply fun to watch, even in the batter's box--where some great hitters can also be a bit boring. He's unorthodox in delightful ways. He doesn't put up especially impressive batted-ball data, which certainly has to be accounted for when the team considers how much they'll be willing to pay to keep him around, but the way he moves in the box is oddly reassuring on that score. He seems so adaptable that you can shrug off the absence of 115-mile-per-hour screamers, to some extent. He hits it hard enough to find gaps and clear fences when he gets a little count leverage, and the rest of the time, he's just trying to hit it.
That's the other dazzling thing about Bellinger: he's shown a remarkable ability to cut down his strikeout rate, and not just in favor of more groundouts. Durham isn't really the erstwhile Cubs first baseman to whom I would compare him most readily. Very often this year, when he's locked out his legs and leaned forward at the waist to sweep a pitch on the outside corner into left field, I've been powerfully reminded of Mark Grace. 
He's not nearly as extreme a contact hitter as Grace was at his peak, but Bellinger's 15.8-percent strikeout rate is good for a 71 K%+, according to FanGraphs. In other words (since 100 is average), when adjusting for league and other contexts, Bellinger's strikeout rate has been almost 30 percent lower than the average hitter's. Doing that while hitting for power and average, even if it comes as the cost of some walks, is impressive. In terms of K%+, BB%+, ISO+, and BABIP+, his season most resembles a couple of Aramis Ramirez's peak years.
Sammy Sosa. Ryne Sandberg. Mark Grace. Aramis Ramirez. If Bellinger has put himself so neatly into the companu of those four players, it's hard to imagine how the Cubs can feel anything but thrilled with his season, or how they can let him walk this winter without putting up a fierce fight to keep him. In addition to that offensive production, he was a fine, capable center fielder (especially before his knee injury in May), and he's graceful and sure-handed at first base. That versatility makes him even more valuable, and while it will also make him harder to re-sign, the Cubs seem especially well-positioned to benefit from it. If Bellinger is willing to be an everyday first baseman, but to continue to make occasional appearances in the outfield, he'll fit perfectly into the team's long-term plans.
Failing all that, though, he's been a joy to watch in 2023. If this was his only season in a Cubs uniform, it will go down as one of the best one-and-done years in the team's history.