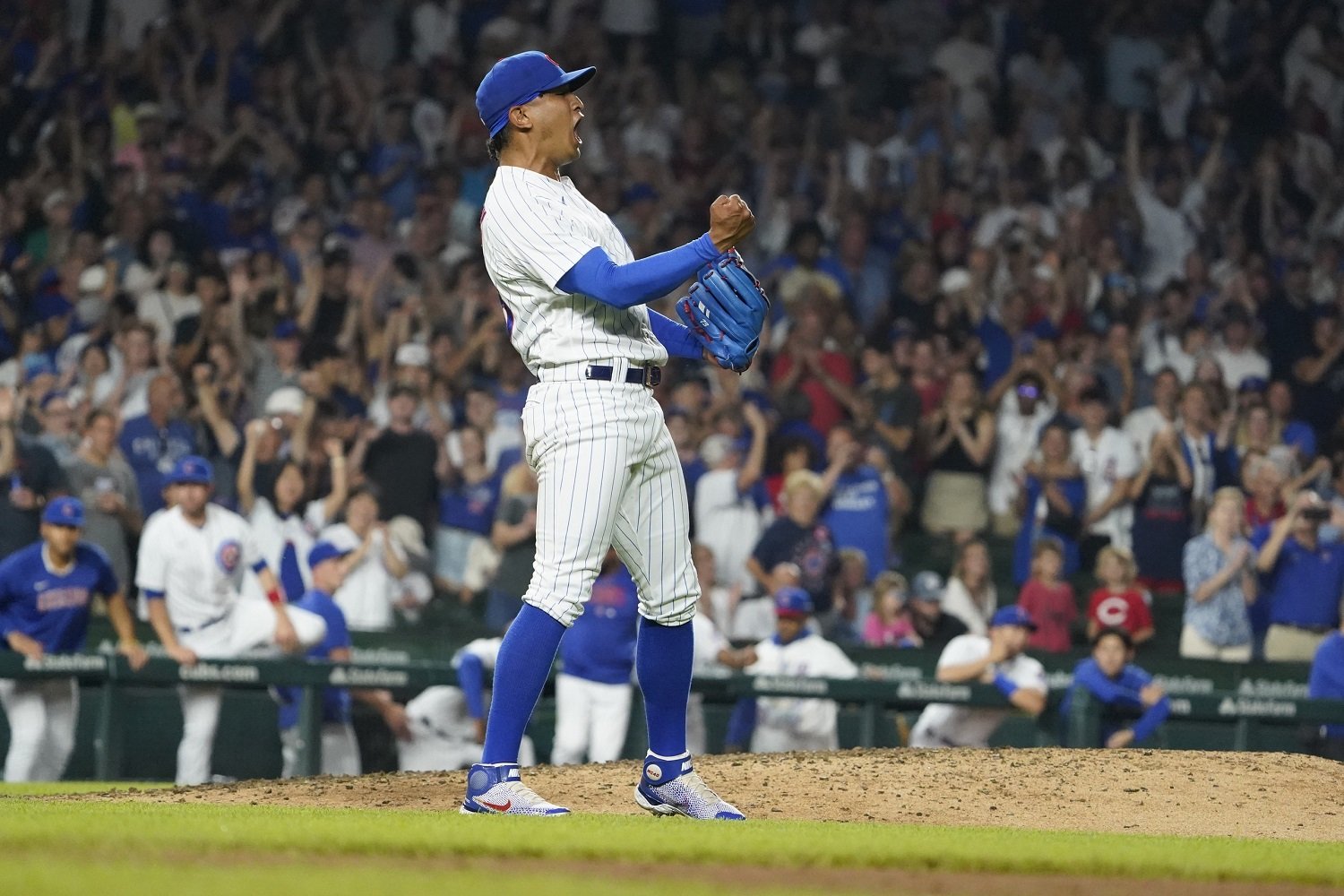 Image courtesy of David Banks-USA TODAY Sports
Has anyone ever told you that you are their "Cub" person? More broadly defined, have you been told you are the person people come to to talk about the Cubs?
Most of my life, I have faithfully served as many offices' "Cub Guy," fielding questions and anecdotes during the good times and the bad. Since 2016, I have felt I can take on the role as "Cub Therapist;" repeatedly diagnosing issues for folks about flawed teams, front office strategies, or non-extension decisions. 
Generally, I LOVE being that guy. I have realized being that guy can be challenging at times when they lose, but engaging when the Cubs are good. It is in the good moments, you get to experience the many versions of Cub fandom that I have lost touch with years ago as I exchanged any notion of the ability to be a fair-weather sports fan with six quarts of Cubbie-blue blood. 
I find in these moments, my fandom is rejuvenated, as sharing my passion is how I feel alive. 
You're Still here? Unlike Ferris Bueller, I am asking you not to go home just yet. Let's have our first "Playoff Edition." 
Record: 61-57
3.5 GB in the Central
1 GB in the Wild Card
A weekly record of 3-3 feels disappointing, but completely acceptable for a road stretch. I think people would feel better about this week if the "2 out of 3' series was vs the Met's, as it is more reasonable to have lost games to another Playoff team on the road. It is important to point out this past week's off-day on Thursday was the team's first in 16 days. In that longer snap shot, the Cubs are 13-6 dating back to July 25th. 
The Week Ahead
2 games vs White Sox
Touki Touissant vs Kyle Hendricks, 7:05 pm CT
Mike Clevinger vs "Probable", 7:05 pm CT
3 games vs Royals
Assad vs TBD, 1:20 pm CT
Steele vs TBD, 1:20 pm CT
Taillon vs TBD, 1:20 pm CT
Cub's Playoff Friend's Schedules:
Brewers: 3 at Dodgers, 3 at Rangers
Reds: 2 vs Guardians, 3 vs Blue Jays
Marlins: 3 vs Astros, 3 at Dodgers
It is hard not to look at this week and see a very solid opportunity. The Cubs still control their Central destiny with four games left with the Reds, and six games left with the Brewers. However, the Cubs have particularly light opponents this week compared to their foes. In addition, these games are at home. 
So who is helping us out and who is in need of a better week?
3 Up

1) Javier Assad
Cubs starting pitching has carried this team a chunk of this season, recording 30 Quality Starts from Marcus Stroman and Justin Steele, combined. With Drew Smyly getting pushed to the pen, I have been looking to see Caleb Kilian, Hayden Wesneski, and Assad get the opportunities to bridge to Ross' "Circle of Trust" guys. I watched a guy on Apple TV take the ball and make a compelling case to stick in the rotation. Look at this final line:
Assad going seven innings on Friday put the Cubs in great position for the rest of the weekend. The bullpen has been leaned on in heavily the last few weeks. His metrics do not leap off the page, beyond his ability to limit hard contact. His Cutter usage was at 24%, which puts him in line with his 2023 pitching profile:
That pitch in particular, paired with his slider, has been extremely valuable, almost as valuable as 
2) Cody Bellinger
I will stop putting Cody Bellinger on my list when he stops being so ridiculous. After winning NL Player of the Month honors in July, along with the Lighting Card in MLB the Show 23, he has shown no sign of slowing down in August. If it wasn't for a brief IL stint, and ludicrous numbers from Ronald Acuna, we could very well be talking about MVP honors. Instead, we will likely settle for NL Comeback Player of the Year. In August, he is hitting .422 with a 1.158 OPS, three home runs, 13 RBI, and five stolen bases. He is as electric as it comes. Well, except for: 
3) Adbert Alzolay as the Closer.
I feel a lot of Cub fans would admit they have been pulling for Adbert Alzolay since his debut in 2019. There was a lot of pressure for him to stick in the rotation given the Cubs history of not developing rotation arms. Health and pitch mix just did not help his case. After shifting to the pen in 2022, I wondered what he could be. In this closing roll, he has blossomed. He plays with so much passion and has the composure thus far to keep this role. How is he doing it? Pairing a fastball with 13.5 inches of drop and a slider with 1.9 inches of horizontal shift.
3 Down 
Alright, we have to do this side too, I suppose. 

1) Cubs Rotation
In August, the Cubs have two quality starts. That is just not going to get it done. The offense has come to play and won the Cubs a lot of games. The team needs to find a way to shore up its starting rotation. There has been some good five-plus inning performances mixed in there as well. If the Cubs are going to compete in October, they need Steele, Taillon, Stroman, and Hendricks to be at their best. I believe in this group, just like I believe in 
2) Dansby Swanson
It hurts to my very core to have Swanson on this list, but it was hard to ignore his tough week. After an emotional series against the Braves at Wrigley, Dansby struggled for a majority of the road trip. In fact, in the month of August, he has hit .205 with just nine hits. The good news is, five of those were some pretty timely home runs. When he isn't hitting, he is very busy leading the league in DRS at shortstop. At least he is not...
3) Drew Smyly 
I do not want to kick a guy while he is down. Smyly gave the Cubs great starts when they were not getting them from Taillon. It is, in fact, quite lucky for the Cubs to have Smyly look even close to the guy he was given the shoulder concerns. However, it was time to have him removed from the starting role. Tommy Hottovy and company will hopefully get him right in the bullpen to help this team down the stretch. 
Who were your 3 Up and 3 Down this week? Are you excited for the conclusion of the Crosstown Series (HOIST THE CUP…)?
Until next week, Go Cubs, Go!