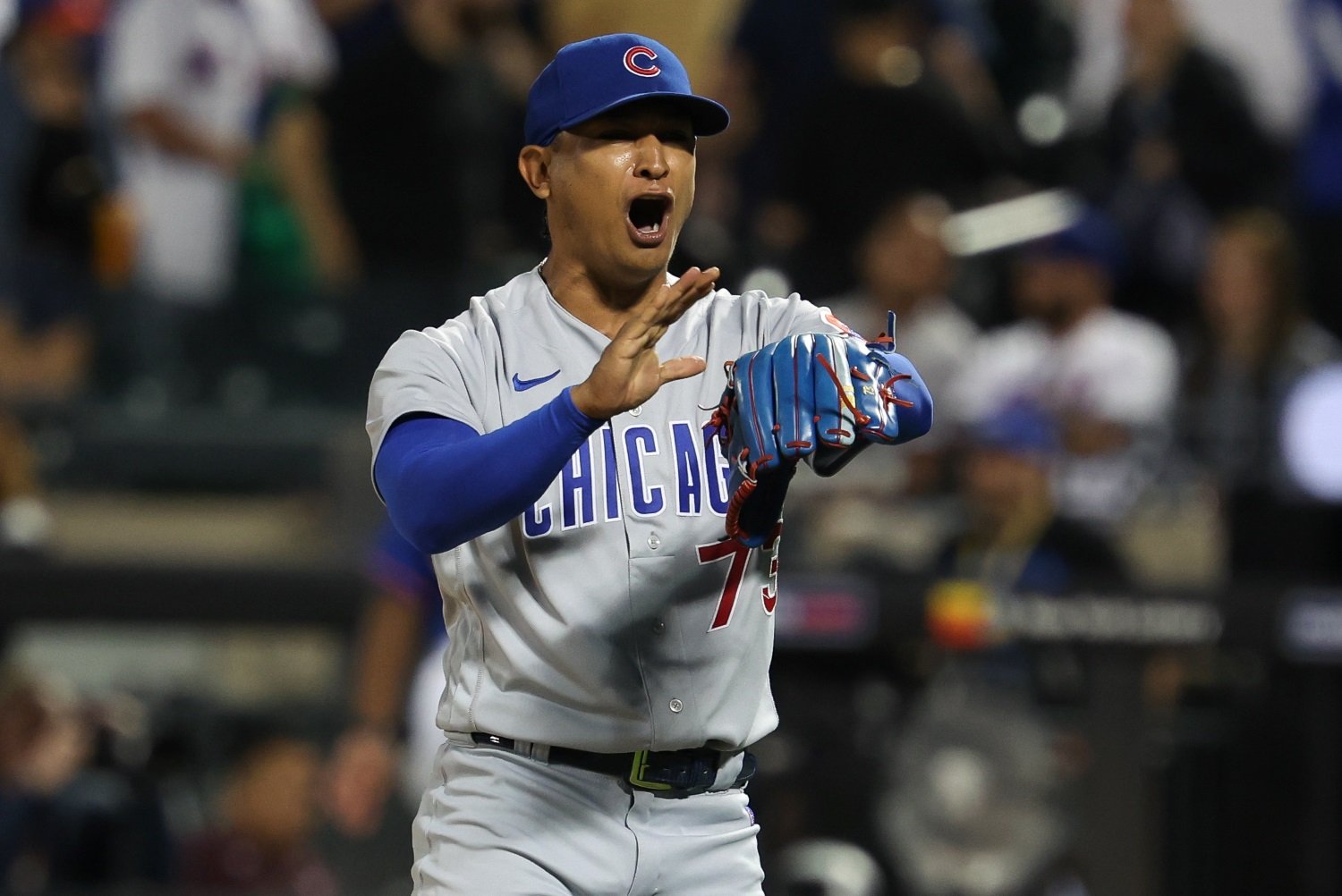 Image courtesy of © Vincent Carchietta-USA TODAY Sports
The maturation and evolution of Adbert Alzolay over the course of this season have been stunning. Two years ago, he was a half-successful starting pitcher, but he got hurt, and when he came back at the end of 2022, it was only in a long relief role, which still afforded him ample rest between outings. Before 2023, he had never made an MLB appearance on fewer than two days' rest. Now, he's made 21 such appearances.
Of them, perhaps none was more impressive than Tuesday night's. Alzolay had last pitched Sunday, when (working on a second consecutive day and third out of four) he went through the meat of the Atlanta lineup to close out Chicago's series win. He had to do the same, now, but on the road, and with only a one-run lead with which to work. Worse, he had to go through Pete Alonso, who is one of the 10 most dangerous hitters in baseball and has a special knack for mashing Cubs pitching. 
The league is scoring 4.59 runs per game this season. That number is slightly goosed by the automatic runners in extra innings, so let's call the real number 4.50. That still means that each inning begins with a 0.50 run expectancy, on average. Alzolay was working, again, on a third day out of four. Francisco Lindor and Alonso are not average, ordinary hitters. There's a good case to be made that Cubs fans (and Mets fans, too) should have narrowly expected New York to at least tie the game in that situation. Instead, Alzolay ripped right through them. He didn't miss bats quite the way he does when he's fresh, but he still retired the Mets easily, including starting the game-ending 1-6-3 double play with poise.
For the last two-plus months, this has been the pattern. Alzolay just keeps growing more confident, and he just keeps coming up with big outs, even though he's now 50 innings into a season of doing a more intense job and enjoying less (and less-predictable) rest than ever before. The secret to his success, of course, is the Bolivar Slider.
Around the time he really came into his own as a dominant closer, Alzolay became an unrelenting slider monster. It's been the key to his confidence and the inability of opponents to do anything with him. He's throwing the pitch well over half the time, yet, he's pounding the strike zone. He's honed the strike-to-ball slider beautifully, but he's also hitting the corners with both his four-seamer and his sinker. With just seven walks in over 50 innings, he boasts the ninth-best walk rate of 388 pitchers who have logged 30 or more innings this season. He's been overwhelmingly good.
Alzolay has also claimed a privileged place in the Cubs clubhouse, and in the Cubs zeitgeist. He's developed a signature fist pump when he completes a save, but it's not the work of a man mad with ego. On Twitter and beyond, Alzolay hypes up his teammates as much as himself. His years-long friendship with Justin Steele has been well documented. He loves to talk about Steele's "Mississippi fastball" and Drew Smyly's "Arkansas curve," and that makes him more perfect for this team, still. When he made that great play to finish the win Tuesday night, he incorporated a loving exultation of the back of his glove into his celebration, an homage to Marcus Stroman, who does the same thing whenever he makes a good defensive play. His energy and his awareness of what makes his teammates great makes Alzolay a catalyst for the burgeoning chemistry in that clubhouse.
The 2023 Cubs have a sense of place, and of identity, but it's made up of distinct and intact places and identities. The pitchers have cleaved to this trend of modifying the key pitches certain of their cohort by putting their home state or town in front of it. The hitters are, unexpectedly, led by Mike "the Palatine Pounder" Tauchman, and by Cody Bellinger, whose name is synonymous with Los Angeles and the Dodgers dynasty. Dansby Swanson left his hometown team to sign here over the winter. Jeimer Candelario, although without his own agency in the decision, has gotten a chance to come back to his first baseball home. 
To some extent, this season will be defined by one place--the one in which the Cubs finish in the NL Central standings. Alzolay, though, is the most brilliant exemplar for the way this team has already met reasonable criteria to be called a success. They're packing Wrigley Field, ensuring that that place once again defines and embraces the team. They're gelling into a group that can represent both the neighborhoods that take pride in being Cubs enclaves and the wide, diverse diaspora of Cubs fans. They have fun, and they have swagger, but none of that would matter or last very long if they weren't winning. Alzolay is a terrific source of the first two, and he can be that way because he's contributed so much to the third.